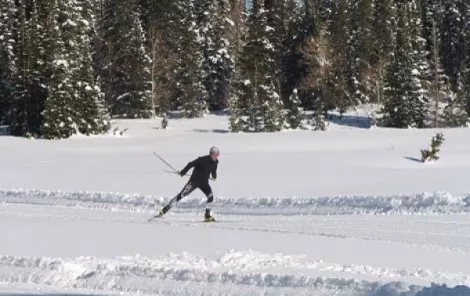 Here's the scene: You're surrounded by pure, sparkling fields of snow. Dark green pines tower at each edge of the trail, tall triangles casting their fresh scent into the air. You're already breathing deeply, but you stop and breathe just for the joy of it, realizing that it's been a long time since you've felt this relaxed. You can't believe how little it's costing you; you're glad you came.
In Utah's alpine wonderland, cross-country skiing is often ignored. But if you want great exercise for very little money—and an easier, more peaceful experience than lift-served skiing—Nordic is the way to go.
Aram Hajiyan, the director of Solitude Nordic Center in Big Cottonwood Canyon, says, "You'll need cross-country skis, poles and boots. For beginners, I would recommend they have fish-scale skis for classic technique. The 'scales' are on the bottom of the skis. If you have fish scales, your skis won't slide back when you go up hills. When you have fish scales, you kick and glide, kick and glide. If you don't have fish scales, you can't make it glide."
Hajiyan, who represented his home country of Armenia in the 2002 Olympics, adds, "There are two kinds of cross-country: One is skating, one is classic. In classic skiing, which is best for beginners, you have two grooves groomed into the snow, and you glide your skis along those grooves."
"Skating" technique is for the more advanced Nordic skier. Those trails have no grooves. In fact, cross-country skating technique can be used anywhere there is snow. But Hajiyan explains, "If you have groomed trails ... it makes your skiing easy, whether you're a beginner or advanced."
Hajivan adds, "The best reason to cross-country ski is to get into shape, because it's one of the safest winter sports." He also says that cross-country skiing burns more calories than any other sport except swimming.
Because it's as natural as walking, Nordic is easy for the nonskier/snowboarder to learn on flat beginner trails. Still, it will use a lot of energy; you'll work up a sweat quickly. That's why it's best to dress in layers, rather than one heavy parka, Hajiyan says. Wear a T-neck, a fleece, a shell and a thicker jacket, and carry a backpack. As you become warmer, you can take off each layer and stuff it in the backpack. Bring along a lot of water, because you'll need it—as well as sunblock, lip balm and good UV protection sunglasses.
Beginning technique is simple, Hajiyan says. "When you're skiing, you lean forward so you have kind of an athletic stance. You need to plant your poles, each one on the opposite side of your legs, so it's a diagonal movement. You plant with your right pole when your left leg goes forward, then with your left pole when your right leg goes forward," he says.
The Wasatch has a lot of hidden splendors where groomed trails can be found, including Soldier Hollow in Heber City, White Pine in Park City, and Mountain Dell, just off Interstate 80, which is a golf course in the summer. Solitude's Nordic Center is popular because the Big Cottonwood location is close to Salt Lake City and offers a wide selection of rental gear. A full-day trail pass, 8:30 a.m.-4:30 p.m., is $17. A half-day pass, 12:30-4:30 p.m., is enough to satisfy any beginner and costs $12. Renting classic skis (with fish scales) costs $15 for full day and $11 for half day; skate skis are $18 for a full day and $14 for a half day.
You can also get lessons at most sites. At Solitude, you can even request Hajiyan for your instructor by calling to "reserve" him. The one-hour session is $45 for a group lesson and $55 for a private.
The Nordic Center is 14 miles up from the mouth of Big Cottonwood at Silverlake, just before the Brighton resort parking lot. For more information, call 801-536-5774.