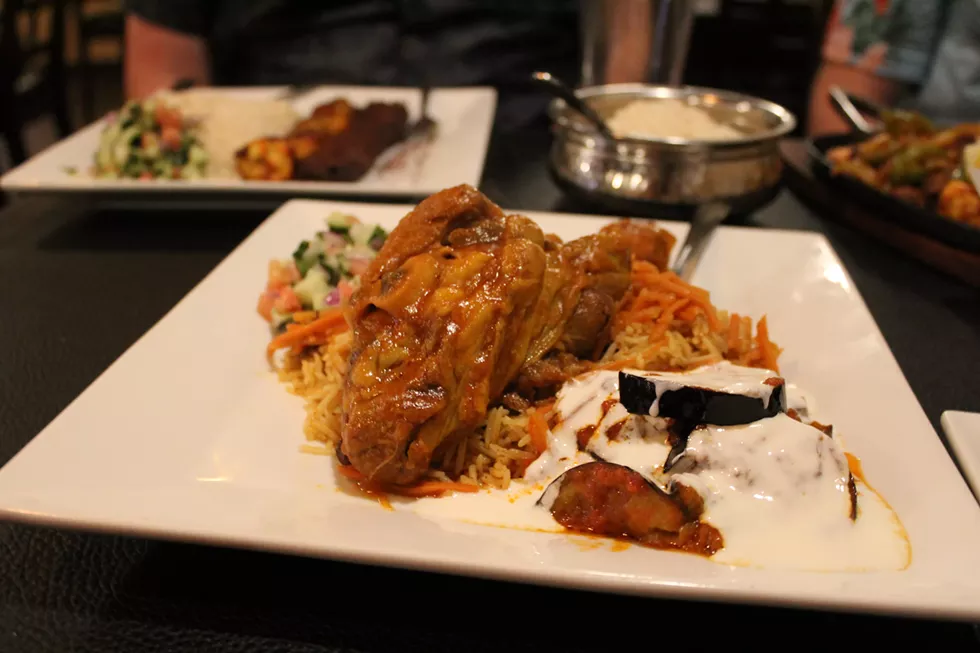 While it's easy to get hung up on the playful aromas of slowly braising chicken, beef and lamb that waft out of Afghan Kitchen (3142 S. Main, 385-229-4155), the next thing you'll notice is a quiet sense of hospitality that goes back generations and is a trademark of Afghan culture. This dedication to the tradition of using food as both physical and spiritual nourishment isn't necessarily new to owner Wali Arshad Salem, who opened the restaurant in 2016. His presence in the restaurant embodies this concept—watching him present a dish to the table evokes the understated passion many craftspeople have when they share their work with an uncertain public. What's even more enjoyable is seeing customers who have clearly become regulars because of Afghan Kitchen's welcoming environment and who enjoy the food as much as Salem enjoys preparing it.
Salem immigrated from Afghanistan to Salt Lake City with his family in 2014. His experience working as an HR specialist for the United Nations in his home country got him a job at a local bank. It wasn't long before he wanted to use his skillset to make more of a contribution to his community. "I started looking for a partner who could help me with the kitchen work, and we talked about the idea of a good Middle Eastern restaurant that was missing in Salt Lake," he says. "We wanted to introduce a bit of the rich culture of Afghanistan through our restaurant."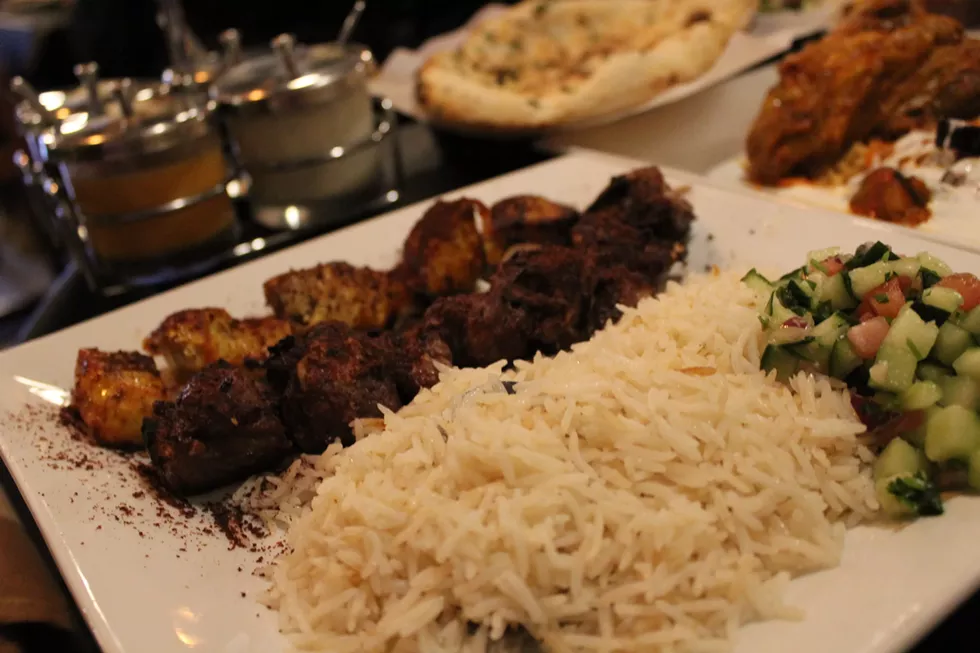 Afghan cuisine was—and still is—a niche in need of a bit more exploration along the Wasatch Front, and Afghan Kitchen is a great place to dig deep into the foundations of this rich and comforting food. Gastronomic completionists will want to start with the lamb shank kabuli ($15.49) or the chicken kabuli palow ($13.95), which are some of Afghanistan's flagship entrees. "An Afghan cook's ability is evaluated on how to make kabuli palow, so you can imagine how much thought and effort goes into perfecting this dish," Salem says. The lamb shank is the more theatrical of the two—it arrives like a king sitting on a fragrant pillow of basmati rice. When you start pulling tender slices of slow-cooked lamb from the bone, it's easy to see this is a dish that has taken some time to perfect. The texture, seasoning and natural flavors are balanced, and the roasted eggplant topped with burani, a yogurt sauce, creates a cooling contrast to the initial punch of the main dish.
Those after something less dramatic will want to check out the menu's wide variety of kabobs and vegetarian dishes. The mix kabob ($13.99) is a good place to start—chicken and beef kabobs are the backbone of Afghan cuisine. I've developed a special fondness for this particular preparation of beef kabobs. Instead of sliced cubes of steak, they're made with ground beef shaped around the skewer and then seasoned to perfection. The result yields a pleasantly charred outer texture that you can only get from the Afghan preparation. The chicken kabob is a lighter counterpart to the richness of the beef kabob, and they both elevate one another to greater levels of kabob glory.
Afghan Kitchen also has a tasty vegetarian section, and the burani kado ($12.99) is among the most interesting items. It's a stew-like preparation of roasted pumpkin in a tomato-based sauce that's served over rice and topped with a garlic yogurt sauce. Like so much of the menu here, this dish has a very rich, autumnal vibe, which makes me think that I'll be craving it a bit more fervently once our nuclear summer is over.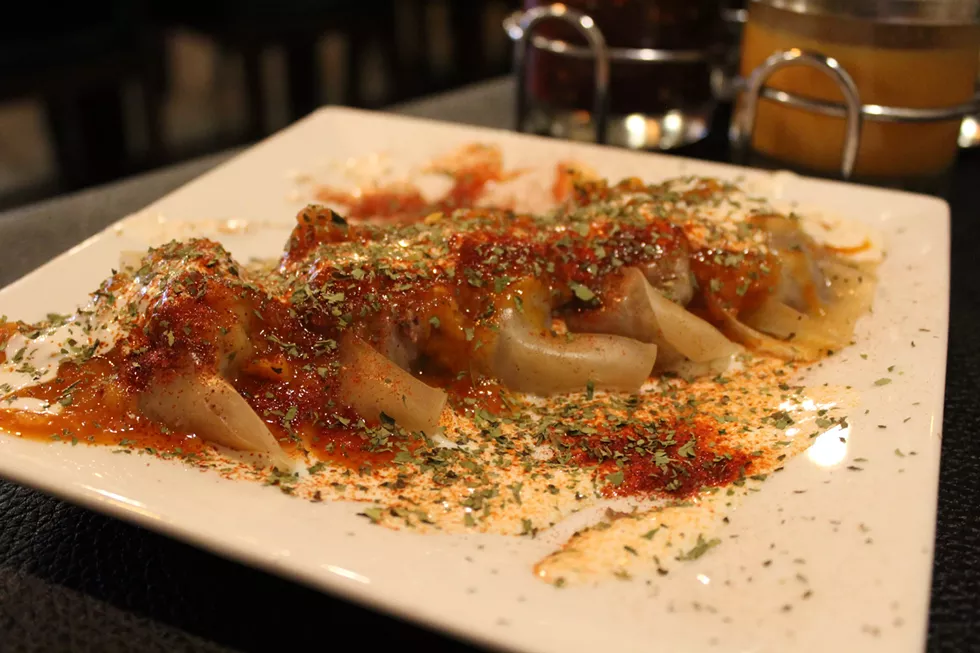 After perusing the main menu, make sure to save some room for the supporting cast of appetizers, drinks and desserts. The beef mantu ($5.49, pictured above) is a must-have appetizer, especially for those who share my affection for anything that could be classified as a dumpling. They look suspiciously similar to Chinese dumplings, but they're packed with smoky, savory Afghan flavor. These dumplings arrive topped with split pea and yogurt sauces, and the whole combo works very well together. Vegetarians can also get mantu stuffed with pumpkin, which are also spectacular. For dessert, the firni ($3.95) is definitely worth your time. The cardamom-infused pudding topped with crushed pistachios is a lovely way to wrap up a rich, savory meal.
The traditional Afghan beverages available consist of joose e am ($3.95) a mango yogurt drink similar to lassi, and doogh ($2.99) which turns that familiar foundation into something more savory and unique. Doogh is made from yogurt, mint and cucumber, which is a perfect combination for something that's refreshing but not overly sweet. It's not for everyone, but a little bit of salt makes this frothy drink stand out.
I came away from Afghan Kitchen with a lot to think about. Afghanistan's cuisine has definitely been influenced by the countries that share its borders, but Salem's reverence and passion for the food of his home country seems like the restaurant's true secret ingredient.



AT A GLANCE
Open: Tuesday-Friday, noon-9 p.m.Saturday-Sunday, 1-9 p.m.
Best bet: The mix kabob tag team
Can't miss: The tender lamb shank kabuli