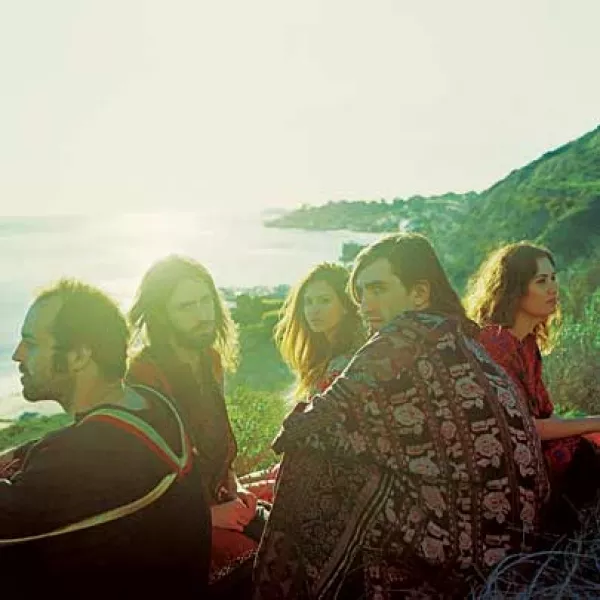 Should you ever forget what's hot in contemporary pop music, crank up Crystal Fighters' "I Love London." The track, which appears on Fighters' 2010 full-length debut, Star of Love, uses a minimalist sensibility and an unfamiliar lineup of sounds—impish electronic blasts that drive the song, lively female vocals, a person clapping, stuttering percussion that seems to be coming from a cowbell—only to drop you smack-dab into familiar scenery. Experimental touches notwithstanding, "London" is one more piece of propulsive club-friendly music championing gleeful, drunken decadence—a motif now omnipresent in youth-oriented sounds. This is a killer song that's also proudly shallow.
The longest passage of the English/Spanish lyrics on "London" goes, "I wanna talk about it, tell my friends about it/ Take me to a party in the city and I'll think about it" without any other elaboration. Pop, hip-hop and dance music now celebrate celebrating for celebration's sake more fervently than ever before, so here are Crystal Fighters, too, slipping right into the zeitgeist.
It's an amusing turn, then, that the London-based Crystal Fighters juxtapose their ultra-contemporary and at times simple-minded dance tracks on Star of Love with an origin hinged on someone's grandfather. As the band legend goes, the nascent outfit (formed by the core trio of Sebastian Pringle, Gilbert Vierich and Graham Dickson in 2008) was once looking for the pitch-perfect direction after going through a few failed angles. Inspiration would strike when Laure Stockley, one of Fighters' two female singers alongside Mimi Borelli, came back from Spain's Basque Country with a book in her possession.
Said book contained an unfinished opera by Stockley's late grandpa. A portion of the opera had a title that roughly translates to "Crystal Fighters." The band members were so fascinated by this work that they soon embraced Basque music and mythology, making those elements crucial components of their aesthetic. They even adapted and attempted to complete the opera.
"The ideas [the book] sparked in us were just really interesting. I'd been interested in European culture for quite a while, so I have an affinity for that sort of thing," says Pringle, whose first name was actually partly inspired by the Basque city of San Sebastian.
In a collectively answered 2009 e-mail interview for the site SoonNight.com, the band members noted that their inaugural show "had props including two bottles of tequila, txalapartas (a traditional Basque instrument), signs explaining the plot of the opera and loads of dramatic stage directions, all to a soundtrack of wonky bass, Latin percussion and enormous passionate hooks."
Crystal Fighters are the leading (and probably lone) purveyors of Basque-inspired dance-pop and folk, meaning that their idiosyncratic fusion of genres is heavy on using the txalaparta, a pipe whistle called the txistu and a drum called the danbolin (which probably produced the cowbell-ish sound in "I Love London").
With the release of their brand-new second record Cave Rave, the five-piece is now playing down the fiercely urban, shut-up-and-party feel of electronic numbers like "I Love London" and playing up the more timeless sweetness of its Basque-born folkiness.
One thing that hasn't changed about Crystal Fighters' direction from "London," however, is their preference for ecstatic music. Rave wholeheartedly plays up the extravagant folk-pop angle with big, spirited rhythms that shoot themselves toward heaven, cutting through visions of lush jungles and tropical islands en route. Sure, Rave has occasional detours into gloom, but by and large, its results represent intending to energize their listenership.
"If you get down to the right beat, you can definitely make dark-sounding dance music, and particularly Basque music can sound very dark," Pringle says. "A lot of the stuff we were doing in the beginning was just trying to find the best fit for the uplifting parts because a lot of [Basque music] is quite dark and hysteric. We definitely try and make euphoric music because it means that we enjoy it as well."

CRYSTAL FIGHTERS
w/Alpine
The Urban Lounge
241 S. 500 East
Tuesday, June 11, 9 p.m.
$14 in advance, $16 day of show