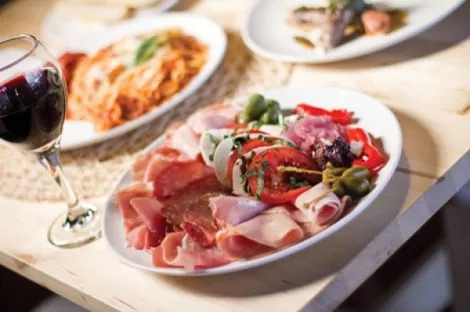 A trip to Cucina Vanina in Cottonwood Heights feels a bit like a visit to IKEA. The café/restaurant/deli is sleek and contemporary, with lots of blond wood, giving the space a sleek, clean and airy look and feel. It's in stark contrast to the cuisine, which is mostly Southern Italian and pretty traditional. But I really like the looks of this new eatery, and I'm fine without straw-wrapped Chianti bottle candleholders and checkered tablecloths. It's small, with a handful of cozy two-tops, a few four-seaters, one large communal table and even a low-slung, close-to-the-ground table for kiddies.
The restaurant is named for owner/chef Vanina Pirollo, a native of Southern Italy. She tends to bounce from kitchen to dining room tables, visiting with customers and offering menu suggestions. She's vivacious and friendly, not to mention a hell of a cook, aided by another Italian chef in the kitchen whose son waits tables.
You will not leave hungry. "Are you trying to kill us?" I asked, after trying to work my way through the large, generous portions. "That's the Italian way," she said. The menu is set up Italian-style, meaning that, theoretically, you'd begin with
antipasti
, followed perhaps by a salad course, then a pasta course and finally,
secondi piatti
—fish, poultry and meat entrees. And then dessert, of course. Well, such a procession would be challenging at Cucina Vanina because, as I mentioned, portions are plentiful. So, plan to share, and share some more.
Appetizer options include an
antipasti
sampler ($13.95) with prosciutto, salami,
coppa
ham, olives, fresh mozzarella, tomatoes, roasted red pepper, pickled onions, pesto, tapenade and crunchy breadsticks. Like everything else at Vavina, it's fresh and plentiful. Ditto the
gamberetti al limone
($6.50), which is something like 50 or more small bay shrimp, simply tossed with lemon, parsley and extra-virgin olive oil, the latter of which comes directly from Vanina's family vineyards in Italy and can be purchased by the bottle at the restaurant. An assortment of bruschetta rounds out the appetizer menu and ranges from toasted bruschetta (from homemade bread) with fresh tomatoes, basil and extra-virgin olive oil, to my favorite: bruschetta Napoletana, which was three hand-size slices of toasted bread with fresh mozzarella, a single anchovy on each and a thin slice of Parma ham (which wasn't mentioned on the menu), drizzled with EVOO.
Blessedly, the cooks here know how to cook pasta. It's dried—not made fresh—with the exception of Thursdays, when Vanina makes gnocchi from scratch. With every pasta dish I've tried, the pasta was perfectly
al dente
—firm, but not crunchy. A daily special of fettuccine bathed in a cream sauce with roasted mushrooms and Parma ham ($13.50) was delightful. And I also really liked the
spaghetti alla carbonara
:
al dente
spaghetti tossed with pancetta, raw eggs, a little cream and Parmesan cheese ($12). Given the raw egg component, it's difficult for restaurants to pull off
carbonara
without scrambling the eggs; they should just provide a silky, shiny coating for the hot pasta, which "cooks" the eggs ever so slightly. This version was just about perfect.
Frankly, I like the pesto I make at home with my garden basil better than any restaurant pesto I've tried—until Vanina's, that is. This is
perfect
pesto: fresh basil, garlic, pine nuts and olive oil, all pureed to the right consistency, in which you can detect delectable bits of crunchy nuts. Still, my favorite pasta dish here is good old spaghetti and meatballs ($16.95). The spaghetti is bathed in a rich, homemade red sauce called
sugo della Nonna
. It's a simple but sensational sauce (also sold by the jar at the restaurant) made from tomatoes, olive oil, garlic and salt. Vanina's dense, beefy, homemade meatballs simmer in the
sugo
, giving it a rich, meaty flavor. The meatballs themselves are mostly beef—not much filler—and, thankfully, Vanina doesn't put garlic in her meatballs. It drives me nuts breaking into a meatball and finding either burnt or raw garlic hidden inside. In fact, Vanina eschews garlic in most of her dishes for the same reason—it too often lends a bitter taste. Although, when she makes
oio e aio
, there's garlic aplenty.
For
secondi piatti
, I recommend the
involtini di carne
($17.95). This is thinly sliced beef (three pieces) pounded until about one-sixteenth of an inch thick, rolled up with fresh mozzarella, sliced prosciutto and sage. It's then skewered with a toothpick and seared in hot oil just enough to brown the beef and melt the cheese, and served with a house salad of greens, cucumber and tomato.
Not that everything is perfection in Vanina-land. This is a young restaurant, suffering growing pains and its own overnight success. On a busy Friday night, many of the menu items I hoped to try had run out, and the small waitstaff was spread so thin that one of the cooks had to keep coming out of the kitchen to bus tables.
And, I'd skip the Friday night seafood risotto, which really isn't risotto at all, but cooked rice (not Arborio) tossed with scallops, shrimp, mussels, calamari and cherry tomatoes. It didn't have the creaminess that risotto ought to have, nor was the rice
al dente
. Meanwhile, Papa John's, a few doors down, doesn't need to worry about competition. The pizza—a new addition to the menu—was an unfortunate disaster. The "crust" was more like bread—soft and spongy, topped with what tasted like spaghetti sauce. My Margherita didn't even have basil. How could you call a pizza "Margherita" without basil?
Here's some good late-breaking news. This week, Vanina was granted her beer and wine license. She says she's going to feature wine from Southern Italy—no surprises there. Wine with dinner will make Cucina Vanina—a very appealing restaurant already—even more enticing.
CUCINA VANINA

1844 E. Fort Union Blvd.
801-938-9706
CucinaVanina.com