Page 2 of 3
The two girls, Nazir says, had been "hanging out with guys at high school, dishonoring their family." The Mullahkhels believed, he says, that by bringing them home pregnant, their husbands to follow later, they would get "their honor back, and at the same time the Afghan community [in Utah would] become bigger."
While Omar and Haji Rahimi were friends, Haji didn't agree with the decision to marry the children off. "To me, it's not correct; we cannot force our children to marry someone," he says. "We want them to have their freedom, choose the way they want to live their life. We can guide them, not force them."
Still, the parents of the two families became close, especially the mothers. The Rahimis desperately wanted to bring Nazir over from Germany, and Omar, Haji says, was one of two members of the Utah Afghan community who provided witnessing signatures for the paperwork.
"My mom fasted for 40 days praying to Allah to bring her son back," Nazir says.
Nazir quickly adjusted to life in the States after his arrival in 2001. All the 19-year-old liked to do "was work, spend money on girls and mind his own business," his brother Nisar says. Both young men spent hours every day working out at the gym. "We want to impress the girls," Nisar says.
Nazir says he met Nargis at Green Street Social Club on New Year's Eve in 2006 and that both Nargis and Bilquis called him the next day to say that Nargis liked him and wanted to date. It was only later, he says, that he realized they were the children of his parents' friends the Mullahkhels. He knew that her family was traditional Muslim, but his family, he believed, would have no problem with them seeing each other. "This is America," he says. "I do what I want to do."
FIGHTING WORDS
The men who had married Bilquis and Nargis in Afghanistan petitioned them for divorce in 2004 and 2006, respectively. Divorce put the sisters at the center of sometimes-violent family disputes and led to the sisters being "shunned" as outcasts from their family and even assaulted by relatives "due to cultural and religious beliefs," according to a West Valley City Police report.
Nazir's sister Breshna Rahimi had met Nargis and Bilquis at a baby shower. Bilquis "was beat up really bad," Breshna later told a Utah immigration-court judge. Breshna recalled that Bilquis told her, "I got beat up by my brothers because I was dating another guy."
City Weekly accessed 33 police reports through a record request to West Valley City Police Department that reveal family members at war with one another, particularly in the aftermath of the sisters' divorces. The reports include complaints of assaults and violent threats mixed with allegations of made-up reports and fake texts.
"This is a Muslim household," middle son Ajmal Mullahkhel told a West Valley City Police officer in reference to Bilquis' relationships with several men, "and if she did these things in Afghanistan where we're from, she'd be killed." Bilquis responded, "We're not in Afghanistan."
But for all the fraught emotions within the Mullahkhel clan, it was the on-again, off-again relationship between Nargis and Nazir that sparked a feud between the two families that "escalated to a point that resulted in an absolute tragedy," as Utah Board of Pardons and Parole member Jesse Gallegos would later tell the two families.
The couple went on trips to San Francisco and Las Vegas, and Nazir, Nargis and her two children eventually moved in together. They loved each other at first, but then, Nazir says, it devolved into simply "a sexual thing." He says he paid $4,000 for Nargis to get breast implants. "If you look good, I look good," he says he told her.
Neither Omar nor his oldest son, Abdul, was happy with Nargis dating Nazir, Nazir's sister Mumtaz Rahimi says. "In the Afghan community, a lot of people talk bad about a family if the daughter is dating and not married," she says. " 'Why is your daughter with Nazir? They're not even married.' "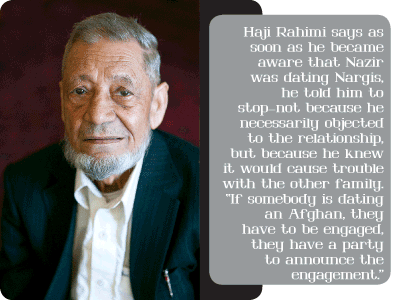 Haji Rahimi says that as soon as he became aware that Nazir was dating Nargis, he told him to stop—not because he necessarily objected to the relationship, but because he knew it would cause trouble with the other family. "If somebody is dating an Afghan, they have to be engaged, they have a party to announce the engagement."
The couple repeatedly broke up, then got back together as the intense family politics of the Mullahkhels spilled over into Nazir and Nargis' personal dramas. Several Rahimi children filed police reports of threats and violence from the Mullahkhel children. Nargis would later say she was a victim of domestic violence by Nazir.
Nazir's brother Nisar recalls a phone call from middle Mullahkhel brother Ajmal, who said, "You don't know who you are messing with. I got a 9mm in my car." Nisar says he didn't understand what Ajmal was referring to at the time, so he laughed and said he had a 10mm. Several months later at a downtown club, Nisar got into a fight with Ajmal and Farhad Mullahkhel that had to be separated by bouncers.
The Rahimis say that they complained to Murray and Salt Lake City Police Departments about harassment, damage to their cars, and violence from members of the Mullahkhel family. But, says Murray Police Department Officer Kenny Bass, the detective in charge of the investigation into Farhad's death, "there was nothing in their history that led us to believe an incident like [the street fight and stabbing] would have occurred." That history includes what he terms as "a slightly physical confrontation" at a Muslim festival in Sandy.
On Oct. 13, 2007, members of the Rahimi and Mullahkhel families separately attended the culmination of the three-day Eid-al-fitr, an annual Muslim celebration to mark the ending of Ramadan, held at Sandy's South Towne Exposition Center. As Breshna and Mumtaz were edging their way out of the crowded parking lot, they passed Abdul Mullahkhel's wife, Marzia, who, the Rahimis say, insulted them. Mumtaz says she snapped back an insult, then saw Abdul running toward them. She says she rolled up the window, only for Abdul to punch the passenger window several times until it broke, showering her with glass.
"At that moment, I thought I was back in Pakistan, where guys can hit women and women can't do anything about it," says Mumtaz, who subsequently went to the hospital.
After the incident, Haji Rahimi says, Omar Mullahkhel and his wife came to the Rahimis' house to apologize, bringing gifts of walnuts and shortbread.
"That is why I really respected him, because they came to our house," Haji says. "To me, he is not the person who did that; the son did it. He told us 'sorry.' To us, if somebody says 'sorry,' it wasn't his fault."
WE'RE DONE
One night in late March 2008, Nisar Rahimi says, he answered the door to find Bilquis' ex-boyfriend Ali Munder Al-Rekabi, an Iraqi refugee of the Gulf War.
Nisar says that Al-Rekabi told him that he had received a call while he was in jail from several of the Mullahkhel children, offering him $15,000 to kill Nisar and $10,000 to break Nazir's teeth—the intention being to make Nazir suffer. Nisar says Al-Rekabi told him, "I'd never do that, but that doesn't mean somebody else wouldn't do it."
Officer Bass says that when he interviewed Al-Rekabi in prison, where he's currently serving 60 months on an unrelated charge of gun possession by an illegal alien, "he said none of that was true at all."
A few weeks later, in the 24 hours leading up to Nazir killing Farhad, Nazir and Nargis broke up one final time—though, in the aftermath of the street battle, they gave very different accounts to Bass as to why.
Nargis told Bass that she'd informed Nazir they were over "and that she could not take his beatings and crude comments." Nazir, she said, then threatened her family, saying, "Are we done? If we are done, I will fuck up your family and fuck up your brothers."
Nazir said that he thought that she was cheating on him, and that he went to the Midvale nail salon where she worked on April 20, 2008, to end the relationship and retrieve a ring he had given her and some pictures of the two of them together.
During that visit, Bass says, the couple may have argued, but because they spoke in Dari, witnesses had only vocal tones and body language to go on.
After the meeting at the salon, Nazir, the Mullahkhels said in statements to Murray City Police Department, then began sending threatening texts to Nargis' brothers from Nargis' phone, which Nazir had taken—accidentally, he says—when he'd retrieved the items from the salon.
Nazir told Bass her brothers kept calling and sending texts, saying, "We're coming to your house with Mexicans to mess you up."
Bass looked at Nargis' phone and noted in his report that while "there were several text messages sent to and received from Ajmal … the messages are confrontational in nature but there were no threats made."
Nisar called Murray Police Department and requested to speak to an officer who had been handling a prior complaint that the brothers had made against the Mullahkhel children. However, because Nisar did not respond when the officer called him, the officer "advised dispatch to clear the call out," according to Murray Police interview notes.