In the end, there can be only one ... and the one came from the few.
One winner of the
City Weekly
Music Awards, that is, and becoming that one was no easy task. A small posse of music scenesters nominated more than 100 bands for consideration for
City Weekly
's annual tribute to the local music scene. That's a testament to the pervasive talent coming from all corners of the state. That's also a lot of bands to fit into eight live showcases, so a series of votes and discussions and scheduling jujitsu whittled the list down to 25.
That's when City Weekly readers took over, voting online and at the showcases for their favorites. Ultimately, three bands were chosen to play the final showcase: Lindsay Heath Orchestra, Cory Mon & the Starlight Gospel and King Niko, with King Niko taking the $2,000 prize at The Complex on Feb. 19.
Contributors: Angela Brown, Chris Brozek, Julianna Clay, Austen Diamond, Corey Fox, Jamie Gadette, Dave Morrissey, Jeanette Moses, Dan Nailen, Gavin Sheehan, Ricky Vigil
Photos by Erik Daenitz
>> Read Some of Our Favorite Things: <<
A few music-related shout-outs from City Weekly writers.
>> 2010's Utah Local Music Releases <<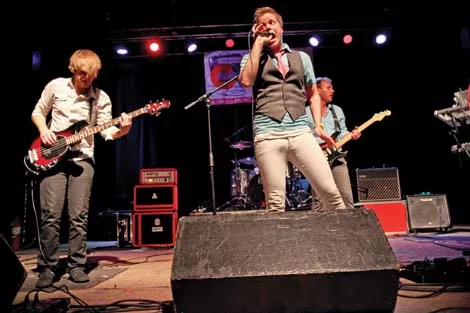 KING NIKO: CWMA Band of the Year
You might hear the members of King Niko crack jokes through an interview or one of their manically energetic sets and think the quintet is somehow lacking gravity. But rest assured, the boys blending poppy hooks, some punky aggression and their much-relayed desire to "make the girls dance" are serious about their music, and their love of the local music scene.
That infectious good-time spirit no doubt helped the band make it to the final showcase of this year's City Weekly Music Awards, and ultimately win Band of the Year honors, thanks to the voting fans in attendance.
For the past two years, the young quintet has enjoyed some major highs, like opening for 30 Seconds to Mars and releasing two solid EPs, while continuing to grind away like any relatively new band, working their way up the ladders of various venues.
Talking to singer Ransom Wydner, you get the feeling King Niko wouldn't have it any other way, even though breaking through on the local scene hasn't been easy.
"You've got to put in your work in the trenches," Wydner says. "You've got to play some shows you don't necessarily want to play early on. You've got to play shows in the middle of the week when you're not sure anyone's going to show up. You've got to develop relationships with the bands you're playing with, or with the club owners and promoters. Eventually, if you're easy to work with and you promote, you'll be OK.
"We're not super-popular, but we do our work, try to tell people when we have a show and promote. And if you do that and put on a good show and try hard, you find it easier the next time around to get a better show at that club."
It's a strategy that's clearly worked well so far for the band. And so has delivering songs that get the girls dancing; the combination of the band's online fan base and motivated fans who showed up for their CWMA final showcase put King Niko over the top, despite the challenge of having their first showcase on the very first night of the CWMAs, at all-ages venue the Avalon Theater.
Now, with the Band of the Year title and cash in hand, King Niko is looking forward to doing some more recording after writing more songs with new keyboardist Reid Laitinen. Benny Moffat, Zachary Sloan and Tim Rawcliffe round out the band.
In the meantime, you just might catch Kink Niko landing a few more weekend gigs instead of those midweek shows. (Dan Nailen)
CWMA DJ Spinoff Winner: FLASH N FLARE
At the 2011 CWMA DJ Spinoff, Flash n Flare (aka Kyle Erickson) was smack-dab in the middle slot of the five performing DJs, and his mix of bombastic beats, familiar pop samples and old-school hip-hop like the Wu-Tang Clan proved to be the most popular with the crowd on hand.
"I've always had a tough time describing my style," Flash n Flare said in an interview just before the spinoff. "When I began spinning, hip-hop was my love and dance music was my mistress. Now, I don't really know which is which. I love them both; you can hear each of their influences in any of my sets. But I play a lot of styles other than those two. I take great pride in having an eclectic selection of music every set."
Flash n Flare's diversity allows him to spin at everything from nightclubs and weddings to restaurants and corporate parties, and he notes that "each situation asks for different styles of music." Even so, "My favorite stuff will always be an electro beat with some hip-hop laced in. I'm a sucker for it and it always pounds in a club."
The DJ, who lists A-Trak, Z-Trip and DJ Shadow as inspirations, sees good things ahead for DJ culture in Salt Lake City.
"There are many different DJs going in different directions that all get good support. Any night of the week there is a good DJ playing in the city, except Monday. That's for family-home evening," he jokes. "Same as live music, you may have to be tuned in to find it, but it's going on."
CWMA Finalist: Cory Mon & The Starlight Gospel
Well before Cory Mon & The Starlight Gospel were voted into the finals of this year's CWMA showcases, the Orem-based band had a lot of good things happening.
Mon won the Telluride Acoustic Blues Competition at 2010's Telluride Blues & Brews Festival. The band has already toured with JJ Grey & Mofro and is hoping to land a big tour this spring with North Mississippi All-Stars, and they're on the verge of being accepted to play the Wakarusa Music Festival in Arkansas this summer. And the band's new album, Turn Coats, is officially being released in March.
Even with all that going on, Mon and Co. were stoked to make the CWMA finals, after years of toiling in relative obscurity in their home state while touring often beyond Zion's borders.
"We were way honored to be mentioned because we're a south-valley band that really does more touring than playing in Utah," Mon says. "Any time it's kind of a battle of the bands, we're not the popular guys in school. That's why we were really surprised we made it this far, in Utah in particular."
Mon's final showcase set was a stirring collection of roots-rock, delivered with style and skill despite half of backing band The Starlight Gospel being manned by fill-ins. Now Mon says they're ready to get out and support Turn Coats with as much touring as possible. But they're waiting to see if they can latch onto a big tour before they head out.
"I want to hit the road really relentlessly by ourselves," Mon says. "But if we land one of these tours, it could make us." (Dan Nailen)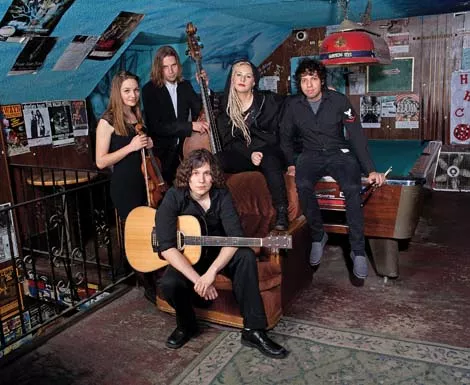 CWMA Finalist: Lindsay Heath Orchestra
Of the three finalists this year, perhaps none exemplified the independent spirit and vast possibilities of "local music" like the Lindsay Heath Orchestra.
Led by Heath, who'd performed for years on her own and with various bands using her Kid Madusa moniker, the orchestra proved a remarkably pliable crew, taking Heath's intricate-yet-playful compositions to new heights. Violin and stand-up bass blended with Heath's drums and guitars for songs that veered from nouveau-folk to avant-garde art-rock.
Putting her own name on her current project, Heath says, "would be a way to honor the power of vulnerability and rawness," and the shift was accompanied by a simplification of her songs that she felt had become "overcomplicated."
"I learned that my tendency to overlayer literally buried the pure heart and soul of the orchestra songs, and distracted from the story I am meant to tell," Heath says.
The City Weekly readers and fans who voted her into the finals certainly responded to her new direction. Next up? Capturing her vision for a full-length album 10 years in the making. She'd like to add viola and cello to the orchestra, and create a multi-media experience for a release show incorporating dance, film and her paintings.
Heath saw the CWMA experience as a means to woodshed her band in preparation for the recording studio, rather than as a competition. "There is so much diverse talent in this city that nobody really needs to compete," Heath says. (Dan Nailen)