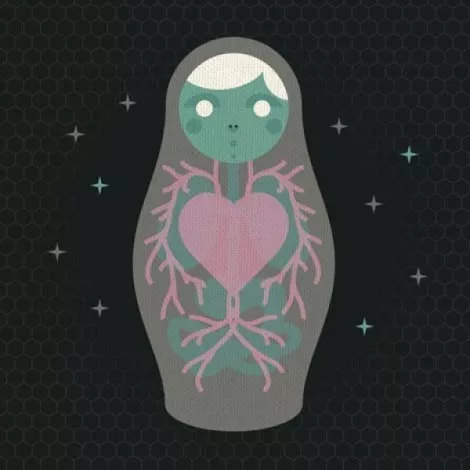 An illustrator at heart, Dan Christofferson will put simple line work and color before anything. "The image is first for me," he says. "I see it in my head and, as it rolls around, the concept and technique tend to attach themselves to it."
Christofferson has defined his style with strikingly detailed and colorful images that are almost always the standout pieces of whatever group shows he may be involved in. Whether it's an abstract mummy or a giant headless knight, his crisp lines and popping color distinguish his work as some of the most original and inspired in the Salt Lake City art community.
His new solo show, Terrible. Gentle. Man., allows him to use different styles while focusing on big influences on our behavior and who we are at our core. Using the Russian nesting doll (matryoshka) as one of his main concepts ("Ghostblood" is pictured), Christofferson is able to "call attention to the different layers inside each of us and ask the viewer to put some thought into what makes up the layers nested inside them."
He's trying hard to avoid picking a medium, instead letting each piece dictate how it needs to be presented. One image called for a small button, another for a traditional print. The piece that might be the highlight of the collection manifested itself into a 7-foot-tall Russian doll sculpture. And while the deeper concept always comes through in the end, it's always that simple, meaningless rendering that comes first.
Terrible. Gentle. Man.: New works by Dan Christofferson. @ Blonde Grizzly, 15 E. 400 South, 801-355-9075, Jan. 21-Feb. 11. Opening reception Jan. 21, 6-9 p.m., free