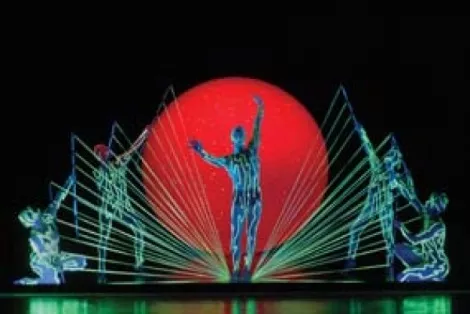 Master modern-dance choreographer Alwin Nikolais was always fond of saying, "When audiences come to the theater, they come to see theatrical magic—not dramatic or political problems, but magic." n
So perhaps it comes as no surprise that, although he is best celebrated for his very modern and very abstract dance works geared toward adults, Nikolais began his eye-catching experimentations with stage, sound and movement by choreographing for children audiences.
n
"In his early years Nikolais was a puppeteer as well," says Joan Woodbury, co-founder of Ririe-Woodbury Dance Company with Shirley Ririe. "That experience informed both his ornate and fanciful costume work, his ideas for human movement and really, his never-ending imagination."
n
It was that imagination that spurred Nikolais to constantly tinker with different types of media, often creating his own lighting effects, stage designs and musical compositions to accompany his work. The Crystal and the Sphere, RWDC's latest offering, although created with the younger audience members in mind, is really not all that different from one of his more adult-themed performances. Sure the evening consists of nine smaller pieces sporting such titles as "Outer Space Clown," "Chess Skaters" and "Waddle Birds," the latter featuring giant, iridescent-green chicken costumes, but the movement and intriguing stage visuals are still pure awe-inspiring Nikolais. For example, the entire evening is lit with black lights, utilizing the effect to make dancers seemingly disappear and reappear at will—a trick he used much earlier in another one of his adult works centered on a gaming gallery at a carnival.
n
"It's kind of a 'now you see it, now you don't' type of costuming," explains Woodbury. "The back side of the body is all black and the front side is highly decorated with bright circles and designs. That way, when the dancers face forward, the black light illuminates the colors and when they turn around, they completely disappear into the darkness. It really is fun because the first time that happens in the piece, you can hear an audible gasping from the audience."
n
Even though The Crystal and the Sphere was the last children's show that Nikolais created before he passed away—originally commissioned by the Kennedy Center for its Imagination Celebration in 1990—in many ways, it truly is Nikolais coming full circle. When first starting out in the 1940s and '50s, he and his partner Murray Louis would put on shows at the Henry Street Playhouse in New York City for all the kids in the neighborhood, trying to get the families to come to the theater. He had an innate sense that children would both understand and enjoy abstraction—and, according to Woodbury, they do. For instance, instead of doing a narrative based upon, say, "Jack and the Beanstalk," Nikolais might construct a dance piece about a character climbing a vine. That way the children in the audience always have some sort of easy reference point to view really quite abstract modern dance. For extra fun, he might even go as far as throwing in a puppet-esque Jack-eating giant to boot.
n
"He always had something of a childlike nature in his mind, which showed throughout his work," says Woodbury. "When, in fact, you know, I think he was actually quite afraid of kids—but he always wanted to know how they felt about his work. He always said that he created all of his dances for as many people as possible, accessible to those who might not know that much about dance, those who may never have even experienced dance at all."
n
While Nikolais had audiences in mind in wanting to show them theatrical magic, he achieved this feat through experimentation with artistic abstraction.
n
n
The Crystal and the Sphere
nRirie-Woodbury Dance Company
nCapitol Theatre, 50 W. 200 South, Jan. 30-31, 7 p.m., Saturday matinee 2 p.m.
n355-ARTS ArtTix.org
n