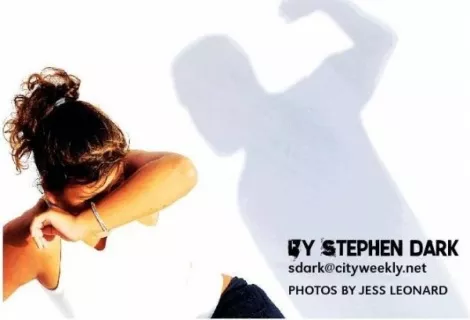 When Cornerstone Counseling Center domestic violence therapist Ron Llewelyn walked into the Salt Lake County Criminal Justice Services building for the monthly meeting of Salt Lake Area Domestic Violence Council [SLADVC] on Feb. 14, 2009, he expected to find the usual 20 people. SLADVC is a countywide organization for people who work in domestic violence. Instead, it was close to standing room only. "I was excited by the passion behind it," he says.

Cornerstone was proposing testing a highly controversial idea among volunteer clients: couple counseling for domestic violence abusers and their partners— controversial because couple counseling, its critics argue, makes the victim share responsibility with the abuser for the violence. Cornerstone is one of the state's largest providers of treatment for courtmandated domestic-abuse perpetrators. An abuser goes to Cornerstone after agreeing in court to attend and pay for a minimum of 16 weekly sessions in a batterer's intervention program [BIP] in exchange for the case being dismissed.

Costs for the abuser vary. While nonprofit Cornerstone, with its grant subsidies, can charge perpetrators less than $5 per session, the costs can range as high as $800 for a batterer's program. Severe abusers can end up in jail, and the victim at a battered-women's shelter.
That's a system most people who work in domestic violence in the Salt Lake Valley agree is not working. "It's a Band- Aid to a big problem," says Murray Police Department victim advocate Alissa Black.

Utah State Division of Child & Family Services' figures suggest more Band-Aids are required. In 2008, DCFS had 3,294 domestic-violence clients. The first six months of 2009 saw 1606.

University of Utah assistant professor Moises Prospero—who specializes in international family violence and mental health— and his research assistant Peter Fawson are working with Cornerstone on the pilot couple-counseling program. Prospero, who worked in a batterer's intervention program in El Paso, Texas, and has studied violence for four years at the University of Utah, is blunt: "We have to change the system. We can't incarcerate our way out of this."

But academic research has not demonstrated if 16 weeks of therapy for someone convicted of domestic violence as mandated in Utah, or 52 weeks as court-ordered in California, "has any efficacy whatsoever," Salt Lake City Justice Court's Judge John Baxter says. As far as decreasing recidivism in domestic violence, "we can't see any impact," he adds.
Before the SLADVC's skeptical audience, Fawson outlined the model they proposed to help domestic-violence abusers and their partners address their communication issues. The couples targeted by Cornerstone, Llewelyn says, are those involved in mild abuse, which can include pushing and shoving, hair-pulling and arm-twisting, and using threats to get sex. You don't have to hit your partner to be cited for domestic violence. Throw a cell phone at the wall—a typical tactic, say victim advocates, of abusers to isolate their victims—and you can end up in court.

"If we're not dealing with communication between the couple, they're ultimately going to keep using the same techniques, the same strategies, and the conflict's going to escalate," Prospero says.

Not all agree with Prospero's approach, though. Gina Painter—who, until recently, worked with perpetrators at Salt Lake County Probation Services—seethes in an e-mail that couple counseling is "a logically inappropriate, contraindicated, unaccepted practice nationally/internationally." Victim advocate Black is equally perturbed. "Quite a few victim-service providers foresee such a radical therapeutic practice as couple counseling leading to more crimes being committed by abusers against their victims," she says.

Tension between victim advocates and Cornerstone over couple counseling came to a head at the SLADVC February meeting, when then-South Valley Sanctuary shelter executive director Heather Masterton expressed her concerns to the room about couple counseling. Professor Prospero abruptly interrupted, disagreeing with her. When she sarcastically asked him if she might finish, he snapped, "Well, can you finish?"
Outside of that room, such an exchange of words would have been written off as a flash of temper, at worst. But, in a field where practitioners and therapists are hypersensitive to language and gestures, Prospero might just as well have slapped Masterton across the face. Amy Jensen, at that time a program administrator at Utah Coalition Against Sexual Assault, told the room she felt it was "not really safe to be asking questions."
In domestic violence-speak, that was akin to accusing Prospero of being abusive. Prospero apologized but doesn't regret it now. "Men don't get into it. I'm the only fucking idiot out there. We've got to do it. If not, nothing's going to happen."

What made the exchange all the more volatile was that Masterton and other victim advocates had originally welcomed Prospero with open arms when he arrived in Utah in 2004. They had seen him as an ally in the continuing fight to protect women from male batterers. As an academic, Prospero's research into domestic violence could provide ammunition to support advocates' arguments for more state support.

"A lot [of victim-service providers] think I betrayed them," Prospero admits. When he first arrived, he appeared to support the feminist view that domestic violence is men using power and violence to control women. Now, he says, "It's just not that simple." Prospero is also critical of the lack of attention paid by feminists and the state to female perpetrators and male victims.

But when he sent out a 40-page bibliography of articles to the domestic-violence community about women being more violent than men, he says, feminists in the victim-services camp tried to censor him.

What some victim advocates fear is that Prospero is attempting to, as Black says, "covertly decriminalize domestic violence" by minimizing it through couple counseling. Prospero denies this.
And, despite all the swirling controversy and mudslinging within the community over the issue, Cornerstone's pilot program has yet to even begin. Its objective, Prospero says, is "to end domestic violence."

His critics say, however, not only is it a practice that shifts some of the blame for domestic violence from the perpetrator to the victim by having them appear in therapy together, it also endangers victims' lives. "No matter what," Black says, "these therapists do not know what happens or will happen behind the couple's closed doors."

For all the people who are arrested in Utah annually for domestic violence—Salt Lake City Justice Court saw 1,027 domesticviolence cases alone filed in 2008—legal policy tends to be shaped by a single, highprofile killing.
Days after a Californian abuser walked out of therapy and then shot his wife who was waiting in the car for him, the Utah Legislature voted for a 12-week-minimum- therapy protocol for abusers before they attend couple counseling, recalls Sandy Counseling Center director Kent McDonald. He hopes that, if Cornerstone is successful with couple counseling, it might "get the Legislature to back off on the idea every perpetrator is in the business of forcing his will on the rest of the world."

National Coalition Against Domestic Violence [NCADV] executive director Rita Smith's voice quavers with frustration when she discusses Utah's couple-counseling initiative. What Utah is doing, she says, "is unique and dangerous and frightening. I don't know anyone who has done this work for very long who thinks couple counseling is a good idea." She, for one, hopes Cornerstone is "not successful for the [sake of all the] men and women and children in Utah."
UNDER WRAPS
Domestic violence, Alissa Black says, is all about time. "If someone were punched in the face on the first date, they'd never go out on a second one." Abuse in a relationship is gradual, unwinding slowly. "The victim's selfesteem is lowered so much by the abuser, they often do not feel worth anything." To take someone who has been bullied and browbeaten into blaming themselves for their partner's abuse and place them into joint therapy, she argues, makes no sense.

Forty years ago, however, NCADV's Smith says, prior to the first battered-women's shelters opening, couple counseling was frequently used by therapists. "It was the original strategy," Smith recalls. But, when information from abuse survivors and therapists came in about how dangerous it was, advocates became concerned. Smith says she and the board of the NCADV "absolutely do not support couple counseling."

Many states, such as Alabama and California, prohibit it unless the abuser does 16 weeks of therapy first—and even then, legal policy director of the Alabama Coalition Against Domestic Violence Jennifer Arsenian says, victims are cautioned against doing it.

When Black moved to Salt Lake City from San Diego five years ago, she was horrified to find treatment providers counseling couples with domestic-violence issues. "I knew it had been discredited at a national level," she says. "I couldn't believe how often it was happening here."

The issue had been kept under wraps, she believes, because couple counseling is very profitable for private treatment providers and is against licensing rules—unless an abuser attends 12 individual sessions of therapy first. Division of Child & Family Service's domestic-violence director Del Bircher points out that "maverick providers" have been doing couple counseling for "a long time" without a good understanding of domestic violence. Cornerstone's program, he says, offers an opportunity to "look at what's happening and make sure it's safe."

Judging by the experiences of Candace Lopez, a more careful scrutiny of safety issues and couple counseling in Utah might not be such a bad idea. Her husband, Isaac Lopez, from whom she is currently getting a divorce, has been in and out of lockup since he was 12. In 1995, his stepfather cut his mother's throat after she filed a protective order against him. Isaac, then 17, found the body. He has her name, Denise, tattooed across his throat. Candace and Isaac knew each other socially. He wrote her long letters when he was in jail. In 2000, while he was still incarcerated, they were married by a justice of the peace, he behind the Plexiglas window at the visiting room in his jailhouse garb, she in jeans and a white shirt.

For eight years, 31-year-old Candace fought to "keep together our little family." She has two children by previous relationships, and she and Isaac had a son. Isaac, she says, allegedly beat and choked her. A City Weekly reporter interviewed Isaac in the Salt Lake County lockup, where he's awaiting trial on a slew of charges, several of which are related to domestic violence. He denies most of Candace's allegations, while admitting he threw a rock through the back window of their car on Mother's Day, 2002, as Candace drove away with her two children. He also admits to dragging her down a Wendover street by her hair.

On March 14, 2009, Isaac allegedly went on a drunken rampage at a party. He tried to kick in a door, and when his brother's pregnant girlfriend got in the way, he says he "accidentally kicked her in the stomach." That same night, he smashed up his family home with a baseball bat, allegedly toppling a TV, which landed inches from their son's head. Candace called 911. Isaac ended up in court with an aggravated assault felony charge and two simple assault misdemeanors, one in the presence of a child.

On March 23, 2009, Candace got a protective order against Isaac. The judge told the couple, Candace recalls, "Either leave each other alone, or get help."

The private for-profit University of Phoenix offers free couple counseling with student interns. Candace and Isaac went for three Tuesday afternoon sessions in April. Candace told the intern-counselor Kelly Pierfanti during the intake interview that their "marriage was ugly." She didn't mention the domestic violence in front of Isaac. "He would have freaked out," she says.
In the third session, Candace broke down. In a flood of tears, she stumbled through an account of her husband's violent behavior. Candace says Pierfanti asked Isaac, "Don't you see what you're doing to her?"
Isaac, she says, "flipped out. He said, 'Fuck you, I'm done,' and slammed the door so hard it almost broke the window.

"Now do you see what I'm talking about?" Candace asked the white-faced counselor. For half an hour, they sat in the counselor's office, not knowing what to do. Pierfanti, she says, didn't know whether to call the police or get someone to walk her to her car—"if I was in danger, or what the deal was."

On June 16, 2009, Isaac allegedly waved a handgun in Candace's face, threatening to kill her. He was arrested and charged with a second aggravated-assault felony and a protective-order violation. "Isaac really believes, in his mind, nothing's his fault," she says. The sessions provided a "reality-check" for him: "Somebody else told him he was wrong." Candace says this only pushed Isaac over the edge, making a bad situation worse.

Pierfanti declined to comment on the sessions because of HIPA regulations. City Weekly asked several treatment agencies for referrals to couples who had successfully completed couple counseling after domestic violence, but none were available.
SLAP AND TICKLE
Cornerstone decided to get involved with couple counseling, says administrative director of treatment services Victoria Delheimer, because she and her colleagues were constantly hearing from treatment clients that "they don't want the relationship to end; they want the violence to end." So, a year ago, the agency began investigating couple counseling.

Llewelyn had his staff do a literature review to identify where researchers and academics in the field stood on the issue. Overall, 80 percent of the articles on couple counseling supported it, he says, while 20 percent argued against it on the grounds it was endangering victims.

They called in Prospero and Fawson to work with them on the project. Prospero and Cornerstone identified a model they liked, which involved six weeks of psychoeducation before going into deeper issues through individual and group therapy. Most of the current crop of court-mandated perpetrators and partners who are eligible for the course, Llewelyn says, are verbal and mild abusers. Moderate abusers who are convicted of slapping, kicking or punching their victims are not.

A number of female abusers he works with whom he would like to include in future sessions are moderate abusers, he notes, although "the motivation [for the abuse] was more out of self-preservation than it was control."

To be accepted in Cornerstone's couple-counseling program, the perpetrator has to be "really responsive to treatment" and the partner has to confirm the abuser had changed, Llewelyn explains. The partner is contacted without the perpetrator's knowledge. "We want to avoid the perpetrator going home and saying, 'This is my way out, you've got to do it,'" Llewelyn says.

If the abuser's partner agrees to take part, then, over the course of several hours, he or she would attend a session with other partners. Then, abusers and their victims would attend a group session. Finally, therapists would meet with the perpetrator and the victim separately to discuss their concerns.
Victim advocates' concern that the survivor might be too frightened or embarrassed to share information, Llewelyn says, "is a very valid point." The agency devises situations, such as a perpetrator being given a therapy bill containing an accounting error, to test the abuser's response. "It's not the information [therapists get in counseling from the partners] that tells us so much as [an abuser's] change in behavior," Llewelyn says.
RISKY BUSINESS
When word got out in the domestic-violence community at the beginning of this year that Cornerstone was interested in couple counseling, a number of victim advocates lodged their concerns. The agency presented what it was doing at the February meeting of the Salt Lake Area Domestic Violence Coalition. "There was a core of people who don't think it's a good idea, and a large group who thinks it's not the best idea but are willing to see what happened," Llewelyn says.

He says the criticism at the meeting made the agency look hard at what it is doing. So hard, in fact, that not only did it apparently choose the least severe cases it could find to participate in the pilot but, contrary to speculation in the rumor-obsessed domestic-violence community, it is only just about to begin.

"We haven't even started!" Delheimer says to gales of laughter from the other nine therapists and academics gathered in the room to answer questions about the program. "We're being so stringent in terms of who will fit this that we haven't got enough couples to start." At press time, Cornerstone had just two voluntary couples who had been approved by the agency to do couple counseling (a third pair dropped out).

That Cornerstone is having trouble finding couples "should tell you something," says National Coalition Against Domestic Violence executive director Smith. "You have to err on the side of caution. I don't think anyone knows who's at risk and who isn't. No one knows who's going to pull the trigger."

Cornerstone isn't the only one looking hard at what they were doing. Concerned victim advocates contacted some of Cornerstone's key sources of referrals, including the Division of Child & Family Services, to complain the couple-counseling initiative might potentially put victims in danger.

DCFS is one of Cornerstone's biggest contractors. The state agency has budgeted more than $6 million for domestic-violence therapy and treatment in 2009, of which just under $1 million goes to licensed treatment agencies like Cornerstone. However, since couple counseling is not, as yet, accepted practice, no state money goes to it.

Given the $6 million domestic violence budget Bircher has at his disposal, his views on Cornerstone's program will be important. "I want to be very involved with the whole process [of the pilot program]," he says. "We want to make sure of the safety issues." While it is too early for him to weigh in on whether the program offers promise, he notes in an e-mail that "it could become a model for other providers."
PLAYING IN THE SAND BOX
Llewelyn argues if domestic-violence counseling doesn't change, then the problematic relationship dynamics he and Prospero see in marriages that can lead to violence will continue. A second review of current literature on couplecounseling this year, he says, reveals "that there's some place for it in the field."

But the underlying problem with couple counseling, Black says, is that Cornerstone is working "under the false assumption that the victims are in a position to be treated as equal partners and are at a place where they are free to have a voice and opinion."

The rift between some victim advocates and Cornerstone over couple counseling is already causing problems. Cornerstone has yet to get victim advocates on board to help their therapists complete a safety plan if, for example, an abuser or victim were to storm out of a session. "We'd love to get victim advocates involved," Llewelyn says. However, Black says, she and several others provided statewide lists of victim advocates to help address safety issues but have yet to hear a response.

Llewelyn's biggest concern, he says, is a question a victim advocate asked at the February meeting: How do you address the issue of survivors who will do anything to make their relationship work?

"I don't know a good answer to that," he says.

One woman who tried couple counseling to save her marriage is 57-year-old "Claire" (not her real name). The former teacher and housewife requested anonymity because she stills lives in Salt Lake City with the man who, she says, emotionally abused her for many of their 33 years of marriage. "I desperately wanted to fix our marriage," she says—so, three years ago, she asked her psychologist to see them both. They had four sessions, until her psychologist put a stop to it.

"[Her husband] would very intelligently manipulate the conversation," Claire says. "He knew what to say to make me feel bad, start crying." The psychologist told Claire she didn't want to subject her to more "emotional whippings" during the sessions.

While victim safety may be the core issue, the future of the domestic-violence landscape in Utah underpins much of the debate on couple counseling. If Cornerstone can show with its data that couple counseling is effective, then, Llewelyn says, "people will start recommending it." Victim-services providers' fears that resources might be redirected to couples counseling is "legitimate," he says. "The government puts money into what works."

Prospero, who will shortly chair Utah's Domestic Violence Coalition, wants his critics in the victim-advocate realm to come in from the cold. "What I'm trying to do is make [Utah's treatment agencies and victim advocates] play well together," he says.

But, victim advocates may not be easily won over. Black's greatest concern is on the wall of her office: It's a map of Salt Lake County with 45 names on it, the number of people killed in domestic-violence incidents since 2002. Nine of them are men, of whom three were killed by female partners. "A lot of names on that wall I suspect were involved in couple counseling or attended batterer-intervention programs," Black says. But, she can't prove it.

Each year, the Utah Domestic Violence Coalition reviews domestic-violence deaths. It does not, however, assess whether or not couples were receiving therapy individually or together. "My fear is we're going to have more names added to that map as a result of couple counseling," Black says.

Domestic violence is a frustrating field to work in, especially when "the bureaucracy and the community doesn't support direct-service providers or we feel we don't have a voice," Black says. She sighs, then adds, "People with the most money win."

For help on domestic violence issues, call 1-800-897-LINK.