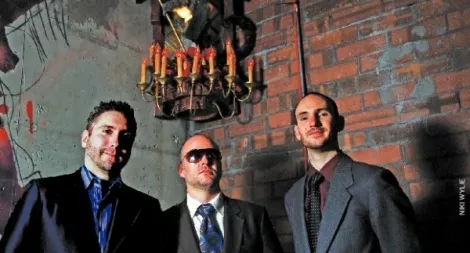 It's been hectic trying to schedule an interview with Daniel Day. But then, he's almost too busy playing music to talk about playing music. The drummer/percussionist has been an integral part of the Salt Lake City music scene for more than a decade and recently reached a point few musicians or artists ever achieve: working full-time as a musician—making a living at it, calendar almost completely full with gigs at multiple local venues.
Originally from Minneapolis, Day's family moved to Utah when he was 12, but he's lived everywhere from Brooklyn to Venice Beach. No slouch at the theoretical side of music—he studied the complexities of jazz drumming at the Berklee College of Music in Boston—he's always quick to make sure that the sounds are accessible. The end goal is always to connect with listeners.
When he returned to Utah from Boston in 1993, he joined Gentry Densley's band Iceburn, which is highly lauded nationally in the experimental scene. "It was a great time to join," Day recalls. Iceburn had just signed on to tour with Zack de la Rocha in support of the Western Shoshone National Defense fund, and then Day was offered Iceburn's drummer slot permanently. Three records and six U.S. tours later, it was a hell of a ride. "The whole East Coast was huge on Iceburn," he recalls. "People would show up with massive tattoos of the band logo, and follow us around to different cities."
While still in Iceburn, Day started electronic drum-and-bass tinged band Cosm in 1996 as an avant-garde group, sometimes using three acoustic basses. He took Cosm to Brooklyn in 1998 with different personnel to make a foray into the avant-garde jazz scene of New York City's Lower East Side. While playing CBGB with Iceburn, Jim Black, with whom he had studied at Berklee, suggested staying in New York, and with Cosm he performed with jazz players of note—Daniel Carter, Andrew D'Angelo and Reid Anderson of the Bad Plus—and recorded on the Aum Fidelity label in the late '90s.
For Day's first solo recording as the Daniel Day Trio, Champions, he worked with Berklee mentors and with Iceburn and Cosm. The project merges elements of jazz subtleties and the intensities of rock drumming. In addition to the DDT core group of Day, bassist Dave Bowen and guitarist Geoffrey Miller, he enlisted Densley and local guitar/studio whiz Mike Sasich (with whom Day had played in the Portishead-like group The Kingdom in the early 2000s), who co-produced Champions.
"I wanted to see what Gentry's sound would do on deconstructions of songs," Day says of the release that, in addition to several Day originals, is mostly comprised of '80s and '90s covers: Berlin's "Destination Unknown," New Order's "Bizarre Love Triangle," Nirvana's "Heart Shaped Box," and Oasis' "Champagne Super Nova"—Day's musical "champions." In live performance, Day chooses sometimes unlikely covers like Snoop Dogg, Lil Wayne or Kanye West, but the covers on the disc are all pop-chart favorites.
He selected iconic tunes for the disc because he wanted songs that are already strongly embedded in people's lives. The Trio doesn't attempt to reproduce the songs, but use what Day calls "our own signature approach, selecting key elements of each song to improvise with. I told Mike Sasich in his guitar solos not to stop short, but go all the way," Day explains. "That's the way to pay homage to artists who inspired us."
As a result, this music is always smart, yet immediately accessible. "The days I wanted to play music just to play music are over," Day notes. "I want the music to connect with people."

DANIEL DAY TRIO CD RELEASE
The Red Door
57 W. 200 South
Saturday, Feb. 20
9 p.m.