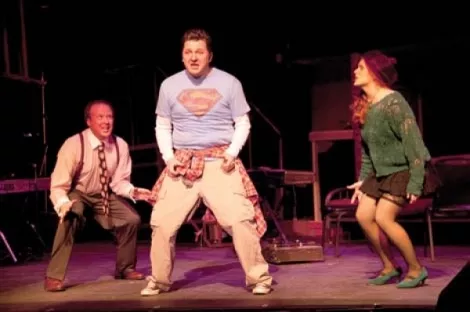 Without the context of composer Jonathan Larson's posthumous success with
Rent
, is his "pre-midlife crisis" musical
tick, tick … BOOM!
an artistic success? Maybe only moderately—but that context
is
there, and a smartly constructed production capitalizes on every available strength.
In what was originally a one-man show, aspiring composer Jon (Daniel T. Simmons) is staring down his 30th birthday in 1990 while pondering his future. His roommate, Michael (Jonathan McBride), has already surrendered artistic aspirations for a financially lucrative 9-to-5 career; his girlfriend, Susan (Ginger Bess), is suggesting that maybe they should leave New York for a less uncertain life. And meanwhile, Jon is still waiting tables and hoping that his latest project, a musical called Superbia, will make it feel like his dreams could ever amount to a career.
At times, tick, tick … BOOM! feels too stocked with filler, particularly a clunky second-act opening number celebrating Jon's Twinkie fixation. Yet there are also undeniably effective songs, from the hilarious generic relationship argument "Therapy" to the more conventional showstopper "Come to Your Senses." And Bess in particular is terrific here, playing multiple roles and showing off a magnificent made-for-Broadway voice.
But having the title Rent literally looming in the background of the set is another part of the package here, a tribute to the courage it takes to keep creating when the odds are stacked against you. You may not even think Rent is a transcendent theater achievement, but there's still a joy in watching the pursuit of a dream.
Dark Horse Company Theatre: tick, tick … BOOM! @ Egyptian Theatre, 328 Main, Park City, 435-649-9371, through March 27, $18-$25. ParkCityShows.com