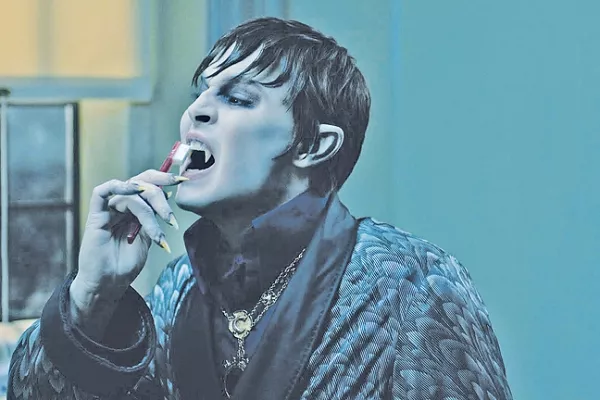 Dark Shadows marks the eighth collaboration between director Tim Burton and Johnny Depp over a span of more than 20 years, and in some ways you could certainly say the partnership has been a fruitful one. They made a couple of wonderfully original films like Edward Scissorhands and Ed Wood; they both have made rolling-around-in-it-like-Scrooge-McDuck money. And the cosmetics industry has likely put more than a few kids through college on the face-powder and guy-liner budget of Burton/Depp joints.

But this creative marriage has grown less and less creative with every passing reunion. Two singularly quirky cinema personalities have found themselves stuck in a cycle of re-visiting whatever familiar pop-culture character manages to cross their radar in a given year: Ichabod Crane, Willy Wonka, Sweeney Todd, the Mad Hatter. Now, they've turned their attentions to the cult-favorite 1970s gothic soap opera, and the result is another film that indulges the most unfortunate tendencies of each of them, respectively: Burton mistaking "busy" for "inventive," and Depp letting weird vocal mannerisms and elaborate costumes do his acting for him.

The weird voice and costume for Depp here belong to Barnabas Collins: vampire and undead man-out-of-time when he's exhumed in 1972 after nearly 200 years buried in the Maine woods by the sorceress, Angelique (Eva Green), whose affections he spurned. In the modern world, Barnabas finds the once-proud family business—and the family castle, Collinwood—in shabby ruins. He's determined to help his 1970s relatives—including bitter heir Elizabeth (Michelle Pfeiffer), and Elizabeth's precocious teenage daughter, Carolyn (Chloë Grace Moretz)—return to their former glory, but finds that the still-living Angelique hasn't forgotten about Barnabas yet.

Thus begins an elaborate supernatural melodrama, or maybe a fish-out-of-water period-piece satire, or perhaps a bit of genuine horror, or then again it could be a wild special-effects-heavy action movie. Indeed, it's every last one of these things, in a combination that rarely succeeds even temporarily at any one of them. The character moments are perfunctory at best, building to ridiculous scenes like troubled young David Collins (Gulliver McGrath) being abandoned by his only surviving parent, and crying pitifully like we're actually supposed to care. The gags in the script by Seth Grahame-Smith (Abraham Lincoln: Vampire Hunter) built around Barnabas' confusion with his 1970s surroundings offer a few laughs, but also fall back on easy, groan-worthy targets, like assuming Alice Cooper must be a woman, and a pun on "holding balls" that AC/DC already handled quite admirably more than 30 years ago.

And then there's Depp himself, who preens regally in his cape and plastered spit curls. Yet there's never a moment in Dark Shadows when it feels like Depp is actually being asked to play a character. Barnabas' fascination with the governess (Bella Heathcote) who may be the reincarnation of his tragically lost love merely occupies screen time, or provides an excuse for Barnabas to hang out with hippies and inquire about how to woo a modern woman. He's little more than a delivery system for jokes—and no matter how enthusiastically he pronounces the lines, he can't make them add up to a movie.

By the time Dark Shadows reaches its final 20 minutes, the whole thing has collapsed under the weight of its lack of a point. The climactic confrontation turns into a mess of fire, explosions, computer-
animated furnishings and the abrupt appearance of a werewolf because hey, why not, that's one thing Burton hadn't tried yet. The pointless clamor of special effects goes nowhere and for no good reason, the kind of ending that happens when a filmmaker doesn't actually have an ending.

As is the case with many marriages of another kind, it has become clear to everyone except the people involved that Burton and Depp may not be good for each other anymore. Burton could return to fanciful, whimsical tales of outcast dreamers; Depp could find a director willing to put him in sneakers and a sweatshirt, just to see if he remembers how to play something that's not fundamentally a cartoon. If they could come to that peaceful parting of the ways before someone grabs the remake rights to The Ghost & Mrs. Muir, or Mork & Mindy, or God knows what else, we'll all be the better for it.

DARK SHADOWS


Johnny Depp, Michelle Pfeiffer, Eva Green
Rated PG-13