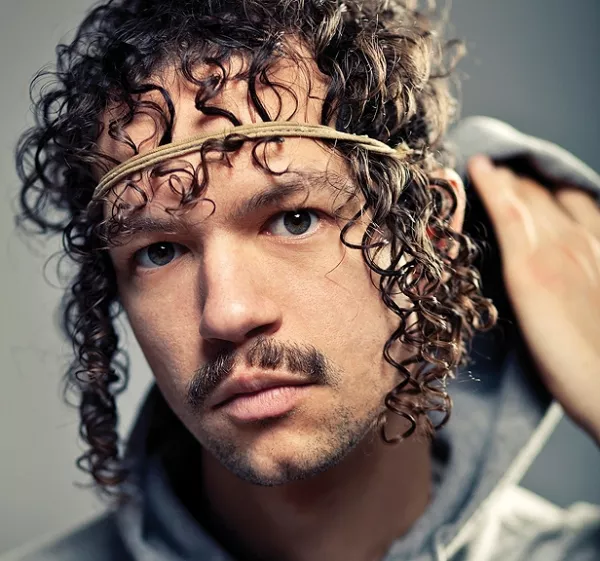 The existential psychologist Rollo May would begin every session with this non-geographical-oriented question: "Where are you?"
Upon learning about Darwin Smith's love of existentialism—add that to his off-kilter inclinations and wry sense of humor—this query seemed like the best way to start what would hopefully be a provocative interview.
"So, where are you?"
"Oh, um, I think I get it. I'm going 55 mph through Virginia, driving," the frontman of Darwin Deez says by phone. Um, is that a metaphor? Nope.
Well, if the guitarist and lyricist had understood the question, he would have probably said he was experiencing a bit of freedom after a time of incarceration—metaphorically, of course.
This sentiment is represented on the album cover for Darwin Deez's sophomore LP, Songs for Imaginative People. It's a mugshot with Smith holding, rather than a serial number, a score of the vocal melody in the coda (" 'Cause all anybody knows/ is how the jingle goes") from album opener "(800) HUMAN."
The cover art, along with the photos in the liner notes (Smith's arm handcuffed to a guitar; a gross lunch tray with a 1/4-inch jack coming out of the meatballs; several stomp boxes, one holding cigarettes, etc.), allude to a "fictional prison based around music," Smith says. "It represents my life in the past year—a slave to the music."
Smith moved from New York City to Asheville, N.C., to write and record Songs for Imaginative People. He says he felt isolated, but that gave him complete freedom to get all artsy on his follow-up to his self-titled debut, an album that earned Smith big-time U.K. popularity and indie-rock cred with its bubbly singles and hip, DIY music videos for "Constellations," "Radar Detector" and "Up In the Clouds." With little variation in tone or tempo, his debut was singular in its specific production styles, but it allowed him to "establish an identity."
This time around, though, Smith, far removed from the hustle and bustle, spread out—literally, lyrically and sonically. On Songs for Imaginative People, he finds more confidence in his voice, dabbles more in lead-guitar shredding and offers up more variation in song style, while still relying heavily on his intelligent pop sentimentality—it's more in the vein of Avril Lavigne and Alanis Morissette than Grizzly Bear or Wavves, he says. Smith is decidedly making pop music—but one level deeper, which he achieves with his signature lyrical style.
Smith is a clever craftsman of lyrics with many turns of phrase—sometimes hinging on one word—and an expert use of plenty of puns.
"Well, I think there's definitely better ways of making poetry and lyrics. But there are a lot of lyricists that will never use a pun, and, sometimes, I wonder about their intelligence," Smith says, adding that the pun conveys a certain level of wit and irony, which he really wants to impart to his audience and critics alike.
"I think the most effective, and the least pretentious, way to write lyrics is in the [American pop] vernacular, which means puns and cliches," he continues.
"Alice" is a prime example of Smith being overt with his literary devices. In the jovial, jangly tune about long-distance love not working out, Smith sings, "You're pitcher perfect in this light beer" and "You have monopolized cute/ but talk about trivial pursuit." He says, "The puns were an easy way to get going in the writing process."
In other songs, he's more sly, like with the cliche in "All in the Wrist," a song that Smith says is "basically my version of Bobby McFerrin's 'Don't Worry, Be Happy.' "
"All in the Wrist" holds one of my favorite verses—somewhat reminiscent of e.e. cummings—from Songs for Imaginative People: "But the long way is never the wrong way when it's homeward/ To be happy, yeah if you ask me, is only a matter of homework/ And it's all in the wrist/ Care do not I you my words can twist/ 'Cause it's easy, so easy that you might miss."
"This is kind of the deepest level of dogmatism that I've been indoctrinated to believe in," Smith says. "From a spiritual point of view, sinners and saints, we're all going to figure shit out eventually. We're all going to achieve enlightenment."
Even in the album's few dark, down & out blues-induced moments, there's a feeling of hope. Smith's music—poppy and fun—matches his ethos: "I believe that the recipe for happiness is 'Don't worry, be happy.' " 
DARWIN DEEZ
w/ Caged Animals, Hang Time
Kilby Court
741 S. Kilby Court (330 West)
Friday, March 1, 7 p.m.
$10 in advance, $12 day of show