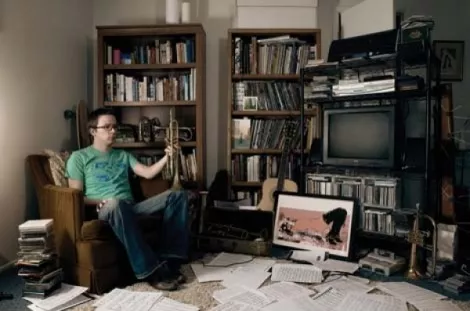 Without question, one of the hardest working musicians in the city has to be
Dave Chisholm
. With a local music career spanning the past decade, he has been an integral member of groups like Slapdown, Nova Paradiso, SLAJO, Sixsidedbox, The Brobecks, Let's Become Actors and, most recently, the jazz ensemble John Henry. He's appeared on at least one album with every group, all while working on his master's degree in jazz studies and being an active member in the University of Utah Jazz Ensemble.
To bring his Utah musical efforts to a grand finale of sorts, he decided to do something he's never attempted: a solo album.
"Putting out an album of large-jazz ensemble music has been a dream of mine for the last 10 years or so, and the opportunity presented itself," Chisholm said. "It was something I had to do."

When stepping into the studio, Chisholm wanted to produce the best sound he could with the finest musicians he knew, recruiting 17 different players in all, ranging from trumpets to saxophones, flutes to trombones, along with a steady "house band" that included a double-bass. The informal troupe then headed over to Rotosonic Sound and hooked up with Michael Green, who worked on the production from engineering to mastering.
"It was a blast," said Chisholm about the recording process. "All of my friends who recorded on this album were super-generous with their time. We had two big rehearsals and then one big recording session, followed by two shorter sessions of overdubs and several mixing sessions."
While the EP itself only has five tracks, the total running time is about 45 minutes, longer than many full-length albums. Why? Because Chisholm and company wanted to make a pure jazz record that was worth your money, recalling early vinyl pressings where songs were recorded live and on-the-fly, with most tracks going longer than 10 minutes to capture every single note, whether preplanned or improvised.
Radioactive finds its sound somewhere between bebop and modal jazz, creating a vibe of dark cellar clubs clouded in smoke. It's a feeling personified within the track "Behind The Mask." Yet, somehow it keeps a youthful character with compositions as strong as those of Darcy James Argue or Maria Schneider, particularly on tracks like "Montana" and "In The Belly of the Sun." It may not be Louis Armstrong, Charlie Parker or John Coltrane, but it sure as hell pays homage to earlier eras while remaining distinctly modern. Radioactive is simply one of the best-arranged recordings the Utah music scene has produced in years.
"This music is entirely written by me," Chisholm says. "While this album involves more people than any other project I've ever been a part of, it is far less collaborative than any work to this point. Many of the albums I've been a part of have been very 'poppy.' This one definitely fits into the 'jazz' genre ... It is a totally unique project and I'm proud to have spearheaded it."
The album serves as a fitting tribute and a sort of farewell to Chisholm as he departs for New York at the end of July, preparing to work toward his Doctorate of Musical Studies from the Eastman School of Music. Before then, he's touring China with the Utah Jazz Ensemble, and putting together what he's calling the New Improvised Music Festival June 29 at Kilby Court, which will act as his CD release party. The show features the Salt Lake Alternative Jazz Orchestra, The Joshua Payne Orchestra, Johny Henry, The Orbit Group, Chase Baird, Friendly Robot, The Reid Poole Quartet from Denver and Ankrasmasaurus Rex from Los Angeles.

NEW IMPROVISED MUSIC FESTIVAL
Kilby Court
741 S. 330 West
Tuesday, June 29
5:30 p.m., $6
KilbyCourt.com