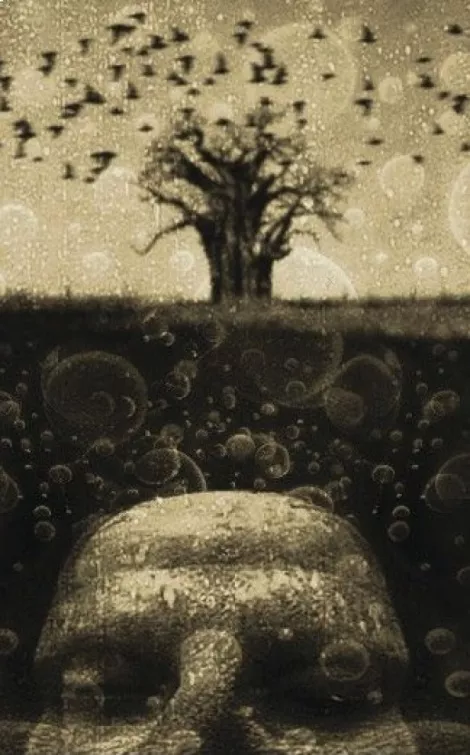 What does the world look like through the eyes of someone with obsessive-compulsive disorder? In digital collages, Dave Laub lets his fears take flight. These monochromatic mixes of photography, collage and painting look like something from a Tim Burton movie made at the turn of the 20th century, with a much darker and more frightening imagination at the helm. Laub says of his artwork, "I have always been overly concerned about monsters and robots bent on destroying mankind, bizarre apparitions waiting to show themselves, hordes of rabid squirrels, haunted landscapes, the feeling of being watched, of giant mutant plunderers from outer space, my creepy neighbor Old Lady Mortimer and, of course, brown socks.

Ultimately, these day-to-day concerns motivate and shape my work." Besides Laub's phantasmagoric world of entities to escape, there is a kind of fascination— elegance even—in his dreamscapes ("Sprout" is pictured). Their grainy textures emphasize the photographic character as though taken with an antiquated lens, although that very quality is created largely by digital manipulation of the images. Thus, beside being of interest as artistic images, they also demonstrate what digital technology can do, in a very different way from the work of Ed Bateman at Phillips Gallery.

Appropriately enough, this unsettling exhibit continues through the run of Pioneer Memorial Theatre Company's production of Dial "M" For Murder.

Dave Laub, The Day to Day Musings of an OCD: Digital Collage @ Pioneer Memorial Theatre Loge Gallery, 300 S. 1400 East, through April 4, PioneerTheatre.org