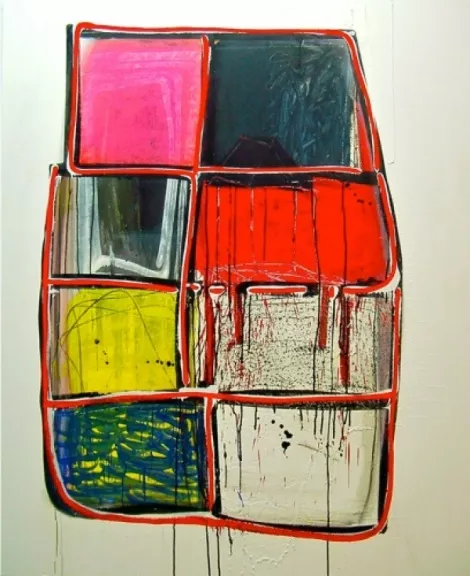 Art can imitate life, and life can imitate art—and in the aggressive and vibrant abstract paintings by Dave Thomas, now showing at House Gallery, both sides of that equation naturally come together. Thomas' abstractions are both large-scale and small and, through his use of color and gesture, embody a liveliness and an essence of reality that imitates life.
Thomas studied at the California Institute of the Arts in the 1970s; he attributes surfing as one of his greatest artistic influences, now resides in Idaho, and is a free spirit and an independently minded artist whose life, it might be said, imitates art. The one is dependent on the other, and the result is art that is stimulating, challenging and invigorating. It might be read not just through a purely structural reading that abstract work is often limited to, but as dynamic and engaging, as well.
The brand of abstraction in Thomas' work is anything but dry and mechanical. His work is fueled by an aggressive and potent impulse that characterizes his life and his approach to abstraction. He also has a keen sense of color and gesture; the summation of these qualities leads to a composition that might be appreciated as reflective of life itself, in many nuances and shades.
Thomas says, "My work is about the energy. I always wanted to focus my energy in an attack kind of way. I love work that has a lot of energy. I don't preconceive my work."
This energy is the force of the concerted impulse that makes Thomas' work unique and this abstraction uniquely his own—full of his own experience as an artist and as a person. He says, "When I was younger, my energy was expressed in more 'violent' ways, which is more toned down now; it is more who I am. As I get older, I find I have as much energy, but I am more focused."
His method of approaching abstraction is frank, honest and candid. The way he uses color—depending on contrast, tone, finish or his range—can convey meaning in the composition, while his use of bold or fine line, or texturing and surface detail, can create a mood and character. The result for the viewer is an abstraction that can be read with qualities that are reflective of life. Although, for Thomas, the purely physical act of painting is much of his motivation; the results are certainly a product containing the personal intensity with which he approaches each canvas—and life itself.
"8 Jul 10" is an abstract painting on a large scale with a composition that's complex, yet still clear. In this painting, we find colors that are loud and aggressive in a limited palette of pink, black, red and yellow, and calmed only by a subtle detail of sea blue at the bottom. These colors are presented with a loose grittiness and a finish that is coarse and unrefined, with a crude red outline and dripping paint. With the force of the colors and their contrasts, the rawness and edginess of the paint outlined in red reminiscent of neon, this abstraction might evoke the energy of an urban setting, with qualities of life from that environment made lucid in the imagination: emotions, memories, connotations. It might be New York City, or Salt Lake City.
"For me, it's about the material and the surfaces," he says. With this focus on what is happening with the physical elements of painting and his process, the result is a composition that is well-balanced and unified. For the audience, this means a canvas with qualities distinctive to each piece, each one open to individual interpretation.
"11 Sep 10" works in a similar way as "8 Jul 10" on a smaller scale, although it is equally animated. The color scheme here is entirely different, with pale blue dominating the field joined with mauve, yellow, purple and a square of bright red. Here, the gestural approach is also distinctive; the colors are presented as thin and airy, delicate and translucent, while a heavy and dense blue line wraps its way around the core of the painting that adds structure and weight. Using playful and ethereal colors in a manner that is capricious and light-hearted, this abstraction might evoke themes of fantasy or dreams that are an open door to psychological responses that will be different for each viewer.
However these abstractions might be read, or if they are enjoyed purely for their engrossing visual qualities alone, Thomas freely engages with the audience through his unique artistic approach to abstract painting that allows for open channels of reception. The effect can be liberating—and, at the same time, true to life.
DAVE THOMAS: TIME LINE PAINTINGS
House Gallery
29 E. 400 South
Through Dec. 22
Free
HouseGallerySLC.com