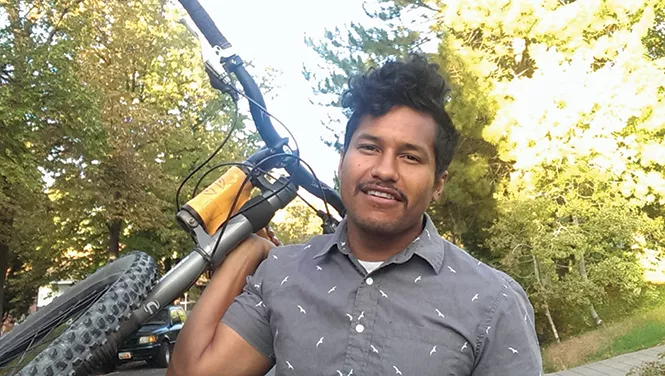 David Ezekiel Brooks is the founder and project director at Revolution United, a nonprofit that organizes open-source projects to benefit the community. Brooks serves on the all-volunteer Bicycle Advisory Committee, a group that meets monthly to advise Salt Lake City's Transportation Division. To celebrate the opening of a new pedestrian- and bike-friendly intersection at 300 South and 200 West, the committee plans to host Bikertoberfest on Saturday, Oct. 17, from noon-4 p.m.. The block party will feature live music, a beer garden, a giant-screen TV with the Utes vs. Sun Devils football game as well as friendly, bike-loving people celebrating the new intersection. As the city's emerging bike infrastructure continues to electrify and occasionally confound downtown denizens, City Weekly asked Brooks to expound on the bike committee's vision.
How do you gauge the success of Salt Lake City's new bike lanes?
Based on the reports provided to us in the bicycle advisory board meetings, which are transparent to the public, there has been an increase in revenues for more businesses along the 300 South bike lanes than there have been businesses that have suffered. This has been the biggest argument for most businesses: That they will lose customers because of the loss of parking spots. So far, this hasn't been the case.
Are the protected bike lanes safe? What about at intersections?
Over time, bike lanes are safer. There was a roll out phase at the beginning where there were a number of close-call incidents and actual accidents, but now that drivers and bikers have become accustomed to the bike lanes, those numbers have gone down, and will continue to go down.
What is so special about the new 300 South & 200 West intersection?
This intersection design is only the second to be rolled out in the United States. They have proven to be very successful and in use for a long time in Europe.
How do you account for the popularity of the GREENbike program?
The popularity of GREENbikes is a perfect example of why we need more bike lanes, and it demonstrates that the demand is there. Community Gardens, Lyft, Community Tool Sheds and other similar services will continue to grow as we as a civilization begin to run out of space and realize that we have to work together.
What got you involved with the Bicycle Advisory Committee?
A bicycle is one of the most sustainable inventions for transportation, because we are the main power source. This combined with my desire to do something more for humanity is what told me to apply to be part of the Bicycle Advisory Board. I haven't regretted a single second of it.