Page 2 of 3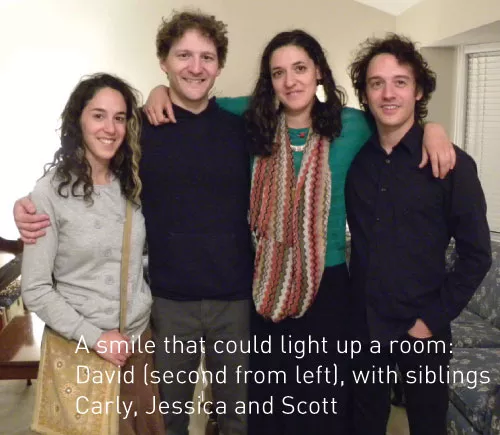 David's friendship with Pat grew even while Pat went on to acclaim with his debut role in Cameron Crowe's film Almost Famous. Pat would rely on David to read the scripts Pat's agent sent, always looking to David's sense of what was good and what was bad. In fact, all of David's friends would look to David for that remarkable, discerning creative intellect.
At some point, David and Pat discovered their shared musical interests and talents. In 2004, they released their first CD, Eddie Do, as the group Mushman, named after Harvey Mushman, an alias used by Steve McQueen in his racing career, and an idol of theirs. In 2008, they released their second CD, Lost Like Children.
David drew on a store of sweetness mixed with a seriousness that belied his age as the main songwriter and lead singer, while Pat contributed a talent for guitar riffs and a foil to David's humor.
Many of the songs David wrote dealt with death and existential crises—not in a tortured way, but one that was inquisitive, childlike and sweetly sad.
In "Eddie's Balloon," probably Mushman's most popular tune, David writes:
Eddie was afraid to die
He'd subtract and multiply
But never know why.
She departed far too soon
Leaving him a red balloon
To let go in the sky.
From his window Eddie watched it soar
Till he couldn't see it no more
Who knew heaven was so high?
....
Mommy I'm afraid to die it's sad
But it won't be that bad
When I'm back with you.
After moving to Los Angeles in 2009, David worked for a film-production company before returning to Salt Lake City late that year to co-produce and assistant direct Dustin Defa's feature film
Bad Fever
, which played at the South by Southwest film festival and was named one of
New Yorker
reviewer Richard Brody's top 27 films of 2012.
Entering what was probably the busiest and most productive period in his life in 2010, David played the lead male role in the feature film Must Come Down in Salt Lake City. The movie went on to appear in numerous film festivals, with reviewers finding David to be "the film's not-so-secret weapon."
At the same time, David initiated the planning for the launch of his brainchild, The New Works Theatre Machine, an experimental theater in SLC. David endured the travails of bringing this fledgling business to life and produced two plays, Go to Hell in December 2010 and Ride Me: A Play with Cruel Intentions in May 2011. He was named by The Salt Lake Tribune as one of Utah's eight emerging artists in 2011.
But in the midst of all his accomplishments, David was struggling with addiction to painkillers. It began, and ended, in the familiar clinic of our family doctor.
DOCTOR-SHOPPING
It was to Dr. Smith (whose name has been changed) that David first went as a teenager with his back pain. It was Dr. Smith who prescribed David his first opioid (Lortab) in 2008, along with Xanax and Adderall for anxiety and difficulty in concentrating, thus beginning David's relationship with addictive drugs.
Over the years, that "relationship" escalated, and as David's tolerance levels rose, Lortab, a Schedule III-controlled substance, became Percocet, a Schedule II-controlled substance. David could get a month's worth of 5-milligram tablets of Percocet from Dr. Smith whenever David was in Salt Lake City.
And when David was in Los Angeles, he was able to obtain Percocet in 5-milligram tablets from clinics there. Consistent with an increasing tolerance level, David took multiple tablets at a time, resulting in a need for additional prescriptions, which led him to doctor-shopping.
I didn't know about the doctor-shopping until 2012, when a doctor at a Rapid Care clinic in Los Angeles was the first to run David's name through the federal controlled-substances database operated by the Department of Justice. The doctor found multiple prescriptions in David's name for Percocet and asked David's girlfriend, Ashly, to come in, along with David, and talked with them both about the problem.
Ashly called me and, with David's consent, we decided he should return to Salt Lake City to see Dr. Smith and get to the bottom of the problem.
I don't really know the extent of David's feelings about that trip. I know he felt shame about his misuse of Percocet and the doctor-shopping, and perhaps being made to feel like a child at the age of 29, but I wonder if there wasn't a part of him that was relieved to have it out in the open, to have some help in putting Percocet behind him.
THWARTED INTERVENTION
I went with David to visit Dr. Smith on June 28, 2012, to support him and to make sure he told the whole truth about his substance abuse.
David admitted to Dr. Smith that he had been taking five 5-milligram tablets of Percocet at a time, multiple times a day, contrary to the label instructions.
I braced myself, expecting to hear the term "addict," but it never came up. The words "addiction" and "addict" were, in fact, conspicuously absent from the conversation.
Dr. Smith focused on the underlying reason for the use of Percocet: David's back pain, with the implicit reasoning that eliminating the back pain would eliminate the need for the painkillers. He helped us arrange to see another doctor who could administer a cortisone shot to David's back.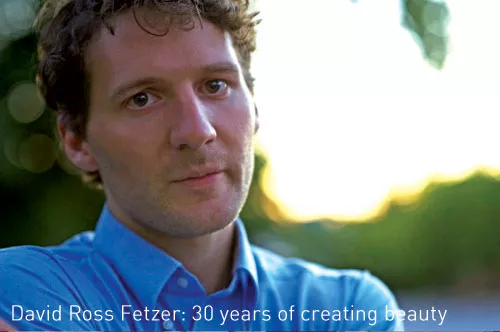 What Dr. Smith did not do was act on the concern about David's chronic use of Percocet for lower-back pain that he had documented in a previous appointment, according to his own clinic notes, which I obtained after David's death. But in our meeting, Dr. Smith downplayed the amount of painkillers David was taking, telling us he had many patients who took much more than David.
After four years of prescribing him painkillers ranging from Lortab to Percocet, in addition to the Xanax and Adderall, Dr. Smith had led David down the path of addiction and stranded him there.
As David's mother, I was relieved to hear from our trusted family doctor that my son was not an addict. That was how I bought into the shame of addiction. I was only too happy to have a doctor tell me David's problems could all be solved by a cortisone shot in his back.
And that was how we might have saved David, but didn't.