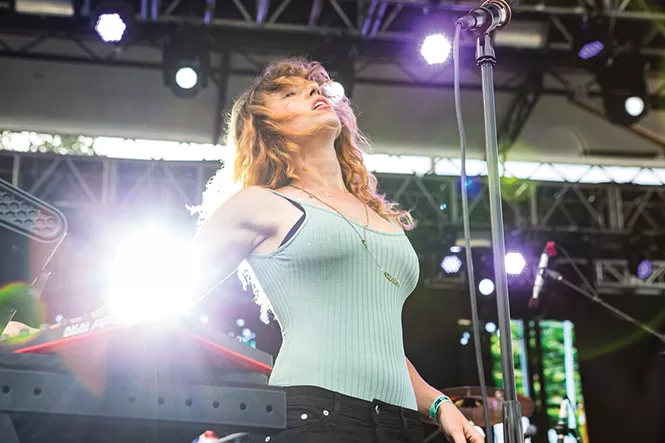 Reed Rowe
Le Voir
With any multi-venue music festival, due diligence is advised. In order to maximize your experience, you gotta research the lineup and make a schedule. As co-sponsors of the inaugural Utah Music Festival, happening March 2-4 at 12 local venues from downtown Salt Lake City to Draper, City Weekly has done some of the work for you. Let this playlist help you discover the best UMF has to offer.


Advent Horizon: "Midweek Maniac" from Stagehound (adventhorizonband.com) Lush, intense and atmospheric, this song is progressive rock through a youthful Warped Tour filter (minus the scene hair and histrionics—think Coheed and Cambria) and a singer-songwriter's sensibilities. Why aren't these guys bigger? W/Jody Whitesides, MiNX; Friday, March 3, 7 p.m., A Bar Named Sue.
Badfeather: "Babbling Riverside Blues" from Signal Path (badfeather.bandcamp.com) It's a sunny, idyllic spiritual sequel to the Doobie Brothers' "Black Water," where Pretty Mama's taken you by the hand and you're sittin' on the bank, sharin' a doob, a summer day, your thoughts ... and other stuff. W/Arizona Sun, Vintage Overdrive; Saturday, March 4, 8 p.m., The Royal.
Crook & The Bluff: "Devilish Deeds" from Down to the Styx (crookandthebluff.bandcamp.com) With an all-killer, no filler album like C&TB's debut, you can close your eyes, spin around, point to the track list and hit goodness. I landed on this creepy-smooth psych-Western-lounge-noir number—a personal favorite. W/ Brumby, Grey Glass; Friday, March 3, 7:30 p.m., Lumpy's Downtown.
Dine Krew: "Simplicity" from Dine and Dash (piccolo.bandcamp.com) Some of the best hip-hop songs don't need a sick beat—they're dreamy, stream-of-consciousness mantras that heal for real. Dine and Dash is full of heady, mellow jams like this one, which is perfect for when life gets complicated and you need a reminder to keep it simple, stoopid. W/Barbaloot Suitz, Motion Coaster; Thursday, March 2, 7:30 p.m., Metro Music Hall.
House of Lewis: "We're All Gonna Die" from Lickity Split Vol. 1 (houseoflewis.bandcamp.com) You know when they say to put your hands in the air and wave them like you just don't care? You can die at any moment, choking while chomping chicken (or chomping on your tongue while you're choking ... never mind). Might as well indulge in 2:32 of funky beats and sly bars while you can. W/Burnell Washburn, Grits Green; Thursday, March 2, 7 p.m., The Urban Lounge.
Le Voir: "Gravity" from Dualities (levoirmusic.com) Sometimes you meet someone and you're drawn to them at 9.28E-7 grav to some ridiculous exponential power. Eyes meet, minds meld, souls entwine, worlds collide and uglies bump. I'm pretty sure that's what Gillian Chase sings about in this airy, pulsating soft-tronica tune (sans the bastardized physics reference and puerility). W/Festive People, Spirit City; Saturday, March 4, 7 p.m., The Acoustic Space.
MiNX: "This Is Who I Am (Unplugged)" (minxband.com) Why recommend an acoustic song by an electro-pop duo? Because when you're lost in rhythm, lyrics are secondary. Hearing this first, you can get into what MiNX has to say, then groove to the party version on two levels. W/Jody Whitesides, Advent Horizon; Friday, March 3, 7 p.m., A Bar Named Sue.
Secret Abilities: "Werewolf Love" from Music To Break Up By (secretabilities.bandcamp.com) What's more awkward than a lycanthrope in love? Hungry lust, lusty hunger—it all blurs together until you're literally or metaphorically feasting, and it's messy any way you slice it. The band's raucous, frenetic dork-punk makes a great musical bedfellow for the scenario. W/Belle Jewel, Cherish DeGraaf, Coral Bones; Thursday, March 2, 7 p.m., Kilby Court.
The Wednesday People: "Love Ain't Your Problem Girl" (soundcloud.com/thewednesdaypeople) After you hear this sleepy-sassy alt/indie song, check out the live performance on YouTube. These Ogden kids must have some really cool parents who let them listen to their Pavement and Violent Femmes albums. Can't wait till the album is ready. W/I Hear Sirens, Lost in Bourbon; Friday, March 3, 7 p.m., The Ice Haüs.
See the full Utah Music Festival lineup here.