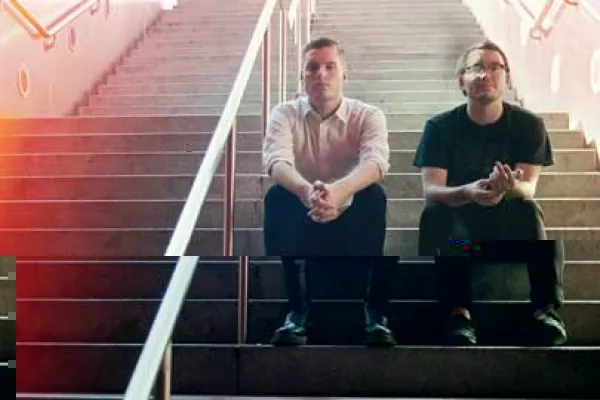 If you want to get specific about it, the color that dominates the cover of Deafheaven's Sunbather isn't pink, it's salmon. To be more specific, that cover—the lone features of which are swaths of color and a custom typeface announcing the record's name—isn't entirely salmon either. Its pinkish hue controls the eye, but through the aid of a gradient, orange and yellow undertones slowly bubble up, too. "The color scheme is what it looks like when you're lying in the park and your eyes are closed and you're looking at the sun," said Deafheaven vocalist George Clarke—who collaborated with artist Nick Steinhardt on the cover—to Pitchfork a couple of weeks before the album's June 11 release. The visual is subtle but striking once you absorb it, and Clarke is very proud of the finished product.
"In our style of music, it's easy to fall into aesthetic pits," Clarke tells City Weekly. "It's really easy to conjure up some sort of black & white photo of a forest or things like that, and I didn't really feel that that type of art reflected the music on the record."
As he discusses designing this art, he uses several descriptors: "clean," "summery," "high-fashion," "modern." What makes this image really remarkable, then, is that it's for a black-metal record—a gorgeously thorough one at that. Sunbather, Deafheaven's second record, is an epic album made up of seven songs (four of which cross the nine-minute mark); it's filled with white-hot blasts of black-metal guitar, percussion that appears to have been recorded during a city-flattening earthquake, and Clarke's agonized, unintelligible screams.
Sunbather turns from great to marvelous by leavening all its intensity and emotional chaos with moments of calm and sweetness colored by the band's nonmetal influences: post-rock, shoegaze and Britpop. Deafheaven's crescendos somehow stop by both hellish, pitch-black cesspools and warm, heavenly stations built on top of clouds.
Black metal is "a type of music that can be very visceral and beautiful together," Clarke says, touching on the notion of contrasts his group understands well, "whereas a lot of other types of metal or punk can't really harness those qualities."
Reviews- and reputation-wise, the five-piece—built around the core of founders and old friends Clarke and Kerry McCoy—have been doing exceptionally well with Sunbather. By the same token, the San Francisco band has also run into a fascinating brand of opposition. Since the members of Deafheaven dress nothing like the members of your average black-metal act, and they're happy to subvert and tweak the genre when need be, they're regarded as interlopers, pretenders and cultural appropriators by a vocal portion of metal fans. (A Deafheaven piece on Stereogum even posited that the band are "trolling the trolls" with the name Sunbather and that cover art.)
A similar issue has plagued Liturgy, another young, non-black-metal-looking black-metal band whose frontman, Hunter Hunt-Hendrix, once wrote a heavily intellectualized manifesto on "transcendental black metal." In response to this, Liturgy has not only received loads of venom online, but during one tour stop, someone slashed the band's tires and shattered their windshield, too.
Deafheaven hasn't encountered any physical backlash so far, but Clarke isn't too bothered by this feedback, anyway.
"I would hope that the band was being purely judged on the music itself and not what people may think we are or what we cause or anything like that," Clarke says. "At the same time, that's how people are. Everyone wants to feel important. Everyone wants an opinion. Everyone wants some sort of hierarchy, and a way to do that is to discuss and form quick opinions."

DEAFHEAVEN
w/Marriages, Cult Leader
Kilby Court
741 S. Kilby Court (330 West)
Wednesday, July 10, 7 p.m.
$12