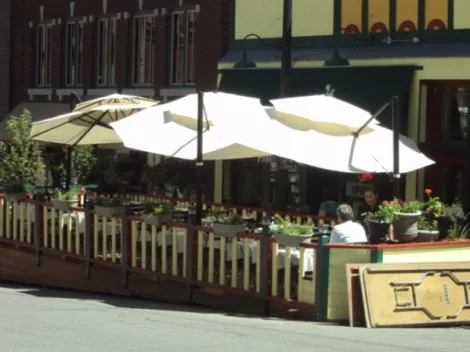 Park City's pedestrian-friendly Main Street is usually lined with parked cars, interrupting the district's historic streetscape with contemporary Audis and Saabs. But in the last several weeks, those rows of cars were interrupted by another contemporary item: street-side dining decks that city boosters hope will give diners a breezy reason to head up the mountain.
Four restaurants have received permits to use the street space in front of their business as a dining area instead of one parking spot, and more are expected. The decks are mobile and are allowed on Main Street between May and October. Mayor Dana Williams says the city hopes to bring some life and vibrancy to the street that's more well known for its winter offerings.
The first deck was built at Cisero's, 306 Main Street, and was the brainchild of owner Steve McComb. He approached the Historic Main Street Business Alliance in March wanting to build a deck near Cisero's as well as at his other restaurant, Bistro 412, located at 412 Main St. "It took all of, I don't know, 30 seconds to say, 'this is cool," Williams said of the meeting. McComb next approached the city council in May, who also quickly supported the idea.
So far, the decks are attracting new crowds, says Cisero's general manager Jeff Weinstein.
"It's been a definite boon. It really helps us out at lunch," Weinstein said. "It's a great place to sit and have lunch when the weather is not too hot."
Two other restaurants—Red Banjo Pizza Parlour, 322 Main St., and Zona Rosa, 501 Main St.—have been approved to build decks as well. Williams says he thinks several other restaurants may want to build them in the near future.
City planner Francisco Astorga says the restaurants are granted three-year conditional-use permits to park the decks on Main Street, with an annual review. The decks must be mobile and may only be on the street between May and October. The city's lease agreement with the Kimball Art Center predates the decks, so restaurants must receive approval from that organization to keep the decks on the street during the Kimball Arts Festival, Aug. 6 to 8.
Some controversy arose early in the process when McComb began construction of the Cisero's deck before final approval was granted. "He was given an unofficial blessing, like, 'Yeah, go for it. Please work with our [planning] department and let's come up with a policy for that.' So, we did," Astorga says.
McComb may have began construction before the 10-day public comment period for conditional-use permits had expired, Astorga said, but it's mostly all's-well-that-ends-well since the city received only one negative comment about the decks. "That [concern] was shared with the council. It was just one," Astorga says.
Williams says the loss of parking spaces troubled some. "One of the concerns some people may have had is loss of parking, but a couple of years ago we doubled downtown parking with a new [structure]," Williams says. And though parking is important, Williams says the idea of increasing outdoor dining areas is just too tempting. "It's such a funky little street to begin with," he says. "Coming up with something new, creative and kind of funky that fits the general image of Park City was just great."
Cisero's deck gets sunny between 4 p.m. and 6 p.m., Weinstein says, so it's not a popular place then. "In the evening, it packs up again right after 6," he says.
And that's good news for a business community in tourist town during a recession. "Having a town that is based on disposable income, we've gotten hit pretty good the last couple of years," Williams says.
Williams estimates as many as 10 decks may appear on Main Street by spring.