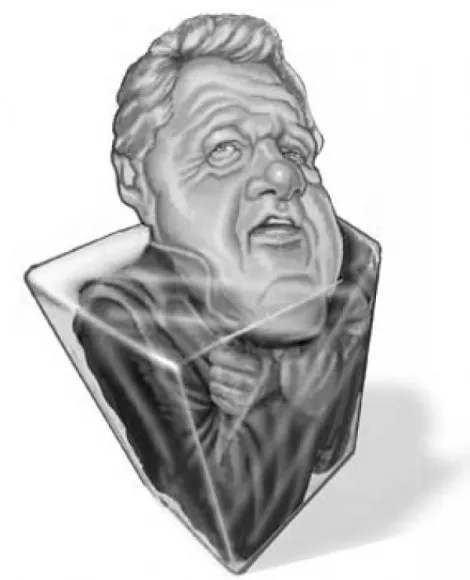 Saying that he does not want to stand in the way of Hillary becoming secretary of state, Bill Clinton has consented to being put into a state of suspended animation. n
"Heck, I don't know what else to do," said the visibly agitated and red-faced former president. "Here I've gone and put all my shady financial stuff into a blind trust, and I told all my Saudi friends I couldn't go out clubbing with 'em to see belly dancers, and I've given up my late night dinners with the dictator of Kazakhstan—by the way there's absolutely no connection between the uranium deal with President Nazarbayev I got for my friend Frank "The Juicer" Giustra and the $30 million gift good old Frank gave my foundation—let's see, what else have I given up? Oh, yeah, I've stopped going to those late-night Jacuzzi parties with supermarket tycoon Ronnie Burkle and his peppy little female personal trainers, and I'm more careful about dating B-level Australian newsreaders.
n
"But, guess what? It don't matter! So I'm going to do the cryonics thing, which some folks call 'hypersleep,' or 'induced hibernation.' Hey, I'll be just fine. Got to be a helluva of a lot better than being bound and gagged every time I appear in public, which is what the Obama folks were proposing. Lemme tell you this, while I'm running at the mouth, as is my wont, this Obama guy wouldn't even give me the time of day when I volunteered to house sit for him there at the White House whenever he was traveling overseas on some international political deal or something."
n
The former president neglected to mention that in addition to foregoing the high life, he'll also be giving up his burgeoning friendship with Alaska's celebrity governor, Sarah Palin. Hillary was said to be not at all happy with the relationship, despite her husband's swearing up and down that his secret trips to Juneau involved nothing more than good-faith attempts to bring Mrs. Palin into the Democratic fold. The former first lady was said to be skeptical about Bill's stories of "intense and far-reaching reparative therapy," at one point producing her trademark belly laugh and quipping, "I've heard that one before, especially the reaching part."
n
Mr. Clinton has privately told associates that after eight years of suspended animation, the age gap between him and Mrs. Palin will no longer be much of a problem. "I hear that you come back not just good as new, but better than ever. Some of those horses they've frozen thaw out and get right back to being studs."
n
The former president seems be mistaken about the cryopreservation of horses, unless he has confidential information not available to the general public. Experiments involving equestrian cryonics have yet to be mentioned in scientific literature, though there have been several well-respected monographs describing experiments in which mice, dogs, pigs, and, in some cases, parrots, have been quick frozen and then brought back to life.
n
As of yet, no details have been released concerning the precise cryonic procedure that will be used to put the former president into suspended animation. According to Dr. Herman Kaltfleisch of the Las Vegas Institute of Cryonics, most procedures involve draining the blood and replacing it with a low temperature solution, usually saline. "People say they experience a pleasant cooling sensation," said Dr. Kaltfleisch, "not unlike that first sip of iced tea on a sweltering summer day."
n
Blood replacement is often accompanied by placing the body in question, whether a parrot or a former president, in a chamber containing 80 ppm of hydrogen sulfide. "If you're still conscious, you can get quite a chill," said Dr. Kaltfleisch, "so sometimes it's better to just dunk the subject in a huge vat of ice water, thus simulating the quick-freeze effect experienced by Mr. Mitsutaka Uchikoshi of Japan, who fell into a glacier and was revived a month later, incidentally going on to become a champion pingpong player."
n
When Mr. Clinton will enter suspended animation has not been decided, but insiders say Mrs. Clinton is eager to proceed with the project. "She'd really like to get this done before Inauguration," said a top aide. "The former president keeps bugging her to let him engage in bilateral discussions with Madame Sarkozy of France before he gets frozen, but Hillary says no way, Jose."
n
Negotiations continue as to when Mr. Clinton will eventually be thawed out, with Mrs. Clinton holding out for an indefinite deep freeze.
n
D.P. Sorensen writes satire for City Weekly.