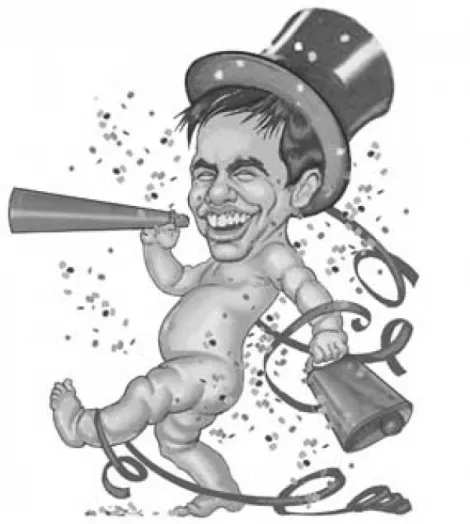 So long, '08, we're glad to see you go,
nSome moments were high, almost all were low.
nLet us sift through this past year's rubble,
nFrom Wall Street greed to the housing bubble,
nFrom honest Bernie Madoff's Ponzi trick,
n To the pyramid scheme of Val Southwick.
n
nSee him handcuffed, downcast without his rug,
nSentenced to 17 years in the jug.
nBut next to your average investment banker,
nVesCor's Val's just a two-bit wanker.
nWhile foolish mortgagees lose houses and savings,
nWall Street wizards continue their cravings. n
"Please, Uncle Sam, won't you give or loan us,
nTaxpayer billions for our annual bonus."
nGod gave us catastrophe, farce and trauma,
nThen repented and sent us Obama.
nAnything else? Well, to please and amuse,
nThere was the sight of George W. dodging shoes.
n
Wherever he goes everyone taunts him,
nUniversally despised, no one wants him.
nWhen he leaves the White House, what will he do?
nParty like Clinton, or go on The View?
nAccording to Dubya, "Nothin's been offered,
nMe and Laura is goin' home to Crawford."
n
Bush is not alone in slinking away,
nNever again to brighten our day.
nSic transit gloria mundi, or so they say—
nThe glory of the world soon goes away.
nGod bless our own Mitt, once mighty and strong,
nHe seemed so right, but he was always wrong.
n
Noisy Chris Cannon, past master of gaffes,
nNow that he's gone, what will we do for laughs?
nHow we miss Rocky, who always was warring,
nWhat a pain in the ass, but never boring.
nGood Ralph Becker is never in the news,
nWhen he opens his mouth, people start to snooze.
n
Speaker Curtis is gone, once a power
nThen given the boot when things went sour.
nSycophants used to hang on every word,
nNow he's become just your average turd.
nFrom politics to media now we turn,
nWhom once we loved, now we spurn.
n
Terry and his missus are shown the door,
nAlso that other guy on Channel 4.
nHow soon we forget, but that's no matter,
n"Live at 10!"—shootings and silly chatter.
nThe Trib and D-News, ignored and unread,
nNow barely alive, soon blessedly dead.
n
Farewell to a leader crafty and crinkly,
nYou know who I mean, Gordon B. Hinckley.
nHe must be banging the Celestial gate,
nTo watch his Mormons back Proposition 8.
nA cunning old codger, see him now thunder,
nNot happy his church made such a blunder.
n
No one knows what will happen next year,
nNot even a prophet, revelator or seer.
nBut the Feds most likely will still be bailin',
nAnd we haven't seen the last of Sarah Palin.
nHere's a fervent hope '09 finds you better,
nMay you prosper like David Archuleta. tttt