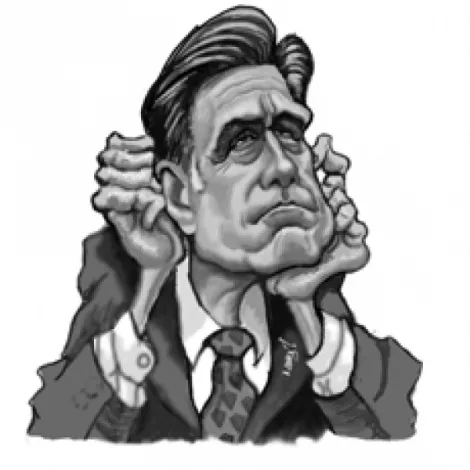 Come one and come all to the party of the year,
There's champagne, and wine and barrels of beer.
No one's allowed in who's jaded or cynical,
The New Year's spirit is ecumenical.
Christians, Jews, and the Latter-day Sainted,
(Oops, is Marie sloshed or has she just fainted?)
Hindus, Buddhists, Muslims and more,
Atheists, however, are shown the door.
We are all God's children, let's have no hatin',
Look at Jesus chatting with Satan.
They're trying to figure out if they have different mothers,
Are they step, half or full-blooded brothers?
Ah, well, when the midnight bell tolls,
They'll return to the business of battling for souls.
Speaking of God, here comes our own Mitt,
Large of fortune, but deficient in wit.
He's spent millions for the Republican nomination,
Buying off Baptists for whom his faith is an abomination.
But it's not his religion that's a load of baloney,
Folks now know Mitt is a certified phony.
Claiming his dad marched with King hurt his cause,
And so did saying he saw mommy kissing Santa Claus.
In walk the Huntsmans, father and son,
Jon the senior thinks Mitt is the one.
While rebellious Junior supports John McCain,
Despite rumors the senator is completely insane.
Mitt's still mad at our beloved guv,
For refusing to believe he was anointed from above.
Well-coiffed Mitt grows red in the face,
To see a man with fewer hairs out of place.
He shakes Junior's hand, but he's inwardly fuming
To run across a man of superior grooming.
Skulking in a corner is our Sparky, former mayor,
No more the lead, now just a paltry bit player.
He's apoplectic to see successor Ralph Becker,
Singing bawdy songs with good old Rod Decker.
Speaking of song, who can fault us
For lifting a glass to CW's John Saltas.
Thank God he's nothing like Pope John Hughes
Formerly chief windbag of the Deseret News.
The Eyres are here, of the voucher fight,
Rubbing shoulders with sincere Doug Wright.
They're feeding their pie holes with sweet Oreos,
But Doug cries, "Yuck!" when Rich sucks Linda's toes.
Gloomy mental giant Byrne arrives at the fest,
But proceeds to fail his own IQ test.
And freeloader Checketts, the soccer dude,
Sweeps through the room, filling his pockets with food.
But now the midnight hour is drawing near,
The champagne is flat, and we're all out of beer.
But another party's coming at the Blue Boutique,
Even Councilman Martin will come take a peek.
He'll ogle the garters on the manikin Venuses,
And soberly assess the size of rubber penises.
And so until next year, best of wishes,
It's time for resolutions and doing the dishes.
D.P. Sorensen writes satire for City Weekly.