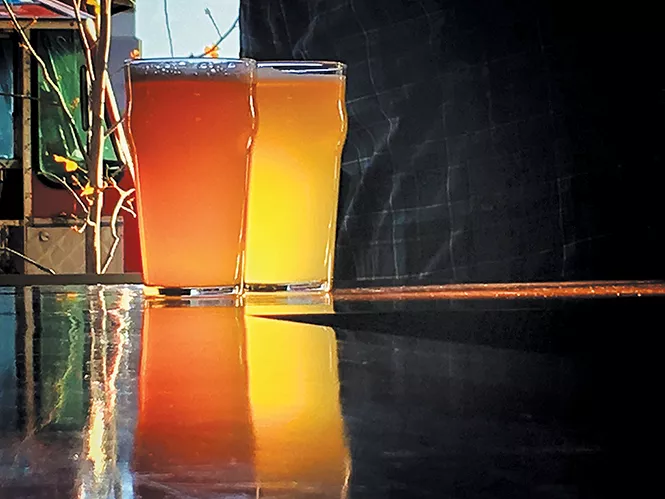 Brewers are always looking to take their beers to the next level, but doing so often requires a bit of unconventional thinking. Take IPAs for example. Every brewery makes one, and the odds are pretty good that you've got at least a partial six pack in your fridge right now. For the most part, IPAs are all pretty similar; depending on the hop varietal used, the average pallet will probably only be able to detect a handful (or mouthful, in this case) of differences. One way of creating the freshest hop blast is through a process called "wet hopping." This method adds hops to the brew while the cones are fresh off the bine (the climbing plant that produces hops)—generally no more than 48 hours from farm to beer tank.
Autumn is the only time of year to get true wet-hop beers, primarily because it's harvest time, and breweries from all over do their best to snag as much of the bitter green stuff as they can. It's not easy, and in some cases not very profitable, but it's all good when that fresh-hopped beer hits your lips. There are three local breweries with wet-hop beers on draft right now. Let's dissect them, shall we?
Wasatch Brewery's Clothing Hoptional: This beer from Park City's original Wasatch Brew Pub gets its wet hops from from the hills outside of town. Back when Park City was a booming silver mining town, German immigrants planted hops from Europe so that they could craft their home brews just like Mutter used to make. The miners are long gone, but their hops still remain—and are quite plentiful. Clothing Hoptional is an unfiltered golden ale that pours a slightly hazy dark gold with a nice white head. The aroma has a hop character that's lightly piney, floral and grassy, along with bready and caramel malt notes. The flavor follows the aroma with citrusy-floral and grassy hop flavors up front, followed by slightly sweet bready, caramel and honey-like malt notes, finishing with some bitterness to balance the beer out nicely.
Overall: This is a nice, sessionable light-bodied beer at 4 percent ABV. It's only available at Wasatch's Park City brewpub, Sugar House brewpub and the Utah Brewers Cooperative.
Proper Brewing's Wetter Off Red: This American red ale is hopped with 100 percent Amarillo from Oregon, shipped overnight and put into the beer less than 24 hours after coming off the bine. The aroma is grassy with some caramel malt and light citrus. The flavor continues with a solid malt backbone, accented by sweet resin and light stone fruit. The finish is bitter and juicy.
The verdict? The Amarillo hops create a nice bitter citrus-rind smack. This 4 percent ABV seasonal treat is in limited supply, so get it while it's here, only at Avenues Proper and Proper Brewing Co.
Fisher Brewing's Intermountain Juice: This one is hazy with a nice golden color that's topped with a soapy head of foam. Upon first whiff, you get light tropical, piney and earthy aromas with a touch of grass. The flavor mirrors the nose with a light fruitiness, bitter black tea, pine, grass and herbs, plus hop spiciness. The malts are subtle, offering enough sweetness to counter the bitter.
Overall: This wet hop is made with 100 pounds of Idaho 7 hops from our neighbors to the north. Its citrusy herbal punch provides a unique hop profile that's welcome in a session ale.
These beers often pop up without warning at various local brewpubs and go fast when they hit the taps, so don't wait too long.
As always, cheers!