Page 3 of 3
Like Ramiro, Goold held legal permanent residence. He's also the father of five U.S.-citizen children through two marriages. But he was born in Costa Rica and adopted at age 4, along with his younger brother, from an orphanage by an LDS couple in Delta, Utah. With his Costa Rican birth and two drug-possession convictions, the U.S. government viewed him as ripe for deportation.
He spent many nights crying, "trying to figure out how to put my life back together." Essentially, "I have to prove to the United States that I can stay here," he says. "How do you prove to the U.S. you're supposed to be here, when you didn't ask to come here?"
An attorney told him it was 50/50 "that I could stay. I don't want to serve a year in here and on a coin toss get deported."
On Jan. 24, 2012, Goold told Judge Nixon he wouldn't fight deportation to San Jose, Costa Rica. He couldn't stomach more time in Utah County Jail. "I realize we are criminals, we made bad choices, it's not supposed to be a fun thing to be in jail, to enjoy it. But I feel like basic privileges —even if we have to earn them—that would be great. But they aren't there."
Goold doesn't speak Spanish, but believes deportation will make him a better man. He says quietly, "I've learned it's not where you live, it's the choices you're making."
"I WANT TO SEE HIM"
One of immigration attorney Lance Starr's biggest complaints about the system is that there "is no statute of limitations" on how far back the U.S. government can go to find crimes that render aliens and legal permanent residents deportable. "It can become really heartbreaking," he says.
ICE spokesperson Virginia Kice in an e-mail says Ramiro faces deportation "based on his lengthy criminal history." The key offenses she cites, however—two DUIs, drug paraphernalia possession and three thefts—apparently all took place between 1996 and 2002.
Ten years ago, Ramiro stole $80 from a woman's purse she had left at the Chevron station where he worked. He was convicted of felony theft and did 38 days of a work-release program. His attorney told him, he says, not to worry about the consequences of his conviction on his immigration status, as he was a college graduate who had lived in the United States since he was 5.
Eighteen months since his ICE arrest, his family still struggles to comprehend how 10-year or older misdemeanors can come back to haunt him. "It took place so long ago," Ramiro says.
Fellow incarcerated detainee Sergio Ortiz, who was brought to the United States at age 5, has also been revisited by his past. In 1999, Ortiz, who became a legal resident that same year, had just turned 19 when he had sex with his high school sweetheart, Erika. At that time, she was a few weeks shy of her 16th birthday. Ortiz took a plea-in-abeyance for unlawful sexual intercourse with a minor. He and Erika moved in together and raised their son, conceived the night he was sentenced over.
In an affidavit, Erika stated, "it breaks my heart to see him being deported for having started our lives together so many years ago." When they look into their 12-year-old son's eyes, "we both know that we share something special." If Ortiz were deported, she wouldn't know what would happen to their son. "I fear that he will grow up thinking his dad was deported for bring [sic] him into this world."
Along with the 1999 conviction, Ortiz was also convicted of voyeurism and trespassing in 2007, after going into a neighbor's house intoxicated and falling out of a window. Judge Nixon denied him a bond and ordered him deported to Mexico. Tarin and Ishola went to federal court to try to get a judge to order Nixon to give Ortiz a bond hearing.
As Erika talks about her former partner outside federal court, their son paces behind her. He struggles to talk about his father, blinking back tears. "I want to see him," he forces out, then chokes into silence. His mother and grandmother wipe away tears.
Ortiz's mother, Olivia Ortiz-Martinez, is fearful for her son. His only relatives in Mexico live in Colonia Juarez, part of the Mormon colonies that polygamists populated in Mexico back in the beginning of the 20th century.
She says her own mother was kidnapped in Colonia Juarez in September 2011 and held for ransom for four days. She subsequently fled to Phoenix. The gang threatened "if they ever saw any of us down there," they would suffer a similar fate, Olivia Ortiz-Martinez says. "I know if he goes there, he has no chance."
DEATHS IN "La Familia"
Until recently, immigration judges typically frowned on asylum cases for Mexico. But with 47,500 dead after five years of President Felipe Calderon's "war on drugs," the balance may be shifting in favor of Mexican nationals who argue they fear persecution and death if they return.
In September 2011, Tarin filed a compelling brief highlighting the murderous reign of drug gang La Familia in Michoacán as part of a Convention Against Torture [CAT] claim for Hugo Lopez, a Mexican national and former LDS bishop. Mexico's violence marked Lopez personally when his brother, a law-enforcement officer in Rosarito, Baja California, was found murdered in his home on Jan. 5, 2012, his body hastily buried without any investigation.
The CAT claim cites a numbing litany of murders of men, women and children, law enforcement and human-rights advocates by drug cartel-soldiers and cartel-corrupted police and military in Mexico, the government of which, Tarin argues in the motion, "has increasingly demonstrated a pattern of gross, flagrant, and mass violations of human rights perpetrated by, or at the acquiescence of, government actors."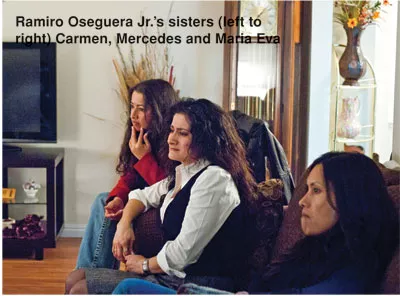 Ramiro Oseguera's family comes from a small town outside of Zamora, Michoacán, an area dominated by La Familia. After the husband of Ramiro's 42-year-old cousin refused to pay money to a gang, his wife and 15-year-old daughter were kidnapped, raped and, along with their 8-year-old boy, had their throats slit.
Nevertheless, his family believes Zamora should be his first destination. When it appeared Ramiro was to be deported last September, his mother, Maria, went to the Mexican side of the border to meet him and take him to relatives in Zamora, so he could start paperwork to reclaim his Mexican nationality. She intended to stay with him and care for the "baby" of the family.
Maria Magdalena Oseguera doesn't speak during an interview with her family, her red-eyed gaze in her lap. But the threat of her absence hangs heavily over the dining room. "She's the core of our family, the lifeblood of our house," daughter Mercedes says.
Ramiro had steeled himself for deportation. His sister Mercedes takes small comfort in the prospect of his qualified freedom. "At least he will be in the open, smelling cut grass instead of cleaning products."
Ramiro Sr. is proud of his family's accomplishments. "The United States opened a door for us to enter," he says in Spanish. "We have triumphed in the United States. We started with nothing and we have four college graduates. We never asked anything of this government."
Finally Ramiro's mother speaks. "It's our country," she says firmly.
ONE-WAY TICKET
While the number of Mexican nationals attempting for the first time to enter the United States illegally has dropped by 60 percent in recent years, according to the Pew Hispanic Center, deportees who left behind family members still try to come back. That wasn't Ramiro's plan, however. He intended to go to a Mexican resort city, perhaps Puerto Vallarta. "An American city with a Spanish accent," he said. Other detainees told him with his English, he had better job possibilities than most deportees. "They gave him ideas, they gave him hope," Mercedes says.
His only fear of deportation was what would happen to him emotionally and spiritually if he were by himself. "I didn't realize the bond was ever there with my family until [deportation] started pulling on it. My family keeps hope alive for me. I know things will work out."
And that is the most important lesson, he said—what this experience has taught him. "Knowing I have my family, it makes the world seem a lot smaller."
The day after City Weekly interviewed Ramiro, Maria Magdalena's phone rang. It was a collect call from a bus stop in Mexican border town Matamoros. Ramiro told his mother he had been deported. He had no money, no change of clothing, no identification papers, yet he sounded relieved. "He was so tired of being in that jail," Mercedes says.
His mother, however, was devastated. For the third time, Maria Magdalena's voice rang with the indescribable grief her family heard at the death of her first son and Ramiro's arrest. His sisters called bus stations in Matamoros, trying to find him, but no one answered. "We're hoping he stays in the lobby of the bus station, so we can find him," Mercedes says. But she and the family are scared of criminals who lie in wait for the deported at the border, knowing they have money from their family, or that relatives will try to wire money to them.
One of his sisters eventually wired him money for food and a bus ticket to Zamora. Accompanied by one of her daughters, Maria Magdalena flew down to Mexico days after his deportation on a one-way ticket.
While Ramiro's plans to work in a resort are all well and good, Mercedes says, "It's not that easy. He's a foreigner there. He's going to need paperwork, police reports, so he can apply for work."
So the family's gnawing uncertainty over Ramiro's future continues. "We need to get him back on his feet right now," Mercedes says. "He's like a deer in front of headlights. He's helpless."
They also have to deal with matriarch Maria Magdalena's absence. Now that she is gone, the parents' home, so long the center of the extended Oseguera family, "seems desolate," Mercedes says. "The house is a shell without her.
City Weekly has obtained court documents that spell out one family's battle to stay in the United States through the "exceptional and extremely unusual hardship" argument, as well as a Convention Against Torture motion that describes, in detail, why a client of Aaron Tarin's was so afraid of returning to his native Mexico.