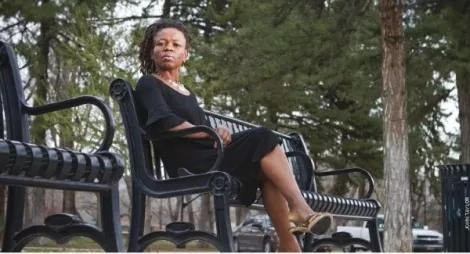 As an immigrant on an expired student visa, Victoria Sethunya, a native of Lesotho, Africa, has a funny way of staying under the radar. She has been legally battling Weber State University in court for four years to fix her record after a computer glitch in 2006 altered her student-visa status.
Representing herself, she lost her federal case in the U.S. District Court for Utah in November 2009, only to take the fight to the 10th Circuit Court of Appeals. Three weeks after filing her federal appeals case on Dec. 22, 2009, Sethunya was arrested by two undercover U.S. Immigration & Customs Enforcement officers in her Holladay neighborhood because of ongoing issues resulting from the 2006 glitch.
Sethunya will find out at a May 4 deportation hearing whether she will be in the country long enough to see her appeals case resolved. Her deportation case is an issue her pro bono immigration attorney, Johnny Benson, thinks can be won, since Sethunya's arrest dated back to 2006 when the glitch—one that even WSU admits—occurred.
"It highlights one of the challenges we face every day in immigration law," Benson says. "You're dealing with multiple government agencies that handle voluminous amounts of information, and if there is a problem, it's very difficult to know who the right person is to go to get the problem fixed."
When the university fixed the error, Sethunya says they made the problem worse by submitting inaccurate information to ICE.
Sethunya first came to Utah in 1999 to attend The Church of Jesus Christ of Latter-day Saints' General Conference. The shared faith and hospitality of Utah drew her back later that year to enroll at WSU. Sethunya was on track to graduate with a master's degree in criminal justice in 2007, when, in the fall of 2006, the glitch occurred.
Sethunya was unable to register for classes in 2007 and was told by the registrar that her F-1 visa for foreign-exchange students had been terminated. After meeting with officials for several months, Sethunya was informed in a letter from the university's legal counsel that, "as a result of [an] unforeseeable computer error, your F-1 status was terminated."
The university acknowledged the mistake and reinstated her status by submitting new documents to the Student Exchange and Visitor Information System database, run by U.S. Immigration & Customs Enforcement. Sethunya objected, however, to the paperwork Weber State submitted, a form called an I-20, arguing that the paperwork inaccurately said she was in school for her master's degree between 1999 and 2007. In reality, she did not start her master's until 2005.
Sethunya has an I-20 from earlier in her academic career that identifies her as seeking her bachelor's between August 1999 and May 2004. This is critical, Sethunya says, because after she finished her bachelor's, she did Optional Practical Training, a permit to do post-degree work in her career field for a year. By law, Sethunya could not be in school and do OPT at the same time, but the new I-20 WSU submitted inaccurately shows her in school during 2004 and 2005, when she was doing OPT.
"If you don't show the true dates for immigration stuff … it's a security issue, it puts a red flag on your database," Sethunya says. "In this age of terrorism, I am very particular that my record be clear."
For international students, a clean record is important. The SEVIS system set up after 9/11 was specifically designed to keep tabs on immigrant students, and ICE regularly makes arrests for expired student visas. In March 2009, 81 foreign students were swept up from a Miami English-language school in an ICE action called "Operation Class Dismissed."
The computer glitch first stung Sethunya when she was arrested by ICE on May 10, 2007, less than a week after graduation. Her problems were only compounded by the arrest, which led to her application for her post-master's OPT to be put on hold until December 2008.
In the meantime, Sethunya pleaded her case to the university and the local media. In February 2009, she took her fight to the courts, demanding that WSU amend her records with ICE and compensate her with $890,000 in damages. She lost her case in December 2009.
While the university would not comment on ongoing legal actions, WSU spokesman John Kowalewski says that since 2002, when he started at the university, there hasn't been a complaint similar to Sethunya's. He says the university's three full-time advisory staff for international students have always adequately helped WSU's international student population, which averages only about 174 students a year. However, "Ultimately, it is the responsibility of international students to avail themselves of these resources," Kowalewski says.
But Sethunya thinks she can explain the cause of her bureaucratic snafu: In her 2009 book Silenced Appeal, Sethunya likens the glitch to the witches often blamed for problems in Lesotho, her home country.
"When I was at home in Lesotho, there was nothing written in the books of law against which to hold witches. Their actions, which appeared to be nebulous, appeared to be matter of taste instead of law." Like a witch's curse, Sethunya writes, her witch became a glitch at WSU and struck her just as capriciously.
"There are no books containing laws on what happens when one is assaulted by a glitch," she writes.
Sethunya argues that she was unable to go on to a doctoral program or complete the OPT program in a forensics job, believing her I-20 would get her in trouble with ICE. Still, she filed for an extension on her OPT in December 2009, after having had the status lapse a year prior. A few weeks later, she was arrested by ICE.
"I don't think it was an issue with the actual I-20 so much as it was with the glitch," Benson says of the December 2009 arrest, which was once again for being out of status in 2007—further proof that somewhere between WSU and ICE, the random error was not resolved.
Hiram Chodosh, dean of the University of Utah's S.J. Quinney College of Law, say immigration hoops and hurdles can grind too many immigrants up as they struggle with a foreign legal system.
"From my modest exposure to the circumstances, this is the case of a brilliant student, talented writer, and dedicated mother who has been caught in an absolute mess at the intersection of a bureaucratic mistake and a Byzantine immigration system," Chodosh writes via e-mail.
"[Immigrants] are severely limited, and the space between the figurative rock and hard place is extremely tight."