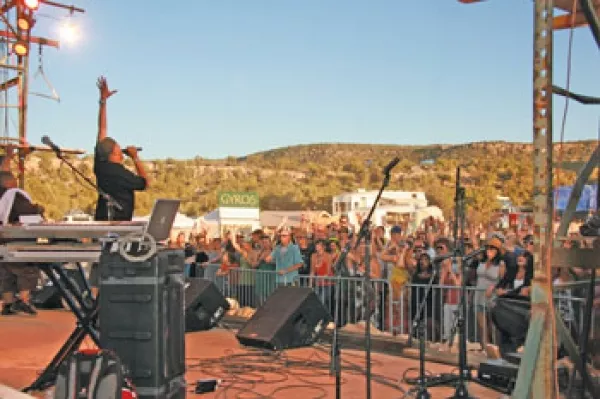 Chali 2na at Desert Rocks Festival 2011
Party's over, dude—but it's for the best. Once one of Utah's biggest outdoor-camping party events, Desert Rocks Festival is now a celebration of consciousness.
"It means so much to me that I'm not just throwing a party in the desert anymore," festival founder John Ripley Corkery says. "I'm [now] putting on an event that can help people change how they live."
Doubling 2011's number of bands to more than 125, Desert Rocks will still offer national touring acts (Beats Antique, The Wailers, Brother Ali, RJD2 and more) and local favorites (Afro Omega, Holy Water Buffalo, Max Pain & the Groovies and more).
But Corkery refers to the addition of numerous workshops, lectures, healing spa activities and films. That, along with the visual artists, art installations, a poetry slam, health-food vendors and performance art, make this a robust festival in the scope of Symbiosis Gathering (Black Rock Desert, Nev.), Lucidity Festival (Santa Barbara, Calif.) and Envision Festival (Costa Rica), Corkery says. "I think we're actually on the forefront of this movement," he continues.
"Consciousness"—like "sustainability" in green-speak—can seem an ambiguous term. Desert Rocks presenter, filmmaker and ayawaska expert Mitch Schultz defines it as "building awareness ... how you, as an individual, relate to things, and not just in this three-dimensional realm, but to, for instance, the spiritual ether." For Desert Rocks executive producer Rob Johnson, it means assessing how humans are living on this planet and ascertaining the modes of transformation to better humankind and Earth's ecosystem. And it all must begin with dialogue and a gathering.
This gathering, what was once called Desert Rocks Music Festival and held outside Moab, is now in Green River at artist Scott Whitaker's (aka DJ Scotty Soltronic) private parcel, Jenk Star Ranch. "I was a little depressed that we're not back in Moab, but once we lined everything up, all of a sudden it started to have very serious meaning," Corkery says, adding that, currently, the Green River is a hotspot for activists because of the proposals for a power plant and the tar-sands mining project. Waterkeeper Alliance will be filming a documentary about the Green River at Desert Rocks.
Picks: Six bands and events not to miss at Desert Rocks Festival 2012
The Green River activism was happenstance, but Corkery says he has long wanted to add conscious elements to the festival, yet was never able to. RealitySandwich.com— dedicated to "evolving consciousness, bite by bite"—partner Ron Johnson attended Desert Rocks the past three years for the music, but he was getting his "conscious" kicks elsewhere. He and his wife, Brandie Hardman, run Conscientia Productions. In 2006, Conscientia hosted a one-day festival at Rose Sachs Gardens (now Louland Falls, in Salt Lake City) "to start a dialogue about transformation with a series of workshops, films, fashion show and DJs," Johnson says. That gathering ended after the second year when the two bought Boulder Mountain Guest Ranch in Utah, where they began to, and still do, host week-long events—which have grown in attendance from 40 to 100 in 2011—themed around transformation and consciousness. That's where they met Corkery in fall 2011.
The three had formed a partnership by February 2012—Corkery bringing the music know-how and the Desert Rocks brand, with the other two bringing capital and connections to a wide network of "activators."
These "conscious people" coming to Desert Rocks include: Charles Shaw (author of Exile Nation: Drugs, Prisons, Politics & Spirituality), Jonathan Talat Phillips (author of The Electric Jesus: The Healing Journey of a Contemporary Gnostic), Daniel Pinchbeck (RealitySandwich.com contributor), Android Jones (artist, ConceptArt.org), Mitch Schultz (director of The Spirit Molecule), Carey Thompson (optical artist), Michael Garfield (transhumanist) and many more.
These folks help raise festival-goers' level of awareness through education and compassion, Johnson says. "I think, in this region particularly, as well as globally, people want to do more than listen to music at festivals," he says.
The reaction, at least by accounting for advance ticket sales, has been overwhelmingly positive. Expected attendance is 3,000, double 2011's, Johnson says; his forecast for 2013 is 5,000 festival attendees, plus worldwide viewership via live Web streaming.
OK, so all of this might sound New Age-y or frou-frou to some, especially those who just want to rock. "What I don't want to do is to seem like I'm forcing anything on anyone," Corkery says. "At a minimum, everything is optional, and people can just enjoy the music."
And Desert Rocks seems to be excelling in that area, more so than in years past. "My first few years playing it, I was skeptical [as an artist and music consumer]," says Afro Omega frontman Bronte James. "I always thought it had a lot of potential. Now, it seems like it's going from a local fest to a real, legitimate thing on a national scale."

DESERT ROCKS FESTIVAL
Jenk Star Ranch, Green River
Thursday, June 7-Sunday, June 10
Four-day festival pass $140-$200 in advance, $225 at gate; single day passes $100, additional fees for camping
DesertRocks.org