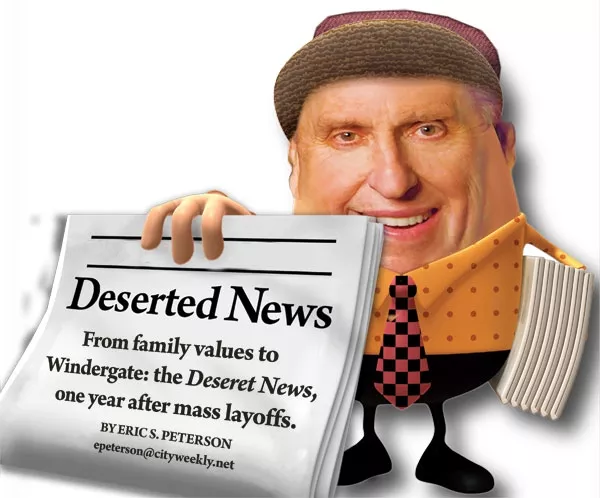 In the summer of 2010, gallows humor set in at the Deseret News office after a litany of closed-door manager meetings stoked rumors of layoffs. Around the office, staff cracked jokes like "See you tomorrow—I hope." When the paper's management announced the creation of an editorial board of "thought leaders" that included longtime homeless advocate Pamela Atkinson, staff joked that Atkinson would be at hand to help laid-off employees get on food stamps and find low-income housing.
Privately, staff members were anguished about what was coming. Julie Williamson, a then 50-year-old copy editor and weekend city desk editor who had spent 25 years in journalism, says the rumors made her physically nauseated and she would wake up in the middle of the night and chug Mylanta to calm her stomach.
"We would get cheery e-mails from upper management touting new developments and telling us that more fabulous changes were coming," Williamson writes via e-mail. "None of the e-mails mentioned that many of us wouldn't be around to see those fabulous changes."
On Aug. 31, rumor collided with reality and 43 percent of the staff was laid off—53 full-time and 28 part-time employees. Laura Hancock, a reporter at the paper for 11 years, describes the process of being explained severance and job assistance like an out-of-body experience. "I literally felt my blood go cold," Hancock says.
Some opined that the pink-slip massacre at Utah's second largest, and longest-running, daily newspaper was pure cost-cutting.
Rep. Stephen Handy, R-Layton, who worked as a marketing director for the Deseret News during the '90s, says the large staff was always something the paper realized it would need to trim.
"But then it's like they applied a meat ax to it," Handy says of the 2010 layoffs. He notes another change that happened since the layoffs—an increase in the number of church-news writers, positions he says traditionally were considered "untouchable" when it comes to eliminating positions.
But for Deseret News CEO Clark Gilbert, it wasn't so much streamlining as it was evolution. Gilbert, an organizational wonk and former Harvard Business School professor, came to the Deseret News in May 2010, taking years of academic research and putting them into play. While Gilbert could not be reached for comment despite repeated attempts, his past scholarship and interviews give a glimpse into what he's created—a news organization that embraces the digital frontier by "decoupling" itself from the old print product. The new model calls for catering to a global Mormon audience, who are already avid readers of the paper, which is owned by The Church of Jesus Christ of Latter-day Saints. Doing that means broader, more generic stories on "values" reporting that would appeal to all people of faith—but especially to those of the Mormon faith—like Gilbert himself.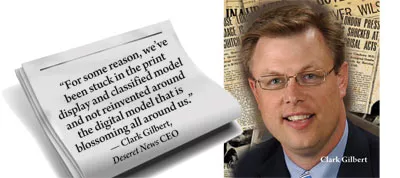 As for local coverage? According to a June 2010 interview with the Poynter Institute's business blog, Gilbert said some products just need to be "good enough" and could be provided by "motivated contributors."
Flash forward to fall 2011, and the company has gathered an "army" of roughly 1,000 low-paid contributors who provide content through the Deseret Connect program, which publishes the stories in outlets like the Deseret News and KSL.com. Like a Latter-day Huffington Post, the model has reportedly generated millions of online hits, but in the process has also generated plenty of controversy—especially in November 2011, when Mike Winder, mayor of West Valley City, the second most populous city in the state, admitted to using the fake name Richard Burwash to publish positive stories about his city after having watched the Deseret News all but give up covering West Valley City.
While Winder showed how easy it was to dupe Deseret Connect, perhaps more concerning is how Deseret Connect encourages city staffers to write news articles about their own cities and allows some contributors to write positive articles about their own business affairs with little apparent disclosure. One contributor who has written positive stories about Park City government and the Utah Department of Transportation is listed on DeseretNews.com as a "communications consultant." What's not disclosed is that the writer is a public-relations employee of an engineering firm, whose clients include Park City and UDOT.
For print and digital expert Richard Hanley, a professor at Quinnipiac University in Connecticut, the problem is that many "new" news-organization leaders like Gilbert forget that they're not in the information business.
"You're in the credibility business," Hanley says. "And if you lose credibility, then you've lost your business."
The New News
Disruption is the name of the game when it comes to the point of Clayton Christensen's The Innovator's Dilemma. Christensen, a mentor of Gilbert's, argued that good businesses could face extinction by not being ready for technological innovation.
Gilbert went further on this premise in From Resource Allocation to Strategy, a 2005 book he co-authored, arguing that newspapers often were too late in committing resources to going digital and then often make the mistake of repurposing the print product online. In the book, Gilbert cites one newspaper that flourished with a digital division that was "structurally decoupled" from the parent organization.
"They developed a separate brand name, separate sales force, and moved out of the newspaper offices," Gilbert writes. "Rather than replicating the newspaper, the site evolved to become a regional source of news and information with significant differences from the newspaper."
After the shock and awe of the 2010 layoffs, Gilbert flipped the traditional resource allocation on its head—sacking the traditional print-media side nearly out of existence and merging it with the KSL TV and Radio media center in the downtown Triad Center. While the old guard of Deseret News print reporters shared the first floor with TV and radio reporters—rebranded as "news specialists"—the fifth and sixth floors of the center were dedicated to the new breed: a digital-focused, values-enterprise team. Their prerogative was to write general stories focusing on six values areas: families, education, faith, care for the poor, financial responsibility and media values.
"For some reason, we've been stuck in the print display and classified model and not reinvented around the digital model that is blossoming all around us," Gilbert said at an October forum on the media at the University of Utah.
Office Space
A source with extensive firsthand knowledge of the combined Deseret News/KSL operation describes two newsrooms—one blossoming while the other withers on the vine. "X," whose name City Weekly has withheld to protect the source's identity, says the "values" team that shares office space on the fifth and sixth floors with management, church news and the digital staffers works with better equipment than the first-floor reporters. The values team can easily be expensed for long-form stories that may require out-of-state travel, but for traditional reporters to be expensed for travel outside of Salt Lake County, it's like pulling teeth.
For a time, reporters were encouraged to monitor online hits for their stories, X says, suggesting that was the guiding principle, which X says unfairly skewed local coverage toward crime stories—a complaint West Valley City Mayor Winder had with the paper. Management would push reporters in that direction and then equivocate, saying the crime stories were hypocritical to their values mission.
"That's where the low morale comes from," X says. "These people in charge obviously don't know hardly anything about the journalism industry. Even more troubling is that they don't respect it."
X says the leaders from on high at the Triad Center often thought up patronizing "morale-boosting" activities, like asking employees to take part in a raffle to see who could get the most family members to subscribe to the paper. X says the missive sounded like a thinly veiled "edict" until a followup e-mail said the contest was purely voluntary. Managers also concocted themed Fridays, where employees were encouraged to come to work dressed as their favorite movie stars. Patio barbecues and dress-up days are fine, X says, but they are poor Band-Aids for curing low staff morale.
"I don't want to party; I want to know I have the tools and support to do the best job I can," X says. "Somehow that escapes them."
The staff culture between the levels is also different, X says, since many on the "values" team are young, recent BYU grads. Their job descriptions are also different. Besides writing special long-form stories about values topics, the values team also writes numerous articles that require just a provocative headline and little-to-no reporting.
Staff will quote from various national news sources—often on topics of LDS interest, like Mitt Romney or religious freedom cases—and link to those stories in the article. It's a model used by full-time staff but simple enough that even interns can do it—sometimes with less-than-impressive results, such as when an intern wrote an alarming article suggesting that because a Fox News poll found Americans preferred having boys over girls, a trend of selective abortions might throw off the male-to-female ratio in the United States like they had done in China. The intern linked to a post by a blogger with the byline of "Dingo Ate My Baby" for the article.

Values reporter Jamshid Ghazi Askar is perhaps one of the most prolific producers of such aggregated content. In the three-month period from Oct. 1, 2011, to Jan. 1, 2012, Askar reported and wrote several long, well-written stories on values subjects, like a profile of a values-driven filmmaker in Massachusetts. But of the 63 stories he wrote during that period, 50 required no original reporting (see p. 21).
Askar says that his regular beat could be considered "values in the media" but that he and other members of his team are required to write three "roundup" stories a week.
"I admit that writing roundups isn't anybody's idea of glamorous journalism," Askar writes via e-mail. "But at the same time, I also think the people who criticize our use of roundups are naive or pretentious or both because, in the current media landscape where newspapers are dying all the time, the only strategy that ought to be off-limits for experimentation by news organizations is out-and-out plagiarism."
But quantity isn't quite king. As Gilbert touted at the University of Utah forum, Deseret News reporter Sara Israelsen-Hartley was honored as the 2010 best reporter in the state among large newspapers by the Utah Society of Professional Journalists. "She did it covering stories on faith and family," Gilbert said. "Those stories resonate in this audience."
The Deseret Media Company family fared well for its 2010 reporting, with KSL clearing 13 first-place awards. KSL reporter John Daley and Deseret News reporter Lisa Riley Roche claimed the state's top investigative prize on a joint reporting project on donations to Gov. Gary Herbert's election campaign and his awarding of road-construction bids.
But not everyone's impressed with the combined newsroom. Rep. Greg Hughes, R-Draper, recalls talking with a politics reporter for the Deseret News whom he considers to be one of the top reporters in the state and with whom he'd established a working relationship. The notes from his conversation were passed on to a KSL TV reporter, whom Hughes did not trust at all.
Hughes says that Deseret News/KSL model thwarts relationships of trust built between news reporters and newsmakers such as himself. If a source can't feel certain that his information will be used by a trusted reporter, the source won't provide the information, Hughes says.
"Let's say you're talking to Deep Throat—could you open-source that?" Hughes asks. "It's just not what journalism has looked like, and I challenge that model."
But with the Deseret News trumpeting values reporting to a global audience, and with KSL covering breaking and investigative local news, Gilbert has argued that the news mega-center has all its bases covered. But it also depends on the help of Deseret Connect, a contributor mill that pays on average as little as $2 to $30 for assigned stories, written mostly by nonprofessional reporters, and publishes them through the company's media affiliates.
More than a year before the Winder fiasco, X says traditional journalists at the mega newsroom asked management how Deseret Connect could prevent people with an agenda from exploiting the company as their personal soapbox.
"They said they had it all under control," X says.
New$
According to an interview City Weekly had in January 2011 with Deseret Connect Director Matt Sanders, "transparency and trust" are what keeps contributors from abusing the system. "We train our contributors to use sources and to always provide value to the reader, not advertising," Sanders wrote.
Some contributors, however, could benefit from more training.
Contributor Leslie Probert has produced several stories about food storage that reference recipes found in her own food-storage cookbook.
Jared Balis, listed at the bottom of a news article as an insurance agent and owner of Utah Insurance Advisors, wrote a Nov. 22, 2011, article about how to fight insurance costs with health-savings plans that twice linked directly to his business' Website, with information on applying for the plan.
Numerous Deseret Connect contributors happen to write almost entirely glowing book reviews for family-oriented books. Many of these books are published by church-owned Deseret Book or Covenant Communications, a publisher owned by Deseret Book. Not only is Deseret Book owned by the LDS Church, but Deseret Book CEO Sheri Dew is on the Deseret News editorial advisory board.
Perhaps most confusing to readers are articles written by David Fierro, identified as a "communications consultant" who specializes in "transportation." What is not disclosed is that "communications consultant" actually means he does public relations for Horrocks Engineers, a Utah County firm that plans and designs transportation systems for local government agencies. On Nov. 16, 2011, for example, Fierro covered a UDOT conference, where he quoted former Utah Sen. Bob Bennett who called for an increase in the gas tax to fund transportation projects and also quoted UDOT director John Njord. The article did not disclose that Fierro's employer—Horrocks Engineers—is currently under contract with UDOT on various projects throughout the state.
On Sept. 3, Fierro wrote an article for the Deseret News titled "Park City's walkable vision ahead of planning curve," that lauded the city for creating pedestrian and bicycle trails. The article quoted the mayor, a member of the Park City Council and other city officials, all the while never disclosing that the author worked for the engineering company under contract by Park City to administer the very same walkability project that was so "far ahead of the curve."
Asked about the inaccurate disclosure, Fierro writes via e-mail that he was between jobs when he first signed up with Deseret Connect, which is why he is identified as a "communications consultant." As for whether his editors talked about how to disclose possible work conflicts, Fierro says simply that they didn't.
"There was no discussion about it," Fierro writes.
Deseret Conflict
While the paper may have changed structurally and philosophically, physically it was still landing at subscribers' doors as it always had—which troubled West Valley City Mayor Mike Winder.
"There was a drastic reduction in community coverage, but they still kept the crime desk going, which was giving a very distorted view to many Deseret News subscribers about what's going on in our city," Winder says. (see infobox p. 21)
When Winder challenged Gilbert about the unbalanced coverage of his city, he says Gilbert told him he needed to find someone who could submit those stories directly through Deseret Connect.
After searching in vain, Winder decided he would have to do it himself—a task that turned out to be pretty easy. While a Deseret News follow-up story on the fiasco reported that Winder had created a fake Facebook account and that he spoke regularly with his editor, Winder says that was not the case—he provided only a phone number, a fake address and a fake e-mail. Winder says that while Deseret Connect had a good online system for providing feedback, he spoke only once on the phone with his editor.
Winder later met again with paper management and was told explicitly they wouldn't accept submissions under pen names, so he canceled his Burwash account and opened one under his name. That experiment lasted only a short while before Deseret Connect decided it wouldn't allow public officials to write for the company, lest it appear as an endorsement.
Winder regrets the incident and the cloud of controversy he's created. But he also believes Deseret Connect could make some simple changes to keep future "Burwashes" from appearing, like holding an orientation for contributors, at least in the Salt Lake City area, so editors could meet them in person.
"I think citizen journalism does have a real future," Winder says. "Not to replace journalists, but to supplement journalists. Just as a neighborhood watch team would never replace your professional police force, but it can supplement them."
"Good Enough" News
At the same time Winder's experiment writing as a mayor ended, Deseret Connect allowed city staffers to write stories about their own city. Stories Winder wrote under his own name often had an editor's note at the top of the article alerting readers to the fact that Winder was the mayor of West Valley City. Readers might not even notice the disclosures that identify author Aaron Crim as a spokesperson for West Valley City writing about businesses in the city, or stories about TRAX lines in South Salt Lake that clearly identify author Charee Peck as the chief of staff for the city of South Salt Lake.

For journalism professor Hanley, who's spent the past 23 years in journalism and also worked for one of the first online newsrooms, citizen journalism is a way for papers to remain relevant, by reconnecting with the communities they've stopped covering. But disclosure of a contributor's background is "essential"—and putting that disclosure at the bottom of the article isn't good enough.
"If a news organization is going to print a newsletter for city hall, it's perfectly fine to do, but it's not journalism and it shouldn't masquerade as journalism," Hanley says. "That's not quite fraud, but it's sure as heck coming close to it."
In January 2011, Sanders told City Weekly the program is "a way to build new vitality in journalism."
"A pluralistic, civil society requires unabashed coverage and oversight of crucial institutions of government."
While Sanders declined to comment for this story, it would seem apparent that much of that oversight of local city government is now being left to city staff themselves.
Spreading the Gospel
More than a year after the experiment began, the Deseret News reaches a wider audience with almost half the staff it once had. Editorials on immigration and Mommy-blogs-turned-articles are part of a Web presence that, according to the Audit Bureau of Circulation's Sept. 30, 2011, report, garnered the site 2.6 million unique users during the previous six months— besting even The Salt Lake Tribune, which drew 2.49 million unique users. Perhaps even more amazing is the fact that, according to a November Deseret News article, even the paper's print circulation is spiking, with Gilbert announcing a 24 percent increase from 2010 in the Sunday circulation of the paper.
But even here the reporting could benefit from more precise fact-checking, because while the paper's Sunday print circulation made a strong improvement, going from roughly 75,000 to 83,000, that's about a 5 percent bump—still significant, and well above national averages. But the Deseret News article forgot to mention that part of that 5 percent bump likely comes from counting the addition of a weekend insert the company distributes to a number of subscribers to the St. George Spectrum and the Logan Herald Journal. And it's only when one adds e-editions and digital versions of the paper modified for smartphones and reading devices like the iPad and Kindle that the "print" circulation reaches the 24 percent Gilbert referred to.
But the media company's Web presence is hard to ignore. Indeed, the gospel—from Old English meaning "good news"—is spreading. Good, positive, uplifting stories are racing, via the Internet, around the world millions of times over. But it still might be too much good news, spread without enough good reporting, accountability and credibility. Even the method by which the digital news itself has been promoted in the past is questionable.
In June 2011, City Weekly reported that DeseretNews.com director Chris Lee asked Sanders to tell his more than 1,000-person Deseret Connect "army" to "like" a Deseret News story on the social-media site Reddit.com, where users post links and vote on them; popular Reddit links can quickly become viral Web hits.
Although Reddit's Website considers mass voting as a prohibited abuse of its site, Lee saw a Deseret News story about a homeless man in Salt Lake City who didn't know he had an inherited a small fortune as one that "has the makings of a social-media hit. I posted it on Reddit and want you all to promote it," Lee wrote in a memo City Weekly obtained.
As of December, Lee has now moved from directing the Website to being the Deseret News publisher. Pumping up numbers on a social media site like Reddit.com is likely far from unusual for many groups or companies, but does seem odd for a values-driven media organization. But the values in question are not necessarily the hallmarks of the Society of Professional Journalists' code of ethics that ask media to seek truth and report it, avoid conflicts of interest and be accountable.
For professor Hanley, losing credibility through poorly vetted and untrustworthy copy will eventually hurt a media organization.
"A lot of these buzzword-chanting publishers need to understand that," Hanley says. He argues that if stronger copy desks can stop bad and conflicted copy from going through, then a media organization like the Deseret News can make a strong impact specializing in its niche of under-covered faith stories. Those stories can then reach a global audience without a cloud of doubt hanging over their credibility.
Perhaps as a sign of moving in that direction, the paper recently announced Paul Edwards, the editorial and faith pages editor, has been named the paper's editor. And, according to a memo obtained by City Weekly, Doug Wilks from The Press Democrat in northern California will be soon taking over the Deseret Media Companies news division.
As for stronger freelance editors and copy staff, there are still plenty of refugees from the layoffs like Williamson around who are trying to find their footing a year since the "disruption."
"I was 50 years old at the time of the layoffs—too young to retire, too old to start over," Williamson writes. "Right now I'm living off my savings, wondering where to go from here."
Tweet about Deserted News