Page 2 of 3
See Sam Run
The decision to run for the U.S. Senate happened, in large part, because Granato's son had volunteered at the local campaign office for Barack Obama in 2008. After Obama won, his son simply asked Granato, "Dad, when are you going to run for office?"
Around that same time, during a visit to his eye doctor, Granato chatted with another patient: Bob Bennett. This happened shortly after Bennett had voted in favor of the bank bailout—the Troubled Assets Relief Program—and Granato complimented Bennett on making the hard choice to support TARP. Little did he know that, less than 18 months later, that vote would be one of the primary reasons why Bennett would lose his Senate seat.
In mid-2009, he floated the idea of running for the Senate to Democratic leaders, who immediately supported him, including his first campaign manager, Rob Miller, the state party's vice chairman. When Granato announced his candidacy in June 2009, it couldn't have been a more uphill battle: Bennett was still considered a tough-to-beat incumbent, although he was facing a serious challenge from Attorney General Mark Shurtleff (five months later, Shurtleff dropped out, citing family reasons).
Businessman Tim Bridgewater, who lost to Mike Lee in the primary, was considered a long shot, while the relatively unknown Lee was just beginning a statewide "constitutional lecture tour" and was months away from announcing his candidacy.
"I decided to go for the seat, without worrying about who was in the way," Granato says. "But I never thought Bennett wouldn't be in my way. Really, a lot of things have been pulled out of my way."
Which is true, although the path is strewn with large boulders. As a Democrat, Granato has to convince moderate Republicans that he is not the same type of Democrat as national leaders like President Obama or House Speaker Nancy Pelosi. At the same time, he has to convince party leaders that he has a chance, and indeed, he met with party officials during a July trip to Washington, D.C., and says that he got "promises" of help. Deirdre Murphy, spokeswoman for the Democratic Senatorial Campaign Committee, however, would not say whether Granato would receive funding from the national party.
He'll need the national money, because on his own, Granato is struggling with fundraising. As of June 30, Granato had raised $139,000 and spent $115,000. His donors include a number of local business people, including Zions Bank president Scott Anderson, developer Richard Howa and High West Distillery owner Jane Perkins. By comparison, Lee raised more than $900,000 for his primary race, and while he spent more than $800,000, he will almost surely raise plenty more.
Granato says that he thinks it will take at least $650,000 to win the race, and he needs $1 million or more to really have a chance. He remains confident that he can raise that money, especially after a trip to Washington, D.C., where he met with various political action committees and national party officials.
Money, Money, Money
Although difficult, it's not impossible for a Democrat to win major races in Utah, as Rep. Jim Matheson continually proves. His district isn't statewide, but it does cover almost half of the state and is comprised of rural and urban voters. While more progressive Democrats are perpetually frustrated with Matheson—as evidenced by his being pushed into his first primary, in which he defeated Claudia Wright in June—Granato shares many traits with Matheson, including religion and a recognizable family name. That should help Granato immensely with the moderate Republicans, Matheson says, but only if he can get his personal history and political message out to them.
"People are going to be looking at him more closely this year. That's a significant factor, and not something you can control. But when it does happen, you want the voters to get to know the person, not just the candidate," Matheson says. "But he needs to seize the moment, and show people who he is and how he is different than Lee."
Nobody denies the importance of money, including Matheson, but he also says underfunded candidates can generate word-of-mouth buzz by garnering the support of local leaders and working hard in every corner of the state. That was not the case, however, with XMission CEO Pete Ashdown, who ran against Hatch as the Democratic nominee in 2006 and now says that no matter how innovative or creative a campaign is, victory is nearly impossible without money.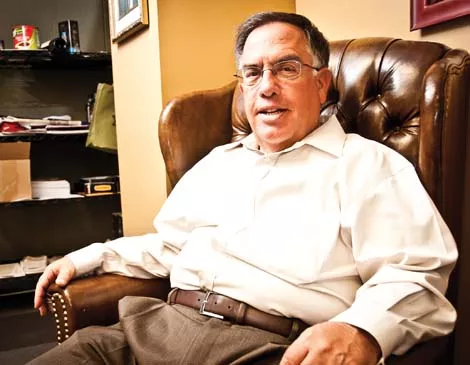 Ashdown was very aggressive with his online efforts, doing everything from fundraising to developing his platform through a wiki. He also traveled the state in an RV with an "Ashdown for Senate" banner and rode a horse in parades, which he says the rural voters loved. Admittedly, he was running against a powerful incumbent and his quirky persona was not as marketable as Granato's everyman character, but in the end, he says it doesn't matter how warm and friendly a candidate comes across in person. What truly matters is the ability to broadcast their message widely, and that takes cash.
"The key to the Utah vote is that people want to vote for the individual, not the party. But if they don't know the person, they will vote for the party, and it's usually Republican," Ashdown says. "If I would have had another half-million dollars, I would have run a lot more commercials. That's the best way to reach people."
To run as a Democrat is to push forward despite the cynics. Ashdown says that he was his own "biggest champion," a trait Granato shares. But to swing large blocs of Republicans requires strong positions, instead of simply jokes and handshakes.
"I respect somebody who is strong on the issues. If they don't know something, admit it and promise to study it ... but you need to be courageous," he says. "Sam's a very nice guy, very personable and very funny. But even [Sen.] Al Franken, [D-Minn.] had to come up with a platform."
Ashdown is not the only person to criticize Granato for his lack of strong positions. In the run-up to the state convention, where Granato defeated Christopher Stout, the delegates who did support Stout applauded his convictions while dismissing Granato's platform as hollow. Many of them were younger Democrats who have active blogs, such as Misty Fowler, who wrote in one post following a radio debate between Stout and Granato: "Sam really doesn't have any issues that are important to him, or even really much of any opinion on the issues. He's just clueless! And he kept saying the same thing, over and over."
The criticism remains valid. Even at the end of July, his campaign Website only listed three issues—health-care reform, Wall Street reform and job creation—and, in all three, Granato basically says "there's a problem" without offering any solutions.
"He has no message. He's all over the map and keeps speaking off the top of his head, contradicting himself. He's taking the shotgun approach," Stout says.