Page 3 of 3
Let's Do Lunch
Nearly every day at lunch, Granato buses tables at his Redwood Road deli, chatting up customers and holding doors for ladies. According to his campaign manager, Marla Kennedy, lunch at his deli is where he may do his best campaigning, so I decide to grab one of his signature sandwiches and watch him in action.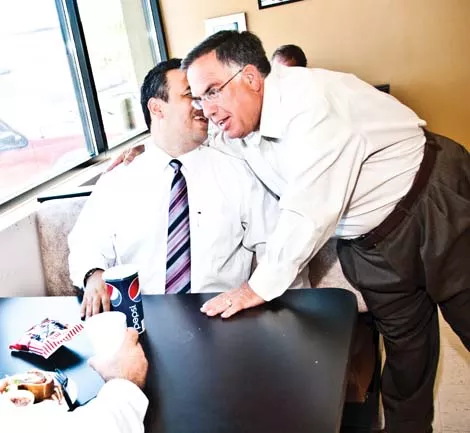 The first time I visit for lunch, however, the experience doesn't strike me as magical. More than anything, watching Granato at the deli is to watch a harried businessman who happens to be running for the U.S. Senate. He arrives around noon but quickly disappears into a back-room meeting with Democratic state party leaders. Twenty minutes later, he emerges, only to spend another few minutes arguing on a cell phone with somebody who owes the business money. Finally, he starts to work the crowded tables, where he does indeed schmooze the customers. Most of them, however, are longtime regulars who consider Granato a friend.
This summarizes one of the main complaints about Granato as a candidate: He sticks to friendly faces and supportive crowds. Although Granato says he has traveled the state three times, he emphasizes his multiple visits to Democratic-leaning places like Carbon County. On the other hand, when asked if he has actually walked any district in Utah County, he says no.
Kennedy, who started running the campaign only a couple of months ago, says that Granato has spent a lot of time working with friendly faces, and that was exactly what he should have been doing during the Republican battle royale. But he doesn't avoid conflict, and as the campaign really gets rolling, Granato will focus on moderate Republicans.
"Sam doesn't win this race with Democrats," Kennedy says during an interview at campaign headquarters, an office located inside a converted house west of the Brickyard shopping plaza on 3300 South. "There is no unfriendly territory for him. A lot of Republicans are nauseated by their candidate. Those are the people Sam will be talking to, whether one-on-one, in small groups, or in front of 500 people."
Another aspect of the campaign strategy is to let Lee talk about the issues, because his "extreme" positions will scare most voters. Granato, on the other hand, will continue to emphasize that he will be a senator of the people, instead of a senator of ideology. That plays to Granato's strengths, as well, because "he's not polished as a politician because of years as a lawyer or lobbyist," Kennedy says.
"The campaign isn't issues only, nor should it be. It's about the candidates as human beings, because you're electing a person to back and represent you. Sam is somebody you can trust," she says.
That safe approach for Granato and the campaign comes across while watching Granato talk to people. When challenged about his work ethic or questioned about his stance on a particular issue, he will often respond with a joke—for example, when one supporter asked how he was going to win in southern Utah, he responded flippantly, "Why do I need to worry about southern Utah?"—or a platitude like "I do things, instead of say things." Watching him campaign, it appears that he's simply having fun being a candidate and hates it when somebody ruins it with politics.
The lack of a serious campaign by Granato is echoed in numerous off-the-record conversations with Democratic insiders, who repeatedly say that he "lacks the fire in the belly" that it takes to win. They say he hasn't done the little things, such as reaching out to the party loyalists who will help find big-money donors. He seems to want be liked more than anything and thus, shies away from disputes, which explains his reluctance to visit Republican strongholds. "Six months ago, his campaign should have gone 'big' and convinced people, especially donors, that he could win," one insider says. "But now, it's probably too late."
Granato doesn't agree with these criticisms, although he struggles to give strong examples of how he is working hard and tapping every possible funding source.
Optimism Clarified
A week after the Third of July parade of tears (for me, anyway), Granato invites me to walk the Farmington Days parade next to his Cadillac. The invitation came because he raved about how great the Kaysville parade went, an assessment I disputed due to my own miserable experience along that same parade route.
The insanity starts before the parade, as multiple people stop to tell Granato how much they appreciate having an alternative on the ballot. With every single person, Granato shakes their hand, asks them what issues are important, and then usually tells a joke or gives his spiel about "working part-time in Washington, but full-time for Utah."
Having an alternative to Lee, Granato continually insists, is one of the biggest draws for voters. And Granato does hit on the differences he considers most important, especially Lee's support of nuclear testing (Granato opposes) and Lee's legal representation of EnergySolutions.
"I'm meeting more disenfranchised Republicans that tell me Lee is too extreme, and because I'm the moderate, I'm the best one for the job," Granato says.
When the parade begins, chaos erupts. The Farmington parade has, seemingly, billions of children in attendance, most of whom have no idea about the kind of damage a moving vehicle could do to them. Toddlers dart in front of the car to grab stray candy bars from previous floats, and I fear that the driver of the Granato Cadillac will crush a child by the end of the day. Granato's volunteer corps do their best to keep the kids safe by trying to throw taffy to the sidewalk and staying close to the front of the car, but it seems a futile effort.
The adults watching the parade, meanwhile, enthusiastically support Granato, and it's not hollow sentiment. Throughout the course of the parade, almost a half-dozen people approach the Cadillac to discuss issues with Granato, ask for lawn signs and—again—tell him how much they appreciate having a legitimate alternative to Lee.
A few hours after the parade, Granato attends a meet-the-candidate picnic at a park in Glendale. Mostly, it's candidates meeting candidates, but the few voters in attendance engage the candidates. Granato is able to employ his people skills, but at one point, a noncandidate asks Granato why he isn't working harder. It knocks Granato momentarily off balance, but he recovers and says that he is spreading his message voter by voter, and he plans to win. While it sounds good, the man seems disappointed at the lack of a concrete plan.
Afterward, Granato remains upbeat but says criticism like that stings. "It's frustrating, because I think my name is out there. But it is hard, and it's not just a symptom of being a Democrat. It's a symptom of not having any money."Cinderella/Pollyanna
Reflecting on the Farmington parade that evening, potential positive outcomes for Granato weasel their way into my mind, and his buoyant optimism actually makes sense. Lee is as vulnerable as any Republican in a statewide race can be, and the silent majority of Republican-leaning moderates will probably take a close look at Granato, especially if he actively seizes the centrist turf. After all, Lee is a tea party-backed candidate, and one only needs to look to Rand Paul in Kentucky or Sharron Angle in Nevada to see how crazy the tea party candidates can get.
That's the crux, really: One outlandish statement from Lee could push Granato into the 45 percent range, and once a serious underdog gets that close, things can go haywire for the leaders. Then ... hell, never mind. Spending a day in the candidate bubble and the evening with an ass-kicking 9 percent pilsner beer has twisted my normally rational mind. So, reset.
Here's the hard-core analysis: Granato is a bloody Democrat! And who, in their right (or even slightly twisted) mind would ever think a Democrat could win in Utah?
Sam Granato, that's who.
"I'm going to have fun," Granato says. "And I'm also going to win. I'm going to be the next senator."
| | | |
| --- | --- | --- |
| Josh Loftin: | | |