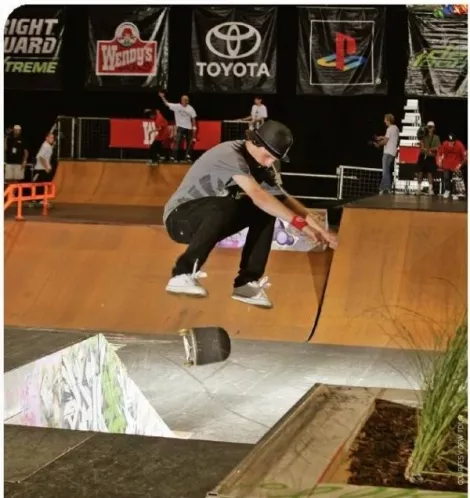 Getting athletes to come to the Dew Tour stop in Salt Lake City isn't difficult. It's almost a "busman's holiday," so to speak, for many of them.
Skateboarder Greg Lutzka already shows up in Utah on a regular basis at other times of the year to go snowboarding, visit friends, skate the local spots or check in with local sponsors.
"Salt Lake is one of my favorite tour stops," he says. "I have a lot of friends there. There's always a good vibe there. There's always some place to ride that's cool."
Lutzka notes that many of his fellow pro skaters are avid snowboarders—and vice versa—so when they aren't on wheels on the pavement they can often be found sliding on the snow of canyons along the Wasatch Front. He even goes so far as to say, "I wouldn't mind retiring to Utah. That would be great to go snowboarding in Park City every day."
BMX rider Jamie Bestwick can't wait to take some laps at "the adult playground" of Miller Motorsports Park. "Last year, I loved going out there and riding on that track," he said.
Beyond the mountains and motors, Salt Lake City is also popular with the athletes because of the enthusiastic crowds that turn out. "Salt Lake is a favorite place of a lot of BMX riders," Bestwick says. "I always associate it (Salt Lake) with having a lot of sports fans, because so many come out to cheer us on. Salt Lake is famous for having a huge BMX scene."
Lutzka and Bestwick both compete for Team Toyota, the company that is also the name sponsor of the event this weekend. "Since they are the main backer, I want to have a good finish so they can have bragging rights," Bestwick says of his main sponsor.
Whatever their reasons for coming to Salt Lake City, more than 150 athletes will be here this weekend to compete in two skateboarding events (park and vert), three different BMX bike competitions (park, vert and dirt) and a freestyle motocross event— all in search of some of the $2.5 million in total prize money. While the competition is listed as taking place at EnergySolutions Arena, the entire "event" takes up a couple of blocks in the downtown area, including an outdoor motocross course. If you've ever wondered how it looks to see someone flying through the air on a motorcycle with Temple Square in the background, this is your chance.
Beyond the competitions, the Dew Tour also continues the extreme-sports tradition of merging athletic pursuits with lifestyle happenings. Friday night will feature a concert with West Coast hip-hoppers Pac-Div opening for Asher Roth—who just happens to have written the Dew Tour 2009 theme song, "La Di Da." The Festival Village will also be open for several hours a day where visitors can tour booths and get the most swag this side of Sundance, pick up a bite to eat and get autographs from some of their favorite boarders and BMXers. The Festival Village will open in the afternoon on Thursday and Friday, and at 11 a.m. on Saturday and Sunday.
The competitions also get underway in the afternoons and continue until 9 p.m. every night but Sunday. The roster of competitors features some of the best-known names in the history of extreme sports, including BMX rider Dave Mirra, who has won a record 22 medals at the X Games along with skateboarding legend Ryan Scheckler.
Lutzka will compete in the skate park category, where riders navigate an indoor re-creation of a typical skate park complete with ledges and rails. While he typically practices on his own or with a few friends at a park or skating hang-out, Lutzka says he's not fazed by heading indoors to an arena to perform for an audience of thousands because, "When I'm skating, I don't really notice anything else."
Bestwick will be riding in the BMX Vert, where riders try to put together a series of tricks while riding up and down an 80-foot-wide half-pipe. Since the Dew Tour was established in 2005, the end-ofyear Dew Cup for the top BMX Vert competitor has been awarded four times—all to Bestwick. He also leads the standings in his event for 2009.
Originally from Nottingham, England, Bestwick now lives in State College, Penn. where he regularly trains up to four hours per day with other top riders. "I pride myself on working harder than anybody else," he says.
And while Bestwick claims, "I always try to ride every tour stop the same," part of his success in racking up four straight Dew Cups has come from doing well in Salt Lake City. "It's always been a great stop for me," he says.

DEW TOUR TOYOTA CHALLENGE
EnergySolutions Arena
301 W. South Temple
801-325-SEAT
Sept. 17-20
Ticketmaster.com