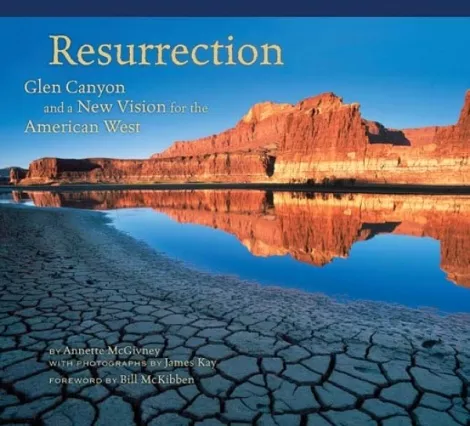 A pivotal scene in Edward Abbey's The Monkey Wrench Gang—where Seldom Seen Smith kneels atop the Glen Canyon Dam praying for a "precision earthquake" to remove the Colorado River's "temporary plug"—embodies many an environmental sentiment regarding the construction of Glen Canyon Dam in 1956-66 that created Lake Powell. Issues of water rights and conservation concerns dating back to the West's first explorers, such as John Wesley Powell, were brought to light by Abbey and others. Now, journalist Annette McGivney bears the torch.
In her book Resurrection: Glen Canyon and a New Vision for the American West, with photographer James Kay, she examines through essays and collected writings issues of water policy, environmental stewardship and sustainable living in the West. This is a pivotal time—a 10-year drought has caused Lake Powell's water level to drop by nearly half since 1999, allowing Glen Canyon to re-emerge from the depths. The book's 125 large, lush images show the canyon's flora and fauna's revitalization.
The Salt Lake City Main Library's Dewey Lecture Series—in its seventh year—never fails to showcase compelling topics. McGivney and Kay will discuss the cultural and political decisions involved in redefining Western water policy—as demanded by Lake Powell's level—and consumerism. They'll also discuss the five-year process of creating their book and show a 30-minute video of Kay's photography and historical footage of the canyon before Lake Powell.

Dewey Lecture Series: Annette McGivney & James Kay @ Salt Lake City Main Library, 210 E. 400 South, 801-524-8200, June 5, 7 p.m. Free with advance ticket