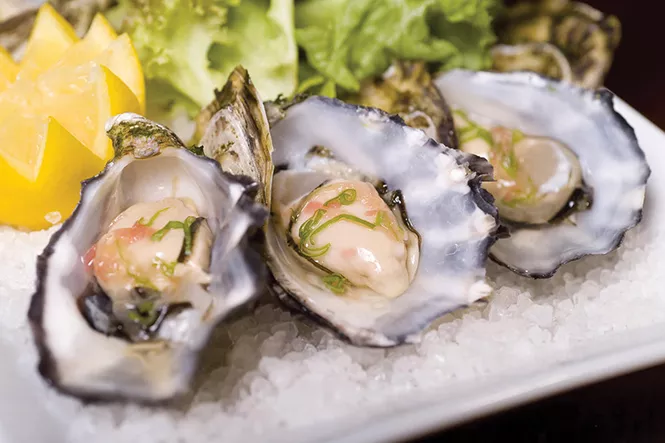 I can't think of a nicer spot to spend Father's Day than on the sunny patio at Tuscany (2832 E. 6200 South, 801-277-9919, tuscanyslc.com). Chef Adam Vickers and his team is hosting a Father's Day brunch buffet from 10 a.m.-1 p.m. featuring items such as prime rib, waffles, huevos rancheros, housemade pastries and much more ($40 adults, $20 kids 12 and under).
How about putting a South American spin on dad's day? Rodizio Grill (Trolley Square, 600 S. 700 East, 801-220-0500, rodizio.com) offers its full Rodizio dinner menu for $29 per person all day, which includes the regular churrasco—an endless array of grilled meats—plus hot and cold buffets, and a special prime rib carving station, strip steak, boneless leg of lamb and choice of dessert. Each father dining that day also receives a special gift. Bring out Dad's inner gaucho.
For an eclectic dining experience, consider visiting Provisions (3364 S. 2300 East, 801-410-4046, slcprovisions.com). Chef Tyler Stokes' eatery is now open for brunch on weekends, and Dad can select from a wide array of menu items ranging from "green eggs and ham" and slow-roasted local pork shoulder to hamachi crudo, organic Mary's fried chicken and waffles, an awesome cheeseburger and blueberry-ricotta pancakes with lemon curd and pure maple syrup.
If your pop is a whiskey aficionado, Finca (327 W. 200 South, 801-487-0699, fincaslc.com) has a unique Father's Day tasting menu with optional whiskey pairings. Choices include barbecued dishes like La Barba Coffee-rubbed pork loin and pork ribs with root beer barbecue sauce ($45, plus $25 for whiskey).
What could be more appropriate on Father's Day than a surf-and-turf menu? You can find that (and more) at Kimi's Chop & Oyster House (2155 S. Highland Drive, 801-946-2079, kimishouse.com). Kick off the holiday with a plate of fresh oysters on the half-shell, or heavenly blue crab meat salad wraps. Since Kimi's cuisine has a Scandinavian spin, I'd recommend the Swedish pytt i panna—melt-in-your-mouth beef tenderloin cubes with salt-cured ham, diced yellow potato, sweet onion, fried egg and pickled beets. Chef Matt Anderson also makes a killer croque madame that Dad will devour. Wash it down with a jalapeño-bacon-shrimp bloody mary.
If he's a dog lover, you might consider dining at Log Haven (6451 E. Millcreek Canyon Road, 801-272-8255, log-haven.com) during their Dog Days of Summer. The Fido-friendly restaurant serves both well-behaved dogs and their humans outdoors during this event, and dads can enjoy specialty cocktails like the Salty Chihuahua or Melon-Collie Mojito.
It's a stereotype, of course, that all dads like to grill. Some of us are barbecue bumblers as much as we are poor plumbers. If so, consider treating yours to what he really wants for Father's Day: meat. On June 17, the BBQ Pit Stop in Layton (1131 Highway 193, 801-341-7172, bbqpitstopclasses.com) offers a four-hour barbecue and grilling class by pitmaster Matt Train, who teaches how to make authentic barbecue. Dad can feast on samples throughout the class.
The ultimate Father's Day gift? Beer, of course. This year's City Weekly Utah Beer Festival takes place during a two-day span, Aug. 19-20. Purchase early bird passes for him (and yourself) at utahbeerfest.com. In addition to beer, music, food and fun, the festival has raised tens of thousands of dollars for the Humane Society of Utah and other local charities in the past seven years. I adopted our dog Ricky at last year's event. Drink tickets include UTA Trax, bus and FrontRunner passes and a commemorative sample mug.
Happy Father's Day!