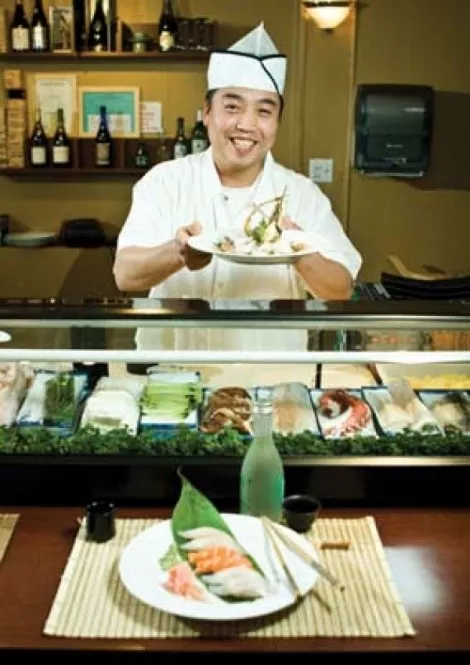 I've been going 'round and 'round about sushi. On the one hand, there's the convenience of premade, prepackaged sushi at places like Aloha Island Style sushi—or, for that matter, your local supermarket or Maverik service station. On the other, there's the entertainment value of watching sushi being made right in front of you, not to mention a reasonable assurance of freshness that you can't really count on in supermarket sushi.
Well, I've been going 'round and 'round about sushi ever since I stopped into Wasabi for a visit. Wasabi, located in the 721 Plaza on 2100 South, claims the distinction of being Salt Lake City's "first and only revolving sushi bar." I'm not sure I'd pin a business plan on that unique fact, but Wasabi seems to have done so.
Don't get the impression that a revolving sushi bar is all that unique, though. True, Wasabi may be distinctive here in Utah, but in Japan, these joints are wildly popular and successful. Known there as kuru kuru sushi (sushi-go-round), there are thousands of conveyor belt sushi (kaiten sushi) restaurants in Japan. You can also find them here in cities like New York, Los Angeles, Seattle … and, now, Salt Lake City.
At Wasabi, customers can opt for a full-service table or sit at a large oval-shaped counter equipped with a steel conveyor belt about a foot wide. On the belt are colored plastic plates containing various sushi along with other items like Ramune Japanese sodas, an industrial-size jar of wasabi, and so on. The sushi and accessories rotate continually in front of you. When you see something you want, you just pick it off the line and eat it. The revolving sushi comes on plates of differing colors, indicating differing prices. A yellow plate is $1.99, blue plate $2.99, on up to black plates which carry specialty items like three-piece Rainbow rolls for $5.99. At the end of a meal, a server simply tallies up the plates you've accumulated, along with any extras like beer, soup, sake and so on.
In Japan, close attention is paid to the freshness of conveyor belt sushi. Here, I'm not so sure. That's one drawback to sushi-go-rounds: You never really know how long the stuff has been going 'round. The quality of the dishes I tried at Wasabi ranged from dismal ($2.99 for a small serving of nearly gray, tired looking edamame) to darned good (three large pieces of caterpillar roll for $5.99). I had brought along my City Weekly coupon good for one free sushi plate of up to $1.99, but when I visited, there weren't any $1.99 (yellow) plates to be had. A standard six-piece tuna roll ($3.99) wasn't bad but also wasn't any better than I could buy at Dan's, though it was cheaper. The only nigiri—Wasabi Sushi seems to favor maki rolls—that passed in front of me was tuna and, I think, hamachi (yellowtail).
And that's part of the problem with places like Wasabi. There was no sushi chef to talk to or ask questions of—like, "Is that hamachi, or what?" Although there's a large sushi-making area in the middle of the conveyor belt at Wasabi, it was unoccupied. The only chef I saw was sitting at a table in the rear doing paperwork. So on the one hand, it helps already to know something about sushi before you visit Wasabi, if only so you can tell the eel roll from the ham nigiri (yuck). On the other hand, if you're already a sushi enthusiast, chances are you'll be disappointed in the limited selection at Wasabi. Don't go expecting to find toro or sea urchin.
For that, you'll want to visit an old-school sushi restaurant like I Love Sushi (actually, it's "I

Sushi"). Since recently discovering I

Sushi, it has quickly become one of my favorite Utah sushi stops, along with Shogun, Takashi, Sushi Maru and Yuki Arashi. You'll likely be greeted by a very outgoing and affable server/host named Alix. Normally, I don't want servers touching me. But being given a shoulder squeeze by the effervescent Alix just seems … normal.

The owner, Brenda, is also very friendly, as are sushi chefs Catfish and Danny. Catfish is the sushi master at I
Sushi. He's Korean-born, raised in Japan and got his nickname for the whiskers he sported in high school. If you're the sort of person who likes to experiment with sushi and be led into new discoveries and flavors at a sushi bar, Catfish is the guy for you.

We started with very fresh salmon nigiri ($3.95), along with yellowtail ($4.50), red snapper ($4.50), toro, albacore and eel before things got really serious. When I ordered Spanish mackerel, Catfish asked if we wanted the whole fish ($16.95). I wasn't sure what he meant, so I said "yes," thinking that more is better; a whole fish is better than part of a fish. So, Catfish proceeded to filet a whole Spanish mackerel—about the size of a large trout—and then skin and slice the meat paper-thin. He served it sashimi style on a bed of daikon, complete with the deep-fried carcass to nibble on. We ate everything but the head; it was absolutely delicious.

Sipping the last of our bottle of wine and tucking into ankimo (monkfish liver), I was happy that the delectable food in front of us wasn't moving. After all, what goes around sometimes comes around.


WASABI 675 E. 2100 South (721 Plaza), 801-467-1875


I
SUSHI 368 S. State, 801-359-0203 ILoveSushiUtah.com