Through the years, I have toyed periodically with going vegetarian. It's never quite stuck, and I always seem to find my way back to Philly cheesesteaks, Carolina barbecue, street-vendor tacos and organ meats that would disgust many a meat eater, never mind the vegans. The truth be told, though, I
really
like fruits, whole grains, vegetables, legumes, herbs and a wide range of wholesome foods that don't include meat, fish, fowl or dairy. There is nothing—and I mean
nothing
(not even foie gras)—more delicious and delightful than a ripe tomato straight from the garden. I also happen to adore brussels sprouts. Still, I seldom write about topics like vegetarian restaurants because I've discovered that there are so many militant noncarnivores out there that no matter what I say, I seem to piss somebody off. I've no doubt that this column will have the same undesired effect.
C'est la vie.
Anyway, in case you missed it—and I'm speaking primarily to nonvegetarians here—there's been a veritable vegetable revolution going on. It includes the raw-foods movement but can also be traced to professional cooks and restaurateurs like Chez Panisse' owner Alice Waters, who wows customers daily with her simple preparations of farm-fresh organic produce. Plus, great chefs love challenges, and it is challenging to create delectable, artful, satisfying food solely from fruits and veggies. So, many of the world's best cooks—people like Charlie Trotter, for example—are turning their attention toward making meatless dishes. And now, aside from the great things chefs are doing with vegetables in restaurants, three terrific new books have gotten me excited again about the possibilities of vegetarian and vegan cooking at home.
Isa Chandra Moskowitz and Terry Hope Romero are vegangelicals with a sense of humor, a sense of proportion and a sense of adventure. What else would you expect from two gals who host a podcast called The Post Punk Kitchen (ThePPK.com)? And their new book Veganomicon: The Ultimate Vegan Cookbook ($27.50) just might become the Joy of Cooking for a generation of vegans. Now, before you turn the page thinking, "Who needs another stack of tempeh, tofu and seitan recipes?" you should know that these post-punks take delight in flavor, above all else. Yes, there are tofu, seitan, and tempeh recipes in Veganomicon. But there's also a goldmine of innovative dishes from leek and bean cassoulet with biscuits and spinach-noodle kugel, to asparagus and lemongrass risotto and tea-poached pears in chocolate sauce. I grew up with the Moosewood Cookbook. And there's nothing wrong with that. But for truly remarkable treats like walnut-mushroom pâté or French lentil soup with tarragon and thyme, I urge you to check out Veganomicon, a vegetable lovers' cookbook for the new millennium. Who'd of thought there could be so much variety in vegan?
Michael Pollan's (The Omnivore's Dilemna; The Botany of Desire) latest book isn't a book about vegetarians or vegetarianism per se and contains no recipes. But the seven "liberating" words he uses to answer the question of what we should eat will certainly appeal to anyone with a propensity towards veggies: Eat food. Not too much. Mostly plants.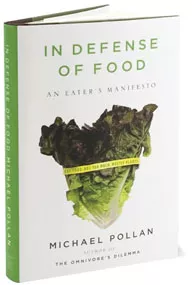 In Pollan's short but important In Defense of Food: An Eater's Manifesto ($21.95), he takes on 1. bad nutritional science and its bullying experts 2. the Western diet and 3. the ideology of "nutritionism." And although In Defense of Food can come off as a bit esoteric at times, with lengthy discussions of lipids and Liebig, it's worth wading through to get to Part 3 of the book to uncover practical advisory gems like "Don't eat anything your great grandmother wouldn't recognize as food," "Shop on the peripheries of the supermarket and stay out of the middle" (fresh, wholesome foods tend to congregate on the edges of supermarkets), "Drink a glass of wine with dinner," and "Do all your eating at a table" (not a desk or fast-food counter). While meat eaters and vegetarians alike will profit from the sane and simple advice in Michael Pollan's book, there's no doubt that once you read it, you will find yourself eating more and more veggies, especially leafs, as he advises.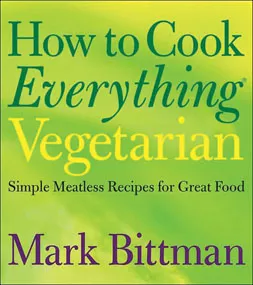 I've written in the past that Mark Bittman's How to Cook Everything is the best single all-purpose cookbook I know of. Well, now the New York Times "Minimalist" food writer has created a fabulous follow-up: How to Cook Everything Vegetarian: Simple Meatless Recipes for Great Food ($35). Maybe one of the reasons that How to Cook Everything Vegetarian is so useful and the recipes so tempting is that Bittman is not a vegetarian himself. So, like me, he looks at meat-free dishes a bit askance, if not with trepidation. And so How to Cook Everything Vegetarian is in part a cookbook for those of us who aren't quite completely sold on the idea of vegetarianism and who perhaps haven't quite become acclimated to a 24/7 meat-free diet. In other words, Bittman's dishes have to really taste good to appeal to those who aren't yet members of the fold.

With more than 2,000 recipes and variations and 250 how-to illustrations in How to Cook Everything Vegetarian, there's not a lot more a vegetarian cook could wish for. Some will find Bittman's book useful as a treasure trove of side dishes: flavorful and straightforward ways to make use of vegetables, beans, grains and such to complement a meal. But the more I thumb through How to Cook Everything Vegetarian, the more I'm seduced by the vegetarian entrees, main courses and one-dish meals. So don't be surprised if you're served dried fruit and lima-bean stew the next time you stop by my place.