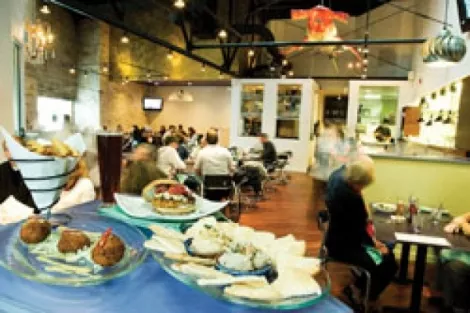 My last memory of eating cow flesh is foggy but, as I recall, it involved miles of rank manure and a man beating a horse. In retrospect, it's possible some well-meaning cowboy was simply reining in an obstinate steed, but to a seventh-grade city girl, he may as well have knifed Bambi in the back. Shocked and disturbed, I resolved to leave my meat-eating days behind at Rockin R Ranch in scenic Antimony, Utah.
Since then, I've skipped through various periods of strict vegetarianism as well as a brief, half-assed carb-intensive stint of veganism before settling into the pleasure zone my friend Yana lovingly dubs "fishetarianism," which means seafood and dairy are cool, but their no-good cow, pork, chicken and tastes-like-chicken friends have to wait outside. Personally, my body functions best on an ocean-bred/nonmeat diet—and foie gras makes me feel funny.
But this isn't about defending personal choices; rather, it is about providing some common ground between those who just break bread and those who use it to sop up remnants of their bloody-rare steak. It's about bringing carnivores and vegetarians to the same table, especially where romance is involved.
It's your first date: What to do when your diet consists of brown rice and tempeh and your boy/girl crush lives on Hamburger Helper and beef ramen?
The good news is your dining-out options aren't restricted to strictly vegetarian and/or organic restaurants. There are plenty of not-so-obvious places in Salt Lake City that cook up hearty meat and nonmeat dishes. Newcomer
Acme Burger Co.
(275 S. 200 West, 257-5700), whose slick, minimalist digs easily overshadow the warehouse that preceded its welcome, offers both a colossal head-size burger and savory three-bean veggie burger cooked in a special meat-free pan. I recommend slapping on a coat of guacamole for good measure. Acme also offers a refreshingly spicy, curried-acorn-squash bisque, a caprese salad with Thai basil vinaigrette and fishetarian-friendly salmon burger. You could also make a (not exactly healthy) meal out of sides: latkes, mac & cheese, creamed spinach, thick-cut fries … a move that might reinforce negative perceptions of vegetarians as lazy eaters with teenage palates. Save the indulgence for date two or three.
For a better first impression, head to
Martine
(22 East 100 South, 363-9328), which does the trick for fishetarians with seafood entreés and tapas including grape-leaf-wrapped halibut, wild salmon fritters and grilled white asparagus with Dungeness crab and fennel salad.
Ditto for
Takashi
(18 W. Market St., 519-9595), where hipsters and upper-crust liberals alike brave typically long waits for melt-in-your-mouth sushi and the famous azekura—a tower of seared skirt steak, tempura and portabello mushrooms. Stricter vegetarians win every time with the Buddha roll and akedashi tofu.
If you're not sure how serious your date is about not consuming creatures, land- or sea-dwelling, reserve a table at the romantic
Caffé Molise
(55 W. 100 South, 364-8833). Italian cuisine is usually a safe bet for vegetarians and meat lovers alike, but Molise does vegetarian better than most. Split an order of polenta or bruschetta, gnocchi di patate and ravioli di melanzana. Check for seasonal ravioli (butternut squash is my favorite).
Stoneground Pizza
(249 E. 400 South, 364-1368) is another great bet. While largely recognized for its gourmet pizzas and pool tables, the cozy upstairs restaurant is well suited for lovebirds who want to linger in intimate booths over lemon-caper-chicken linguine and portabello mushrooms over penne.
Not a fan of carbs? Go Asian or go home. Most Thai, Vietnamese, Japanese, Indian and Chinese restaurants offer the option of substituting tofu in any meat dish.
Chanon Thai Café
(278 E. 900 South, 532-1177) is a standout, with home-style specials spiced on a scale of 1-5. Hint: even heat-seekers are satisfied with level 2. Vegans, be sure to order veggie pad Thai without the traditional egg.
When ordering soup, ask your waiter to check on the quality of stock. Just because it contains vegetables, doesn't mean it's veggie-friendly. Many minestrones, for example, contain beef stock. Same goes for beans, which some cooks flavor with pork.
The Red Iguana
(736 W. North Temple, 322-1489) recently switched to vegan-friendly beans (made with oil instead of lard) to keep their customers happy. Word on the street has it, however, the moles are made ahead of time and include chicken stock.
Wherever you go, don't be afraid to inquire about vegetarian options, on or off the menu. Be specific, be polite and eat your vegetables. Cheers!
cw