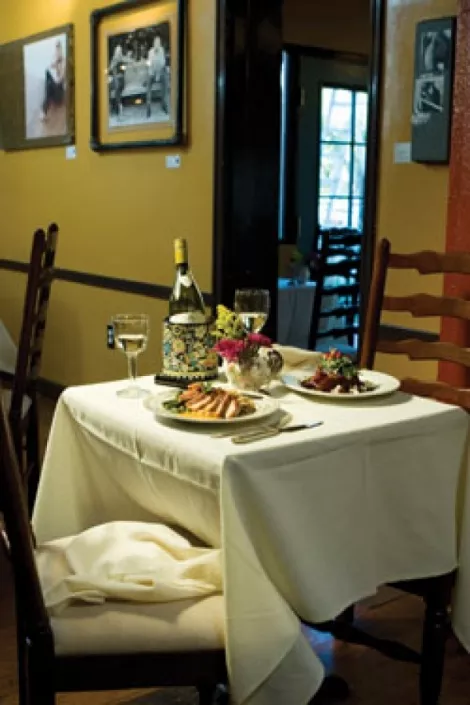 Opening and operating a restaurant can be a crapshoot. There are at least as many ways to fail as there are to succeed, not to mention wild cards that can ruin the best laid business plan. I'm reminded, for instance, of the way Americans turned on France at the start of the war in Iraq—a factor which left a couple of good local French restaurants, L'Avenue and Au Bon Appétit, smoldering in the dust. And certainly, situations such as closing Main Street to build the TRAX line caused hardship to downtown restaurants there.

So I'm shy about making predictions. Nonetheless, great food, service and ambience ought to add up to success in the restaurant biz. And so, based on those factors, here are my picks of new restaurants destined, hopefully, to become venerable old ones.

I'm a little concerned about its location on 400 South, where it's easy for potential customers to zip past without even noticing the restaurant. But The Tin Angel Café (365 W. 400 South, 328-4155) has the sort of food, service and ambience that's awfully hard not to love. Dishes like breasaola carpaccio, sage and roast chicken with penne, and Spanish pork loin are served up with big smiles in a funky, friendly space where libations range from organic sodas and Beaujolais to Bloody Marys and PBR.

Now that the initial new restaurant service glitches have been addressed, there's no reason why there shouldn't be an Acme Burger Co. (275 S. 200 West, 257-5700) in every American city within a few years. Every last citizen deserves access to chef Adam Kreisel's incredible burgers. It should be an inalienable right.

Sushi in Midvale? Well, sure. Now that Tsunami (7628 S. Union Park Ave., Midvale, 676-6466) has expanded into Union Heights, folks in the south end of the valley can claim their right to eat the freshest sushi and sashimi around, all presented in a dazzling atmosphere. Plus, it has the coolest restaurant Website I've ever seen.
Speaking of the south valley, I wouldn't bet against the new Market Street Grill & Oyster Bar at Riverpark (10702 S. River Front Parkway, 302-2262) in South Jordan. It was a well-oiled machine a week after it opened.

Caffe Niche (779 E. 300 South, 433-3380) has all the right stuff: a wonderful mix of friendly and enthusiastic service, neighborhood ambience and simple but sensational dishes that rarely miss the mark. They've found a "niche" that should be long lasting.
cw