Fairness. That's all
City Weekly
founder John Saltas has ever asked of me in regard to restaurant reviews: Be fair. And so, I try my damnedest to be fair, honest and accurate. Despite the spate of food blogs and foodie Websites out there, being a restaurant critic isn't a right; it's a privilege.
I figure that, over the years, I've written some 800—give or take—restaurant reviews for City Weekly. And, for the annual Dining Guide, I'm asked to name my favorite 100. With close to 1,800 restaurants in our listings at CityWeekly.net, that means there are about a thousand I haven't covered—probably haven't even been to yet.
So, if your favorite restaurant isn't in my Top 100, it simply may be because I've yet to visit it. Or, it just may be that I haven't visited the restaurant lately. There are about 25 restaurants in last year's Top 100 that didn't make it this year. Some closed. But in the main, they simply dropped off because it had been too long since I'd been back in to eat. So, how could they truthfully be my "favorites?"
My favorite restaurants are exactly that: favorites. They are not necessarily the best restaurants. Some are dives, others are opulent. These are merely the places that I like to frequent when I'm off-duty and on my own dime, when City Weekly isn't covering my expenses—places I'd recommend to friends.
As I always like to say with regard to dining out: Your mileage may vary. Restaurant criticism isn't a science. At best, it's an art. But with that in mind, this year we're trying something new. We asked City Weekly Club Fed members and other readers for comments about their favorite restaurants. It's unscientific, for sure, but we wanted to know which restaurants were your faves. Many coincided with mine. In those cases, we've included your comments in the Top 100.
In cases where your favorite restaurants weren't in the Top 100, we've sprinkled comments about them throughout my list. Thanks to everyone who participated. In the end, though, the Top 100 is simply a listing of restaurants I like and that I recommend—nothing more. Fair enough?
New this year to the Dining Guide is my choice for Restaurant of the Year. Again, I'm not christening it best Utah restaurant or naming a best chef. For reasons you'll see, I've chosen this particular restaurant for achievements against long odds.
Enjoy the Dining Guide. I hope it's useful. Mangia!

Superb service. Appealing ambiance. Fantastic food. These are the components of any great restaurant. But they are merely necessary, not sufficient. After all, there are many Utah restaurants that meet these criteria. So, what separates Forage from the rest?
Well, for one thing, Forage is still in business. That may sound underwhelming, but Forage has pulled off something that no other Utah restaurant I can think of has: Customers are offered only two dining options—a three-course fixed price menu and a lengthier chef's tasting menu. That's two prices, two menus—nothing a la carte, and then, very challenging food, to boot. So, if for no other reason, Forage is my choice for Restaurant of the Year just for surviving in an already difficult economic environment.
The restaurant is the brainchild of chef/owners Viet Pham and Bowman Brown, who'd previously cooked at San Francisco's Fifth Floor and Gary Danko restaurants, among others, before opening Forage.
Dining at Forage is an experience and an adventure. There is nothing mundane about it. The food is precise, experimental and exciting. The service is utterly professional. The wine list is appealing. The creation and execution of dishes such as confit of wild ono, cinnamon-smoked duck with potato-pine puree, elderflower semifreddo and crisp pork shoulder with truffled puree takes chops. It's crystal clear at Forage that food is the emphasis—it's the star. The small dining space itself is clean and uncluttered; there's almost nothing, including wall art or music, to distract from the dining experience. This isn't dinner and a show; dinner is the show.
And so, that this one-of-a-kind restaurant has thrived for over a year on the Salt Lake dining scene—when this sort of place would have a hard row to hoe even in New York or San Francisco—makes it my choice for Restaurant of the Year.
370 E. 900 South, Salt Lake City, 801-708-7834, ForageRestaurant.com
350 Main New American Brasserie
For more than two decades, 350 Main chef Michael LeClerc has been cooking his way through some of the finest restaurants on the planet. So, we're fortunate to have him land in Park City, where his global influences show up in dishes such as ono-ono (Pacific ono served two ways), black sesame sea scallops, spicy barbecued tempeh and black pepper-crusted venison medallions. For the health conscious, 350 also offers a vitamin- and antioxidant-rich/low-fat, low-calorie "Sante" menu. A tempting list of specialty martinis and strong wine selection rounds out the 350 Main experience nicely.
350 Main, Park City, 435-649-3140, 350Main.com
The Aerie
At Snowbird's Aerie restaurant, nature and natural flavors form a delicious team. As if the breathtaking mountain views from The Aerie's lounge and dining room weren't enough, executive chef Fernando Soberanis has created a dining experience to match the stellar scenery and ambiance. The sushi bar in the lounge is the perfect place to indulge in the sushi team's extraordinary seafood creations, while the dining-room menu features an eclectic mix of dishes such as pan-seared foie gras, salmon tartar, guava and passion fruit-glazed Kurobota pork ribs and Jamaican jerk chicken. Service at the Aerie is excellent under general manager Mo Salimi's watchful eye and the 850-plus selection wine list—A Wine Spectator Best of Award of Excellence winner—holds many hidden treasures.
Cliff Lodge, Highway 210, Little Cottonwood Canyon Road, Snowbird, 801-933-2160, Snowbird.com
African Market & Restaurant
The African Restaurant menu is filled with exotic-sounding Ethiopian-influenced dishes like ashaakiltii, misira, shiro, handaanqoo, waaddii and raafuu. Everything is house-made and served in a friendly, family-style atmosphere. Chances are your hostess for the evening will be an Ethiopian woman named Bulane, who's also chef/owner/server. She does everything, and remarkably well. The African Restaurant menu features a number of vegetarian dishes and a good way to sample them is to order the vegetarian combo plate called Wal-Maka. Meals at African Restaurant come served on large disks of spongy, East African-style flat bread called budenaa. It's made from taafii flour and is very similar to the ingeera served at many Ethiopian restaurants. This is a terrific choice for a fun, friendly, inexpensive and exotic dining change of pace.
1878 S. Redwood Road, Salt Lake City, 801-978-9673
Aristo's Greek Restaurant & Café
When Aristides Boutsikakis opened Aristo's Greek Restaurant & Café, I didn't think it would last, frankly. The menu seems too exotic, with unpronounceable dishes like keftethes, pikilia, taramosalata, melizanosalata and boureki. But Aristo's won me and many others over, serving no-compromise Greek cuisine in a setting that makes you feel like you're in the Mediterranean. And yes, they also have gyros.
224 S. 1300 East, Salt Lake City, 801-581-0888, AristosGreekRestaurant.com
Readers Shout Out:
Gene: Sure there are lots of places in town that sell gyros and souvlaki. But how many really make Greek food? The answer is one: Aristo's. For people who have been to Greece, this is the place they want to eat. There's so much more to Greek food besides Gyros! We love everything on the Aristo menu but especially the mezedakia. It reminds us of being in Greece.
Bambara
Bambara chef Nathan Powers may be soft-spoken—even a bit shy—but his cooking cranks up the volume. Innovative dishes like lavender-grilled Hawaiian tuna, goat-cheese gnocchi and his signature steak with herbed frites keep both locals and visitors to the Hotel Monaco happy and well fed. The service and ambiance at this recently renovated restaurant is second to none. And, with its full-exhibition kitchen, you'll be able to enjoy dinner and a show at Bambara.
202 S. Main, Salt Lake City, 801-363-5454, Bambara-SLC.com
Bayleaf Café
"Scratch food" is what Bayleaf Café owner and chef Seth Radford calls his cooking. "Everything is made from scratch, every day," he says. Sure tastes like it. Much of what you'll find on the menu consists of recipes handed down from grandparents and great-grandparents. The meatloaf, for example, is the same recipe Radford's great-great-grandmother used, and it's spectacular—in the way that only comfort food can be spectacular. But then, the same can be said for the catfish po' boy, barbecued shrimp with cheese grits, fried chicken, macaroni and cheese, hoppin' John, and just about everything else on the Southern-inspired menu.
159 S. Main, Salt Lake City, 801-359-8490, Bayleaf-Cafe.com
The Bayou
The Bayou owner Mark Alston also operates The Beer Nut, one of Utah's leading homebrew supply stores. There's nothing this guy doesn't know about beer. In my mind, he's Utah's beer ambassador. So, serious beer aficionados from out of town wouldn't even think of visiting Salt Lake City without making a stop here. There's a reason that The Bayou has come to be known as "beervana"—200 bottled beers and over 30 more on tap has a lot to do with it. Add to that great Southern-style cooking, live music, pool tables and more and you've got a recipe for success—or maybe … excess.
645 S. State, Salt Lake City, 801-961-8400, UtahBayou.com
Café Limon
In 2008, Amparo Alam was crowned Grand Prize Winner of Food Network's
Ultimate Recipe Showdown,
a TV cooking show hosted by the ubiquitous Guy Fieri. Alam's Peruvian-style rotisserie chicken with fried yucca root beat out all others in the nationwide recipe contest. Well, you don't have to travel far—just out to Syracuse—to taste that award-winning chicken. The cuisine at Café Limon is a mix of Peruvian and American fare, with a menu that combines
really
good burgers with more exotic dishes such as
lomo saltado
(jumping beef), crispy yucca fries, or the delicious slow-roasted pork sandwich with choice of Peruvian sauce. The warm, family-style hospitality at Café Limon is award worthy itself.
973 W. 1700 South, Syracuse, 801-825-0219
Café Madrid
I was lucky enough to be able to live in Spain for a few years, so I'm picky about my Spanish food. But, I love the cozy, yet classy ambiance of Café Madrid and the food here, not to mention the service. Owners Todd and Gabrielle McAfee and her brother J.C. Pino make every customer feel like family. There's literally no warmer restaurant in town that I know of. So, when I'm in the mood for tortilla Española, esparragos trigueros al ail-oli or pierna de cordero guisada, I make my way to Café Madrid. The only thing missing is flamenco dancers, but Gabrielle is so accommodating she might just do that for you as well, if you ask.
2080 E. 3900 South, Salt Lake City, 801-273-0837, CafeMadrid.net
Caffe Molise
Featuring Italian cuisine inspired by the Molise region of south-central Italy, Caffe Molise has been putting smiles on faces of locals and visitors alike for many years now. From antipasti and insalate to piatti and panini, chef/owner Fred Moesinger tempts customers with delightful dishes such as his bruschetta misto, polenta con funghi, orecchiette al salsiccia and gnocchi di patate, all supplemented by an ambitious selection of Italian and domestic wines. During warm weather, the outside pocket-park patio is a popular dinner spot, and the John Flanders jazz trio brings in the crowds on Fridays.
55 W. 100 South, Salt Lake City, 801-364-8833, CaffeMolise.com
Café Trio
For casual, contemporary Italian-inspired cuisine, Café Trio is hard to beat—either the original downtown location, or the bigger space out in Cottonwood. In warm weather, it's hard to top either Café Trio location for al fresco dining, where patios are typically bustling with energy. The look of Café Trio restaurants is hip and slick, but the food has more rustic roots. Grilled flatbreads, tasty salads like the panzanella, pizzas, pastas and entrees such as roasted chicken and Niman Ranch Prime steak all are treated with traditional respect, while at the same time given modern twists such as truffle oil or citrus vinaigrette. At Café Trio, it's the best of both worlds: old and new.
680 S. 900 East, Salt Lake City, 801-533-8746; 6405 S. 3000 East, Salt Lake City, 801-944-8746, TrioDining.com
Chanon Thai Café
Thai cuisine at this funky, friendly, comfy little café is truly authentic, particularly when it comes to the heat scale. Order a dish of gang massaman curry spicy, and it will be spicy. Seriously. The Duck Fantasy is also superb, and a spring roll-wrapped fried banana with homemade ice cream provides a delicious finish to a meal.
278 E. 900 South, Salt Lake City, 801-532-1177
Readers Shout Out:
Melissa: When I'm looking for a cheap curry fix, I head to Chanon Thai Cafe. The family who runs this place is super sweet, even tolerating my messy toddler throwing rice all over the place. They always bring her little treats like sliced oranges and bananas. All of the curries at Chanon are superb, but the gang massaman is my personal favorite (followed closely by the gang panang). The pad siew is also excellent, and the fried bananas are killer. Spice-haters beware: Chanon serves it hot, sometimes even when you ask for mild.
Chez Betty
Park City's Chez Betty restaurant is now in its 17th year. Brothers Tom Bell and Jerry Garcia have operated it since 1996, after taking it over from the previous owners. Over the years, we've seen Chez Betty grow and mature. It was one of Utah's first restaurants to showcase fusion cooking and pan-Asian flavors in combination with the rustic mountain cuisine befitting a ski town. Many people think of Chez Betty as a "destination" restaurant, but locals know better. The prices at Chez Betty are lower than at many of the town's higher-end eateries, the restaurant itself is warm and comfy and the seasoned staffers know most of their repeat customers by name. Plus, there's free and easy parking at Chez Betty, which is located in the Copper Bottom Inn. This is a restaurant with heart and soul.
1637 Short Line Drive, Park City, 435-649-8181, ChezBetty.com
Chimayo
At restaurateur Bill White's Chimayo restaurant, Southwestern flavors collide with French-American culinary techniques to create a nouveau-Southwest cuisine that is as unique as it is delicious. You might begin a Chimayo meal with something light, such as the ceviche de la casa and an award-winning Chimayo Margarita, before moving on to something more substantial like green pipian-seared trout fajitas, wild halibut "Sea of Cortez Style," or the visually spectacular crown roast of barbecued spareribs with spicy guajillo chile and cumin demi-glace. The handpicked Mexican and Southwestern artifacts, décor and furnishings at Chimayo complete the festive dining experience here.
368 Main, Park City, 435-649-6222, ChimayoRestaurant.com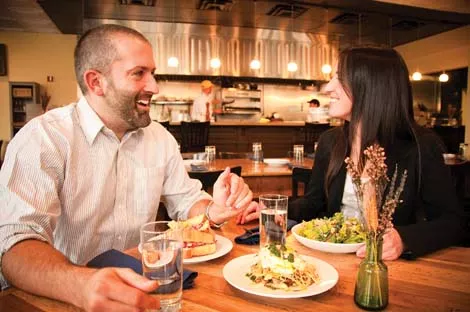 The Copper Onion
The Copper Onion may look humble; it's not an "in-your-face" eatery. No culinary pyrotechnics here, just outstanding, straightforward, affordable and delicious food, accompanied by exceptional service. A can't-miss dish here is chef Ryan Lowder's handmade ricotta dumplings. But that's just one superb menu item among a plethora. Simply put, restaurants like The Copper Onion remind me how much I love my job.
111 E. Broadway, Salt Lake City, 801-355-3282, TheCopperOnion.com
Readers Shout Out:
Stephen: The Copper Onion rates as my favorite eatery. A hip, casual place teeming with cool energy. The food is understated and absolutely fantastic. Interesting taste and texture combinations abound and everything is always cooked to perfection.
Curtis: The Copper Onion: Just simply good. Every time we have eaten there, we have fully enjoyed ourselves. Good balance between quality and creativity. And, add it to a movie next door, what could be better?
Cucina Toscana
Restaurant owners and chefs come and go. But, more than any other Utah restaurant I can think of, it's impossible for me to even imagine Cucina Toscana without owner and impresario, Valter Nassi. Nassi simply is Cucina Toscana. And, for many, this is Utah's best choice for authentic Italian cuisine. Airy pillows of freshly made gnocchi in mushroom cream sauce are heaven. The signature piccata di pollo al limone can bring tears to my eyes. The baked veal chop with oyster mushrooms is simply sinful. But, as I suggested, I can't imagine the food here tasting quite as good if not for the watchful eye and constant supervision of Cucina Toscana's maestro, Valter Nassi. Without him, this timeless eatery just wouldn't tick.
307 W. Pierpont Ave., Salt Lake City, 801-328-3463, Cucina-Toscana.com
Readers Shout Out:
Mike: How could anyone not love Mr. Nassi's Continental charm and the exquisite flavors of Cucina Toscana? This is our special-occasion restaurant. But actually, every dinner at Cucina Toscana is a special occasion! We love it.