Page 11 of 13

Breaking Bread
10 superlative sandwiches spots.
By Ted Scheffler
I don't know who first put a hunk of meat or cheese between two slices of bread, thereby inventing the sandwich, but I'm grateful for it. My earliest memory of eating as a kid is munching on a grilled cheese. Since then, I've developed a fierce fondness for a serious assortment of sandwich styles: cheesesteak, gyro, sub, hoagie, grinder, muffuletta, bahn mi, panini, torta, bocadillo, döner, pistolette and shawarma, to name a few. So, narrowing so many super sandwiches down to a list of my 10 favorites was not easy, but the research was mighty tasty.
With a selection of more than 20 different sandwiches, the Robin's Nest (311 S. Main, 801-466-6378, robinsnestslc.com), named for owner Robin Paluso, is heaven for sandwich lovers. The Heritage—Paluso's tribute to her Italian father—is an excellent Italian hoagie-style sandwich. But the one I keep returning to is the Egg-Straordinaire. A good egg-salad sandwich is getting harder and harder to find these days. Thankfully, this one fills the bill with homemade egg salad, red onion, green peppers, lettuce and melted cheese on wheat bread (add bacon for a meaty kick).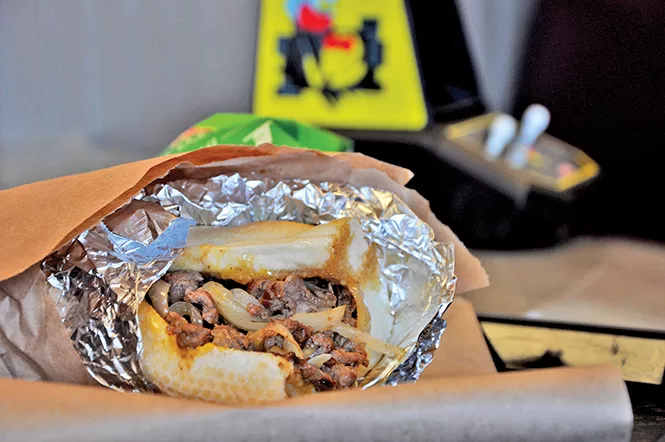 Derek Carlisle
The Philly at Este Deli
Whenever I find myself back East, I always make time for a stop at DiNic's to get their famous roasted-pork sandwich. Este Deli (1702 S. Main, 801-487-3354, estepizzaco.com) owner Dave Heiblim prefers the roast pork at Paesano's, "The place our roast pork sandwich is based on," he says. Paesano's uses roast suckling pig for its pork sandwiches, while Este favors braised pork shoulder. Juicy, tender pork is shredded and served hoagie-style with garlic, roasted red peppers and the classic accoutrements: sautéed broccoli rabe and sharp provolone. The Philly cheesesteak at Este is damn good, too.
If I'm being honest, I'll confess that I'm not a big fan of City Creek Center. But if, for some reason, I'm forced to be there, at least I can look forward to a stupendous sandwich in the food court at Bocata (28 S. State, 801-355-3538, bocatasandwich.com). What's unique here is that the sandwiches are made from pizza dough and cooked in a pizza oven, sort of like a calzone. Quality ingredients like slow-roasted leg of lamb, meatballs, roasted tomatoes and turkey are all cooked from scratch, in-house. My personal fave is the porchetta sandwich, which is fennel-rubbed, slow-roasted Italian-seasoned pork with tangy, roasted red bell peppers and a green garlic sauce.
Now let's talk tuna. As with egg salad, a good tuna-salad sandwich also is a rarity nowadays. Well, you can wrap up your search here, because Feldman's Deli (2005 E. 2700 South, 801-906-0369, feldmansdeli.com) makes the best in town. It begins with solid white albacore mixed with scallions, celery, lemon juice, salt, pepper and celery seed. The huge-portioned tuna salad is served on fresh bread with lettuce, tomato and onion, but the key is, owner Michael Feldman says, "it's made fresh every day."
Cost was a key factor in my sandwich search, and although it might not be the most gourmet, one of the best bargains I found was at Harmons (multiple locations, harmonsgrocery.com), where the breads are baked in-house. I really like, for example, their caprese sandwich with mozzarella, tomato and basil pesto on fresh bread. But the best bang-for-the-buck is the half-sub sandwich (which is as large as some chains' whole subs), priced at a mere $3.50. We usually grab an armful of them for the kids when we go on hikes.
Knowing that buying a sandwich is helping to fight hunger (other than your own) makes it taste especially good. That's the case at Even Stevens (multiple locations, evenstevens.com), whose slogan is "a sandwich shop with a cause," where money for making sandwiches is placed in a special Sysco foods account. At the end of each month, Even Stevens' nonprofit partners access the account, order sandwich-making ingredients, and volunteers build sandwiches for the hungry. That makes their Mihami Vice, Capreezy, Pot Roast Dip, Báhn Belly, Hummazing Vegan and other sandwiches even tastier.
Tyson Rollins
The Chicago Dog at Johnniebeefs
Johnniebeefs (6913 S. 1300 East, Cottonwood Heights, 801-352-0372, johnniebeefs.com) is a fast-food, Chicago-style hot dog emporium with a brain-blistering tubesteak selection—some 30-plus—as well as sandwiches and burgers. The dogs are made with 95-percent-lean domestic beef and the buns are imported from the Windy City. Is it a sandwich? A brat? A hot dog? A burger? Whatever it is, the Dytka is a meat lover's dream: a beef hamburger patty and a bratwurst sausage with cheddar cheese, grilled onions, tomato, sauerkraut, tomato, pickle and celery salt on a seeded bun with deli mustard. Where's the beef, you ask? Right here.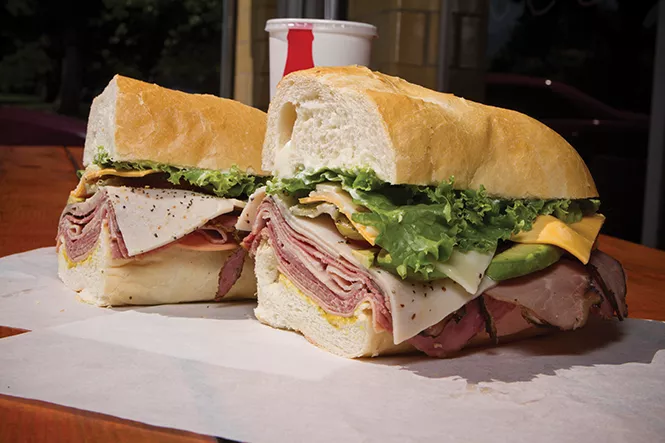 John Taylor
Grove Market's Big John
Size matters. If the size of your submarine sandwich is a deciding factor, prepare to do battle with Big John. That's the name of the popular, oversized and underpriced deli sandwich at Grove Market (1906 S. Main, 801-467-8860, grovemarketdeli.com). The Big John features seven deli meats—salami, ham, corned beef, pastrami, bologna, turkey and roast beef—piled 3 to 4 inches high, then topped with both Swiss and American cheese, plus mayo, mustard, lettuce, tomato, pickle and pepperoncini on a thick, airy ambassador roll (or on rye, French, sourdough or wheat bread). Trust me, there will be no room for dessert.
I spend a fair amount of time every year in Philadelphia, so I eat a lot of cheesesteaks. There are some good Philly-style cheesesteaks in Utah, but none is better than at Vito's in Bountiful (100 S. Main, 801-953-8486). No website. No credit cards. Continuing the theme, it's open just a few hours each day, and yet, the line of hungry patrons awaiting their custom-made oozing creations is always a long one. Get there early, as the man himself, Vito Leone, closes up shop when he runs out of meat for the day.
There are so many excellent sandwich options at Tony Caputo's Market & Deli (multiple locations, caputos.com) that it's painful to have to settle on just one favorite. I love the Soprano, the Meatball, Old School, Fior di Latte and others. But there's one that's tough to find west of New Orleans: the Muffuletta. With flavors straight from NOLA's Central Grocery, it's a classic combination of ham, mortadella, Genoa salami and provolone, with spicy olive salad on a grilled ciabatta roll. Olive lovers will go gaga for this great muffuletta.


Gourmet Grazing
Our food critic picks his ultimate meal, one dish at a time.
By Ted Scheffler
---

Alluring Appetites
Here are 7 SLC restaurants with design as sexy as the sustenance.
By Darby Doyle
---
A Cheapskate's Guide to SLC
Think good grub means breaking the bank? Think again.
By Amanda Rock
---
Try the Grilled Cheese
A vegetarian reviews local hotel food.
Story and photos by Ryan Cunningham
---

Hot for Tots
7 places that elevate the humble tater tot to art.
By Amanda Rock
---
Confirmed Classics
We tip our hats to longstanding, bona fide Utah eateries.
By Carolyn Campbell
---

The Meatmen Cometh
Inside the lost art of meat-cutting.
By Alex Springer
---

SLURP!
Where to go when you got it bad for boba.
By Amanda Rock
---
Make it pop
Where to go for fine food with a side of spontaneity.
By Darby Doyle
---

Breaking Bread
10 superlative sandwiches spots.
By Ted Scheffler
---
Humble Crumble
Here's where to get your cookie fix.
By Amanda Rock
---
Brain Freeze
Utah: Home to a bevy of frozen treats.
By Carolyn Campbell