Page 12 of 13
Humble Crumble
Here's where to get your cookie fix.
By Amanda Rock
When I tell people I'm addicted to gas-station cookies, they think I've lost my mind, or they flat-out don't believe me. Who can blame them? Gas stations aren't known for fine food. Until now.
With tempting sugar cookies dressed in colorful frosting, and classics like chocolate chip and oatmeal, My Cookie Fix (multiple locations, mycookiefix.com)has what you're craving. No preservatives or artificial flavors here—only goodness made with real sugar, butter and cream cheese. Using a treasured family recipe, Karissa Peterson founded the company inside a Chevron gas station located in Draper. The cookies sold like hotcakes, and Peterson knew she was on to something. My Cookie Fix now sells at over 70 gas stations throughout northern Utah. At $1.79 a pop, you can afford to live large, or at least buy yourself a top-shelf cookie now and then.
My guilty pleasure is the sugar cookie, and theirs are feather-light, melt in your mouth and come in a variety of delightful flavors—truly the best I've tasted. Here are my three favorites: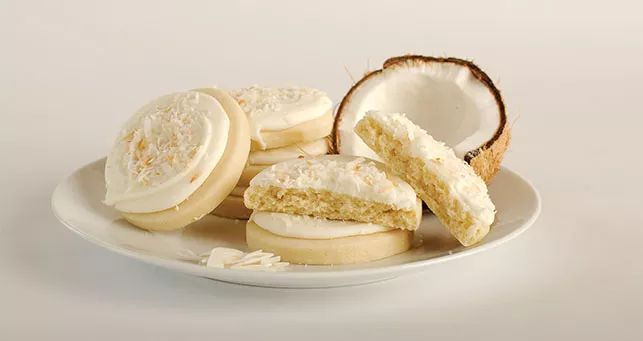 Grant Hansen
My Cookie Fix'scoconut crème cookies
I had to rethink everything I knew about gas-station food after my first bite into the coconut crème. It wasn't the cloying, fake flavor I was expecting. The texture is heavenly and the flavor unique. A light dusting of coconut crumbles atop the frosting add visual appeal and true coconut flavor.
The orange cream is a dream. Its vibrant orange frosting is eye-catching and the genuine citrus flavor is just as intense. Speckles of orange zest in the frosting will make you forget you're eating a cookie. Just kidding—but, really, this flavor bomb will blow your mind.
The traditional sugar cookie is a cute flower decorated with white frosting and a pretty pink center. Perfectly moist and simple in flavor, it's made with the best ingredients. The frosting is light and fluffy, and not too sweet. You can't not appreciate the mad skill that goes into these blissful baked goods.
Other noteworthy cookies include the strawberry cheesecake, snickerdoodle and the old-fashioned. But ultimately, you can't go wrong with anything from My Cookie Fix—they're all delicious. The next time you're in a gas station, look for the coveted cookie case and get ready for the incredulous looks when you explain that you're addicted to a gas-station cookie.


Gourmet Grazing
Our food critic picks his ultimate meal, one dish at a time.
By Ted Scheffler
---

Alluring Appetites
Here are 7 SLC restaurants with design as sexy as the sustenance.
By Darby Doyle
---
A Cheapskate's Guide to SLC
Think good grub means breaking the bank? Think again.
By Amanda Rock
---
Try the Grilled Cheese
A vegetarian reviews local hotel food.
Story and photos by Ryan Cunningham
---

Hot for Tots
7 places that elevate the humble tater tot to art.
By Amanda Rock
---
Confirmed Classics
We tip our hats to longstanding, bona fide Utah eateries.
By Carolyn Campbell
---

The Meatmen Cometh
Inside the lost art of meat-cutting.
By Alex Springer
---

SLURP!
Where to go when you got it bad for boba.
By Amanda Rock
---
Make it pop
Where to go for fine food with a side of spontaneity.
By Darby Doyle
---

Breaking Bread
10 superlative sandwiches spots.
By Ted Scheffler
---
Humble Crumble
Here's where to get your cookie fix.
By Amanda Rock
---
Brain Freeze
Utah: Home to a bevy of frozen treats.
By Carolyn Campbell