Page 13 of 13
Brain Freeze
Utah: Home to a bevy of frozen treats.
By Carolyn Campbell
Ice cream is Utah's guilty pleasure. According to insidermonkey.com, ours is the seventh-highest ice cream-consuming state in the nation. Worldwide, by the way, the United States is the second-highest ice cream-consuming country (we've got your number, China).
Traditional ice cream is just one variety of chilly deliciousness found in the Beehive, as sherbet, sorbet, gelato, frozen custard and frozen yogurt are always just a frosty stone's throw away. Here are some local favorites: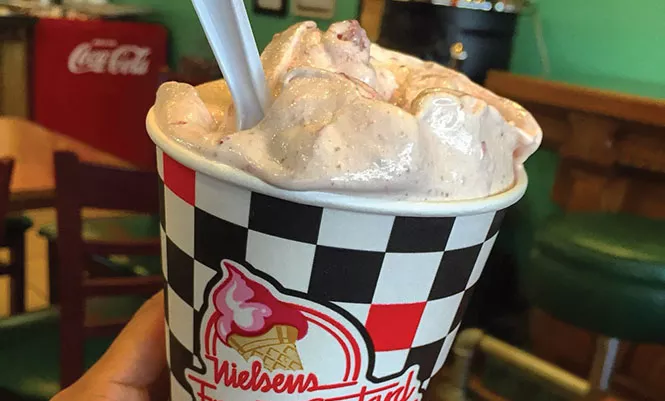 Sam Grant
Nielsen's frozen custard
Nielsen's Frozen Custard (378 N. Main, Layton, 801-547-0775, nielsensfrozencustardut.com) has been watching after your waist since 1981. Well, sort of. Custard is made from milk rather than cream, and therefore has fewer calories—but just as much flavor. Their pumpkin custard in the fall, and caramel topping year-round, are out-of-this-world delicious. Even The Wall Street Journal declared that it's "where God goes to get his ice cream." Besides Nielsen's, there's Culver's frozen custard (culvers.com), with seven Utah locations, enticing flavors-of-the-day and tempting mix-ins.
Sam Grant
Rockwell Creamery's handmade ice cream
In a return to traditional ice cream, Justin Williams founded Rockwell Creamery (43 N. University Ave., Provo, 801-318-5950, rockwellicecream.com) in November 2015. "I wanted to make handmade, fresh ice cream," he says. And that he does, as everything is made from scratch—flavorings, extracts, you name it. "We hand-make our own cookie dough, our own peanut-butter cups, and our salted caramel is real salted caramel," he says. Among his 15 flavors are "unique honeycomb ice cream made with our own honeycomb candy, and homemade muddy-buddy ice cream filled with homemade muddy buddies." The décor at Rockwell is a return to tradition, too—back to "the era of the 1900s ice cream truck." In the mood for seasonal fare? They've got that, too. When Utah raspberries are in season, Williams makes raspberry cheesecake ice cream. "We use local fruits as part of our mission to use fresh and local and the best ingredients," Williams says.
Former pastry chef of Salt Lake City's Frida Bistro, Peter Korth created a Mexican-inspired dominico plantain split recognized by Food Network magazine and the Cooking Channel. After a stint in Los Angeles, he decided to return to Utah and make a difference in the local ice-cream scene. Upon his return at the end of 2015, Korth brought along a trend he'd noticed in the Golden State—old-fashioned ice cream with unexpected, unique flavors. He now has 42 original recipes under his own belt through PJK's Creamery (801-347-5648, pjkscreamery.com), which you can find at the Downtown Farmers Market. Black pepper ice cream with tequila-pickled cherries, breakfast-cereal ice cream featuring Cap'n Crunch and Lucky Charms marshmallows, and a Mexican hot-chocolate ice cream with jalapeño and pepita brittle crunch are all in the delectable roster.
The appeal, he says, is evergreen: "Ice cream is popular here in Utah, no matter the season." Sure, some locals still miss the days of parlors such as Fernwood's and Snelgrove's, but thanks to these innovators, our taste buds' future seems bright—bright and icy.


Gourmet Grazing
Our food critic picks his ultimate meal, one dish at a time.
By Ted Scheffler
---

Alluring Appetites
Here are 7 SLC restaurants with design as sexy as the sustenance.
By Darby Doyle
---
A Cheapskate's Guide to SLC
Think good grub means breaking the bank? Think again.
By Amanda Rock
---
Try the Grilled Cheese
A vegetarian reviews local hotel food.
Story and photos by Ryan Cunningham
---

Hot for Tots
7 places that elevate the humble tater tot to art.
By Amanda Rock
---
Confirmed Classics
We tip our hats to longstanding, bona fide Utah eateries.
By Carolyn Campbell
---

The Meatmen Cometh
Inside the lost art of meat-cutting.
By Alex Springer
---

SLURP!
Where to go when you got it bad for boba.
By Amanda Rock
---
Make it pop
Where to go for fine food with a side of spontaneity.
By Darby Doyle
---

Breaking Bread
10 superlative sandwiches spots.
By Ted Scheffler
---
Humble Crumble
Here's where to get your cookie fix.
By Amanda Rock
---
Brain Freeze
Utah: Home to a bevy of frozen treats.
By Carolyn Campbell