Page 12 of 14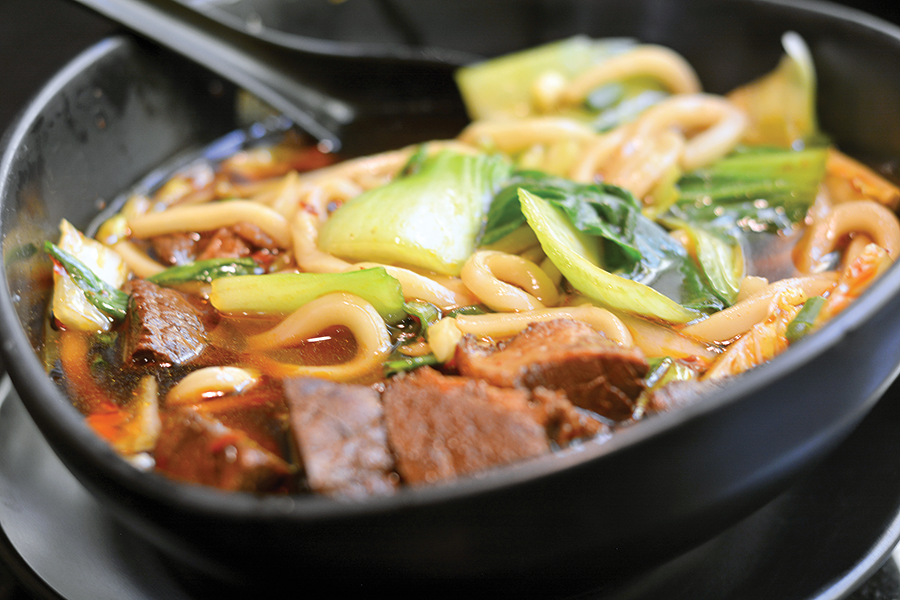 Send Noodles
Pho is out, Ramen is cooling down ... so what's next?
By Alex Springer
We now take a break from nostalgia and travel to present time. Thing is, as much as I will always love the intoxicating, anise-tinged broth of a good pho, it's time to officially declare the reign of this tasty Vietnamese soup has ended. It enjoyed a good run with its ability to cater to diverse audiences—pho is universally loved by vegans and meat eaters alike—and will always have a place in the noodle soup hall of fame. The logical successor to pho is Japanese ramen, which is still exploding in a big way, but I'm sensing the winds of change a-blowing. More and more diners still are enjoying their ramen, but there's a wistfulness among them—almost like they know ramen is in its twilight, and are uncertain about where to take their noodle soup cravings next. We're never going to stop enjoying our pho and our ramen, but there'll come a time when they cease to be "cool"—and I have a feeling it's not far away.
If you've found yourself a little bored by egg noodles and bone broth, fear not—ramennui is a common but diagnosable affliction. Rather than give up on noodle soups completely, the best cure for the ramen lethargies is to seek out and slurp up some Chinese noodle soups—their basic components are the same, but there's a whole other world of flavors and textures to explore. The best part? You don't even have to go very far for this curative pilgrimage because Chinese noodle restaurants have been flourishing in Utah for years. Choosing the right kind of noodle—udon or soba?—alone is enough to jumpstart your drive for customization, and that's only the beginning. The variety present in different combinations of broth, protein and veggies is endless and I have a suspicion that a trip to one of our fantastic little noodle joints will recharge your enthusiasm for hot soup and chewy noodles.
I recently discussed the nuances of traditional Chinese noodle soups with Wayne Ye, owner and chef of CY Noodles House (3390 S. State, Ste. 18, 801-485-2777, cynoodlehouseut.com). "We had this idea to create your own noodle soup," Ye says. "You could choose your own broth, style and meat." The build-your-own concept had already gained traction in other fast-casual restaurants, and diners loved to customize their experience. The natural variety of Chinese noodle soups made this process easy, individualized and familiar, which started to put CY Noodles on the map.
The restaurant has since moved locations within the Chinatown Supermarket commercial area to accommodate a larger audience. "We added some Sichuan dishes when we moved to the new location, which is popular right now," Ye says. He also notes that the main difference between Chinese noodle soup and Japanese ramen is the use of different levels of heat. "Japanese style is more like a bone soup," Ye says. "We do a North Chinese style soup, so it's different—it's a little spicier."
It's the most fun to get creative with their BYO section of noodle soup, but their dan dan noodles with ground pork ($9.25) will suit you regardless of your mood. Something about the hand-cut noodles and rich broth always warms me up from the inside out.
Noodle soup enthusiasts can also visit One More Noodle House (3370 S. State, Ste. N5, 801-906-8992, onemorenoodlehouse.com) which actually took over CY Noodles' old locale. Despite the cool indifference of its name, One More is bringing a lot of unique style and flavor to the Chinese noodle soup game. It boasts a well-stocked chalkboard menu of traditional Chinese noodle soups which also features some sides and appetizers to further customize your meal. Even with a few visits under my belt, I've only started to scratch the surface of this monolithic menu. I have a tough time veering away from the numbing spicy beef noodle ($9.58) with a stew egg ($1), a broth-boiled egg that has turned a chocolatey color in the process. It's spicy, smoky and the homemade noodles are absolutely lovely.
Travel a bit further north on State and you'll find the gem known as Mom's Kitchen (2233 S. State, 801-486-0092, momskitchensaltlakecity.com), a cozy Taiwanese restaurant that can whip up a bowl of beef stewed noodles ($9.99) that will make you forget all your woes. This is a soup that has a deep, unctuous appreciation for the beef flavor that permeates every bite. Thin slices of beef brisket float leisurely in the rich brown broth, and the noodles soak up all that flavor in magnificent slippery slurps. It's perfect for a cold, miserable day. Or on a warm, sunny day. Or any day that you feel like eating something, really.
Time will tell if Chinese noodle soups start to take up the mantle of most on-trend noodle soup, but whether they become trendy or not, you'll have a whole new world of noodle-based goodness to explore once that ramennui sets in.