Page 13 of 14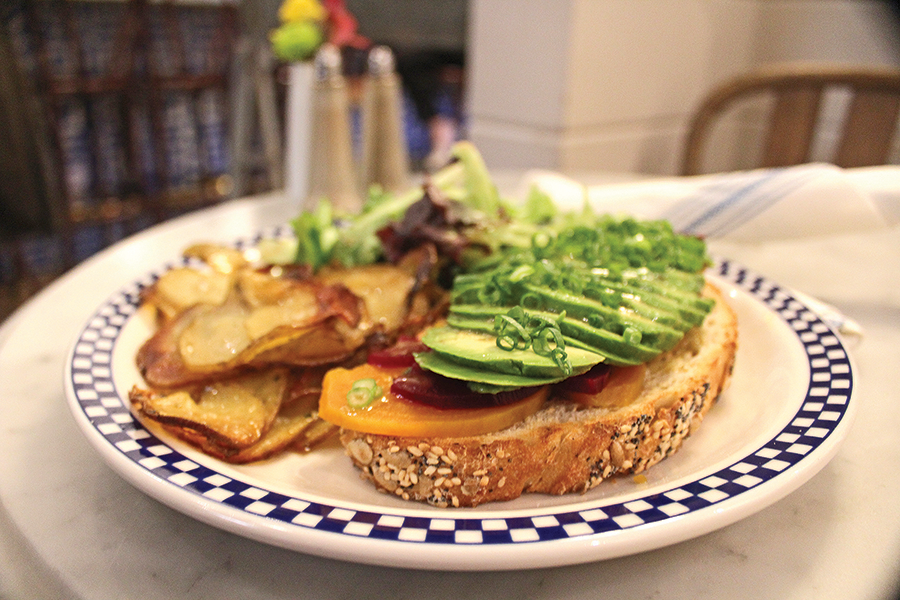 Toast With the Most
An actual millennial's guide to the best avocado toast in the city.
By Naomi Clegg
Look, millennials get a lot of shit. We're too lazy; we work too hard. We spend too much money on non-essentials (verifiably not true, thank you, though); we don't spend enough to keep the economy going. We can't do anything right, which is basically every new generation's curse. About three years ago, one Australian millionaire's offhand complaint turned avocado toast into a meme synonymous with millennial excess. But you know what? I think it's pretty hard to argue that avocado toast is something we're doing wrong.
The bread-plus-avocado combo has been around basically since avocados existed (maybe in tortilla-plus-avo form, originally, at least according to a Taste article) and now is practically blasé because, duh, who doesn't like a well-salted, perfectly ripe avocado on crusty bread? And spending six bucks on toast made by someone else isn't going to make our student loan debt evaporate or help us save for that unattainable mortgage. Plus, fun fact for thrifty dads out there: In the '70s, avocados cost the equivalent of five of today's dollars; now, on a good day, you can get them three for a buck.
Thus my quest for the best avo toast in Salt Lake: Five days. Five toasts. One 26-year-old writer. Downtown SLC is a veritable mecca for avocado toast. Seriously—all of the below options are within walking distance from each other. Alas, this writer has an inherited gluten intolerance (thanks, mom and dad). Thus, you'll see gluten-free bread when available, but for you, dear reader, I braved the wheat and its consequences. All the toasts I've tried are arranged roughly by rank, though the last three might as well be tied given their pure goodness. All right, now keep calm and avocado on. (Too much? Sorry.)
5. Palo Alto ($6)
The trendy fast-casual Pulp Lifestyle Kitchen (49 E. Gallivan Ave., 801-456-2513, pulplifestylekitchen.com) offers two types of avocado toast: the Hipster (plain smashed avo on wheat, $6) and the Palo Alto, a Tex-Mex-inspired creation covered in corn, black beans and green onions. I chose the latter, which was pitifully wimpy: thin, generic wheat bread and a very skimpy layer of already browning avocados. Sadly, the promised cilantro-lime cashew cream seemed to be missing, or at least unidentifiable. It's hard to mess up avocado toast, but this fell short.
4.Avocado Tartine ($7.50)
I expected great things from The Rose Establishment (235 S. 400 West, 801-208-5569, theroseestb.com). To be fair, I suspect I missed out by opting for gluten-free bread here ($1), which was not bad but not special—I spied a glutenous house-made bread that looked thick and seedy. The side of lightly dressed butter lettuce was perfect, but despite the fancy name, the toast was simply run of the mill. Eaters can choose from three optional toppings: pickled beets, pickled onions or a soft-boiled egg ($1.50), and I will say that the egg was well worth it.
3. Roasted Beet & Avocado Toast ($10)
Eva's Bakery (155 S. Main, 801-355-3942, evasbakeryslc.com) is a patisserie á la française with a full selection of baked goods; their avocado toast comes in a stripped-down version ($4.50) and as a full meal alongside soft, perfectly cooked potatoes and a small side salad. This is not casual toast. This is eat-with-a-fork-and-marvel toast: chewy, expertly browned seedy bread with crusty edges; perfectly ripe avocado arranged atop thinly sliced, cooked red-and-yellow beets; a tangy lemon-herb vinaigrette glistening on top. It's almost too pretty to eat and tastes as good as it looks.
2. Avocado Toast ($6)
Publik Coffee Roasters (multiple locations, publikcoffee.com) has earned a well-deserved toast reputation all on their own. My usual order: gluten-free bread, goat cheese, seasonal jam. But they do savory just as well. My toast sported a good centimeter of smashed avocado and a heavy dose of black pepper, flaky Maldon sea salt, and good olive oil. And oh, that magical bread—crumbly, but still moist; substantial, but not too dense; thick and pillowy and flecked with brown. It's the best gluten-free bread I've ever tasted; I could write a love song to it.
1. Avocado Toast ($7)
The pared-down grub menu at Rugged Grounds (29 E. 400 South, 385-309-3003, ruggedgrounds.com) serves their toast well. It's perfect in its simplicity: two thick slices of crusty sourdough bread, your choice of olive oil or butter (I went with the latter), and an entire avocado gently sliced and heaped high on top. The final, thoughtful touch: a scattering of sesame, poppy and caraway seeds. Divine.