Page 14 of 14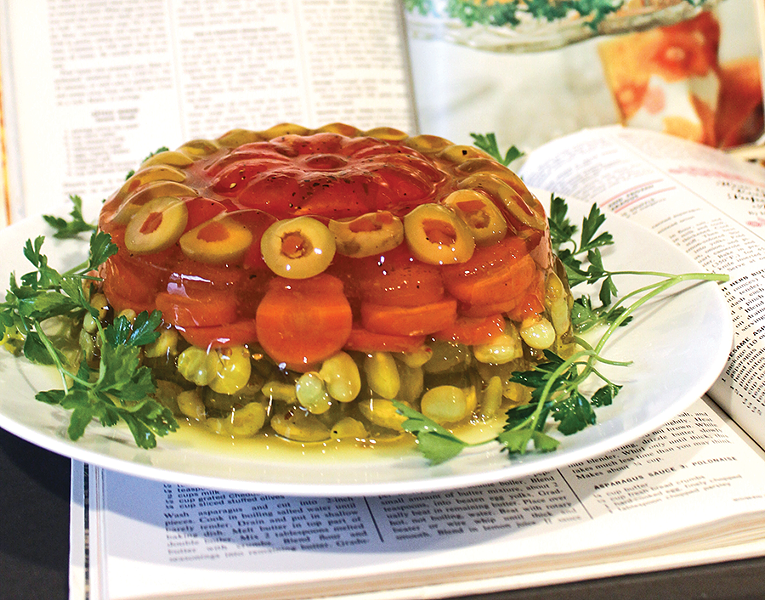 Aspicalypse Now: Resurrecting the Jell-O Salad
By Darby Doyle
They were a common feature at every church potluck, family dinner and neighborhood barbecue of my youth: the molded gelatin salad. The especially fancy ones had colorful layers dotted with glistening fruits and vegetables, although most had very little "salad" involved in the mix. One of my grandmother's go-to recipes used a combination of this week's cover star in all its green glory, shredded carrots, pineapple chunks and cottage cheese, and no Thanksgiving table was complete without a molded ring of cherry gelatin with cranberries, pecans and cream cheese.
And that's just the sweet side of the Jell-O salad selection. Long before commercial gelatin appeared in store shelves, thrifty households boiled beef or pork bones, releasing collagen to create aspics. They clarified and strained the resulting goo and re-molded it to chill with savory additions of meat, hard boiled egg, seafood and vegetables. Scholars have noted references to thickened meat broth aspics back to the Middle Ages, and elaborate molded aspics later set the standard for classical French cuisine and elaborate Victorian repasts. SLC's own Beltex Meats utilizes the delicious utility of this tasty technique on the regular; check out their spectacular head cheese as an example.
With the early-20th century advent of home refrigeration and inexpensive commercial gelatin packets, savvy American home cooks took this 'fancy' culinary technique and adapted it to the frugality of using up kitchen leftovers. Flipping through my vintage cookbook collection, the pages are filled with recipes for all kinds of jellied and jiggly creations. While some of the combos might not appeal to modern palates (Cherry-Catsup Salad ca. 1964, anyone?) there's something mighty appealing to the notion of utilizing a bunch of stuff you've probably got squirreled away in the pantry and creating something fun to look at, am I right? Fits right in with the post-Depression era generation's legendary thriftiness and affinity for easily portable dishes made to feed a crowd. No wonder Jell-O became a staple of Utah family dining.
Looking to embrace my inner mid-century mama, I took on CW editor Enrique Limón's request to do a little Nailed It!-inspired gelatin experiment. My friend, Pastry Chef Amber Billingsley, graciously lent me her set of molds and we drank a lot of very good rum while we perused vintage recipes and settled on this Vegetable Gelatin Salad from a 1965 Woman's Day magazine cookbook to meet the challenge.
Vegetable Salad from Woman's Day magazine, 1965
2 boxes (3 ounces each) lemon-flavored gelatin
1 teaspoon salt
2 cups boiling water
¾ cup cold water
dash of black pepper
¼ cup white vinegar
2-3 stuffed green olives, sliced
1 small tomato cut into wedges
1 8-ounce can sliced carrots, drained
2 cups canned green lima beans
To serve: salad greens and mayonnaise
Dissolve gelatin and salt in boiling water. Add cold water, pepper and vinegar. Pour a little into a 1 ½-quart mold and arrange olive slices; let set. Add tomato wedges and a little more gelatin; let set. Chill remaining gelatin until slightly thickened. Divide and fold carrots into one portion and pour into mold. Then fold Lima beans into other portion and pour into mold. Let stand to chill overnight. Unmold on greens and serve with mayonnaise. Makes 6-8 servings.
So, did I nail it? My grocery store didn't have canned lima beans, so I cooked and cooled some frozen ones which seemed to be a solid substitution. Also, a lot of vintage cookbooks leave out the very crucial detail that you need to lightly oil (or, modern short-cut: coat with cooking spray) the mold before filling to keep things from sticking.
But, the crucial verdict: How did it taste?! Well, it wasn't as awful as I'd expected. Canned carrots are just about as flavorless and soft as you'd imagine, so that layer was a spit-pass in my book. Adding the salt, pepper and vinegar provided a nice balance to what I'd assumed would be a too-sweet overall profile from the lemon Jell-O; it actually was a nice foil to the earthy notes from the lima beans and olives; tangy mayo and bitter greens as the garnish definitely helped round out this flavor combo, too. Would any of my other family members even try it? Not even on a dare.
Diving back in to aspics gave me a lot of inspiration to jazz up some mid-century recipes with modern twists. I'm thinking next up is a bloody mary pickled okra aspic, or maybe a gin-and-tonic gelée. Happy experimenting, and see you all next year!