Page 2 of 14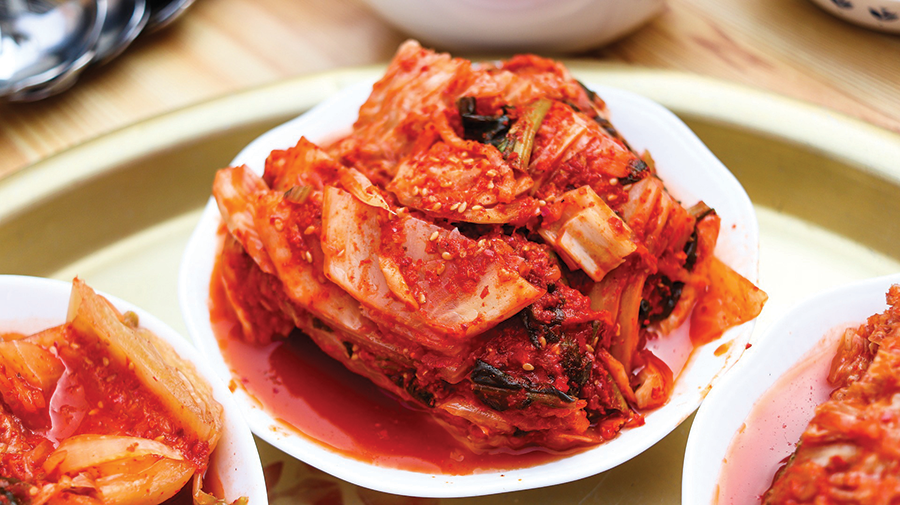 Fermentation Sensation
Find true harmony from within at these local shops.
By Alex Springer
While the process of fermentation has been used for thousands of years in several different cultures and communities, it's only become trendy within the past decade or so. Once the foodie elite started to extol the virtues of probiotics and other beneficial bacteria present in fermented foods, maintaining a healthy intestinal ecosystem became the thing. For an example of what I'm talking about, a restaurant analytic organization called Upserve surveyed data from approximately 9,000 different restaurants to get a sense of what trends will be driving the industry in 2019. As it turns out, fermented food consumption is up 149% from last year—unless you're serving sauerkraut, which was actually down 18%, making it the Joey Fatone of the fermentation boy band that's taking the nation by storm.
The funny thing about this spike is that it seems to have less to do with the fact that the wellness community has gotten super horny for probiotics, and more to do with the fact that fermented food tastes good. It doesn't hurt, either, that diners are getting a bit more daring these days. The fact that fermentation creates probiotics which have been linked to helping our bodies absorb nutrients, fighting intestinal infections and keeping our metabolisms in check just happens to be a nice fringe benefit for a dining crowd that's becoming increasingly adventurous.
Luckily, any locals interested in trying out the acidic heat of homemade kimchi or welcoming some friendly bacteria into their digestive system with a cool bottle of kombucha happen to live in a surprisingly fermentation-friendly state. Read on for a rundown of a few locals that were meant to ferment.
Mamachari Kombucha
Kombucha is a fermented variety of green or black tea that is typically spiked with natural flavors and served cold. It has many of the same health benefits of tea with the added benefit of probiotics and acetic acid, which can help your stomach become a bacterial utopia. According to Lorrie Vorkink, co-owner and brew master at Mamachari, the booch has gained popularity over the years in wellness circles and mainstream society because it's starting to curb people's craving for sugary soft drinks. "People want an alternative to soda," she says. "Not everyone who buys our products are interested in the health benefits—a lot of people really like having a low-sugar alternative."
Vorkink and partner Benjamin Phillips bought Mamachari in 2015 and have grown the brand considerably since then. "We've just launched our water kefir, and our kombucha has been picked up in California and Hawaii," Vorkink says. "Fermentation has definitely taken off and is continuing to grow. I think we've been able to ride that wave."
When the team took over Mamachari, there was a steep learning curve—despite the fact that kombucha has been around for millennia, the right techniques are surprisingly hard to come by. "The information that's available to you as a commercial brewer of kombucha is next to nothing," Vorkink says. "It's trial by fire because you have to figure out how to scale up and how to keep your consistency the same. But, the challenge was fun and it's been great to learn and develop our product line."
Mamachari continues to innovate with new flavors all the time, and their taproom is a great place for booch enthusiasts to stock up and try out some of their upcoming tastes, so give it a go.
1415 S. 700 West, Ste. 4, 385-202-3391, mamachari.cc
The Angry Korean
We can't have a conversation about fermentation without bringing up the Korean treasure that is kimchi. The recipes and variations of this traditional dish are too numerous to quantify, but the basic premise of kimchi comes from salted Napa cabbage which can be combined with shredded daikon and packed into a jar with some chili paste for a few days or a few weeks depending on how funky you like your flavors (read Darby Doyle's expert canning tips to perfect your technique). It's a perfect complement to Korean dishes like bulgogi—its acidic and spicy flavor cuts through the richness of the beef for a combo that is hard to beat.
For Peter Kim, chef and owner of The Angry Korean in South Jordan, that complement is why he makes kimchi to begin with. "Any time you have something naturally fermented, it has natural bacteria which is very good for your digestive system, but that's not why I eat it," he says. "I eat it because it was something I grew up with and it pairs really well with Korean cuisine." Throughout Kim's time in the restaurant business, he's noticed a definite change in the frequency with which American diners order kimchi. "I grew up eating Korean food, but I had a lot of non-Korean friends," he says. "It would sometimes be embarrassing if I invited them over to my house and my mom had a big batch of kimchi out, they'd be like, 'Oh my God! What is that smell?' Now it's become a hipster food item. People who try it either love it or hate it, but they remember that flavor because there's nothing else like it."
While Kim maintains a love/hate relationship with kimchi, he never skimps on coming up with interesting ways to serve it. "I do a cheesesteak with bulgogi and you have the option to add kimchi to it. I offer that to customers who have never had kimchi in their lives—I just call it Korean spicy cabbage," Kim says. "I don't explain what it is—the word fermented can sometimes scare people away—but they get it, and it works really well." Trust me—one of the best possible introductions to kimchi comes from this cheesesteak sandwich. Try it here, and you'll be hooked.
11587 District Main Drive, Ste. 300, South Jordan, 801-307-8300, facebook.com/theangrykorean
Abigail's Oven
Thanks to commercial baking trends designed to get bread baked and distributed quickly and uniformly, the carbohydrates they deliver are now quickly and uniformly packed into our waistlines before we know what hit us. It wasn't always this way, though. There was a time when bread wasn't reviled for its carb content, and actually helped the body metabolize carbohydrates at a slower rate. Thanks to revivalists like the Levi family who operate Abigail's Oven, such bread recipes are returning to the limelight.
Their sourdough bread, for example, harnesses the fermentation process before it goes into the oven, creating loaves of tasty bread that hang out near the bottom of the glycemic index. It's something that the Utah County-based bakery has been passionate about for the past four years. Abigail's Oven started when 10-year-old Abigail Levi approached her parents about starting her own bread business. Her father, Allen Levi, who now runs the business, recalls the day his daughter came up with the idea. "We had a CSA farm at the time, so she just came into the field one day and told us that she had decided to do a bread business," he reminisces. "I said OK, but told her she'd have to answer phone calls and do everything herself, so she did." The family ended up getting 300 regular customers in the first year until they moved from Cedar City to Provo so the Levi patriarch could go back to school.
After working as an urban-development consultant, Levi and his family decided to give the commercial baking business another shot. "We ended up renting a commercial kitchen from a friend of ours who happened to be a bread baker and one of the founders of Colonial Fest," he says. "He wanted to teach us the colonial method of making bread, which involves fermentation. Because it was such a good bread and so good for you nutrition-wise, we chose to do that full time." As of now, Abigail's Oven has five flavors of sourdough bread, and it's for sale at natural grocers and health food stores across the Wasatch Front.
The health benefits of sourdough bread come from the natural yeast starter that, once added to flour, ferments the mixture into a dough that delivers its carbs to the body slowly, which makes it a healthier alternative to commercially produced bread. "We've traded a lot of nutrition for convenience," Levi says. "Bakers got used to a comfortable business model, and the sourdough method is slower, but it's so much better for you." It's nice to know that once that bread craving hits, I can munch on some sourdough as a tasty snack that also happens to be good for my long-suffering stomach.
421 S. 200 East, Spanish Fork, 540-817-5441, abigailsoven.com