Page 3 of 14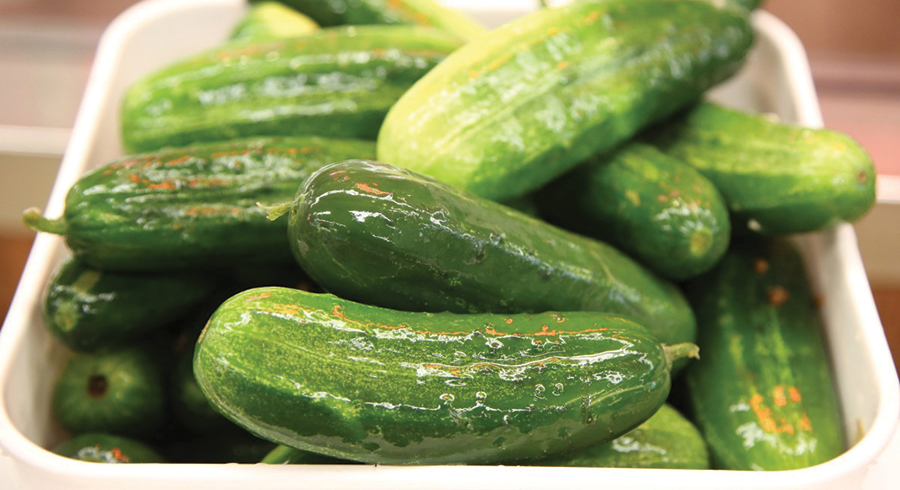 Pickled Pink
My pickle passion was set off by a bowl of chili at Publik Ed's (210 S. University St., 385-549-1928, publikcoffee.com). I'll stand by this chili forever, reader; it was so damn good. But the main reason I kept returning to it in my fond food-filled daydreams was the pink pickled onions and jalapeños topping the bowl. I started craving them so much I made a batch of pickled onions at home, which was surprisingly easy, as pickling simply requires immersing veggies for as little as 15 minutes in a brine or vinegar mixture. However, making food at home is kind of a pain in the ass in the sense that none of us get around to it as often as we'd like. So, to sate your tastebuds, a pickle tour. While large-scale artisan pickle-making has yet to come to Utah, there's still a wide variety of local iterations on this tangy, crunchy staple.
1. Proper Burger's (865 S. Main, 801-906-8604, properburgerslc.com) house-made zucchini pickles add the right amount of tang to just about all of their menu options.
2. The pickle medley at East Liberty Tap House (850 E. 900 South, 801-441-2845, eastlibertytaphouse.com) goes great with a glass of beer or cider and typically includes a trio of pickled cauliflower, beet and zucchini.
3. Find the pickled beets, beans, carrots and onions of Cache Canning Co. (cachecanning.com) seasonally at the Downtown Farmer's Market.
4. Nomad Eatery (2110 W. North Temple, 801-938-9629, nomad-eatery.com) offers dishes with a multitude of pickled vegetables, from zucchini, Fresno chili and red onion to cauliflower and even raisins.
5. Pig & A Jelly Jar (Multiple locations, pigandajellyjar.com) does pickles Southern style: slipped onto a barbecue pork sandwich; in green-bean form on their fried-chicken salad; and fried, with a side of buttermilk peppercorn dipping sauce.
6. Speaking of fried pickles, you can find this top-notch iterations of this classic bar food at four local establishments: Wasatch Brewery, Lucky 13, Whiskey Street and R&R Barbeque.
7. And last, no pickle piece would be complete without the inclusion of curtido, a Salvadoran pickled cabbage, onion and carrot mixture traditionally served on top of pupusas. Try it at Café Guanaco (499 E. 2700 South, 801-484-6584).
—Naomi Clegg