Page 5 of 14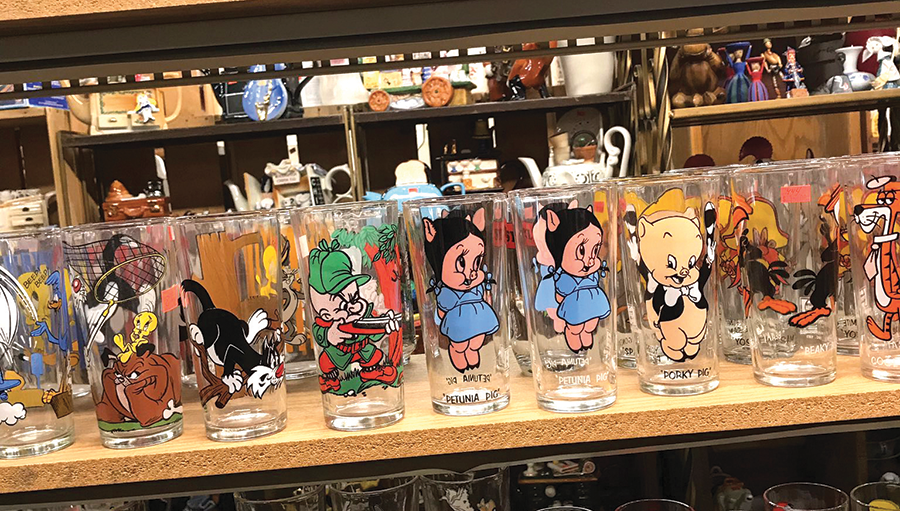 Garfield Glasses, Fish Molds and Pyrex, Oh My!
Looking to add some kitsch in your kitchen? These vintage retailers have you covered.
By Amanda Rock
Funky casserole molds, cutesy salt and pepper shakers and adorable vintage cookie jars all have a place in my heart, as well as my kitchen. Nostalgia drives my passion, but I've found collecting vintage kitchenware to be a practical hobby. After all, I can use most everything I buy.
Shopping for vintage kitchen goods at my local thrift store is my idea of fun. I live for the thrill of the hunt, and the shot of adrenaline when I score. It's inexpensive retail therapy, and I've learned a lot by researching the things I buy. Sometimes, I even discover a handy device I didn't know I needed. I can't believe I settled for un-crushed ice before I found my vintage Ice-O-Mat, for example. Besides thrift stores, there's quite a few places in Salt Lake to buy vintage kitchenware; check out yard sales, estate sales and antique stores.
Pyrex is one of the most popular and collectible kitchen items; everyone is crazy about its vibrant colors and cute silkscreened patterns. The vintage Pyrex we know and love first appeared in 1945 with cheerfully primary colored nesting mixing bowls. Through the '80s there's been a lot of different patterns and colors released, and some are more rare than others. Consider yourself lucky if you find any vintage Pyrex at a thrift store—it's in high demand! There are also Pyrex-adjacent brands that are just as charming. I especially like Fire-King. The patterns and colors are gorgeous, plus I love the fact that some pieces were promotional items given away inside bags of flour in the '40s. If you're looking for some extra oomph, be on the lookout for their line of Jadeite Restaurant Ware: it's a dreamy shade of green and extremely valuable.
Remember those fast-food glasses from the early '80s? They're highly collectible and sometimes show up in thrift stores. The Garfield mugs from McDonalds are my favorite, and they're sturdy enough to use everyday. Just don't put them in the dishwasher or the colors will fade. (It's a good rule of thumb to not put anything vintage in the dishwasher.) Over the years, my husband and I have collected Smurfs glasses from Carl's Jr., Camp Snoopy from McDonald's and Looney Tunes and Star Wars from Burger King.
If you have the time and don't mind sorting through a lot of crap, thrifting can pay off. Here are some good thrift stores to check out:
Goodwill
Prices are reasonable at Goodwill, and they have daily sales on different colored tags. There's a modest selection of kitchenware, and I've seen some unusual items. If you're looking for a good starter pack, it's worth stopping by the trio of locations in Salt Lake City. Multiple locations, goodwillncw.org
Savers
Ah, the wonder of Savers! The retailer prices their merchandise a tad higher than other thrift stores, but selection is fantastic, and there's always great vintage stuff to discover. You can stretch your buck by signing up to their Super Savers Club, which yields coupons and sale notifications. There are five locations, one near you. Multiple locations, savers.com
Deseret Industries
The DI, as it's lovingly known around these parts, is my favorite place to shop. Prices are ridiculously low and there's a good turnover of merchandise. When you visit, be sure to skim the collectibles area. I've discovered more kitchen treasures here than anywhere else. There are five locations close to Salt Lake City, and more throughout the state. Multiple locations, deseretindustries.org
But, wait. There's more!
When you're short on time and want to get right to the good stuff, hit the antique and vintage stores. There's quite a few in Salt Lake City, here are two of my favorites:
Cobwebs Antiques & Collectibles
Tucked away in a strip mall in historic downtown Murray, this antique store has everything you'd ever want. You could spend days here and still not see everything. They carry an impressive collection of vintage lunch boxes and more cartoon character drinking glasses than I've ever seen under one roof. 4901 S. State, Murray, 801-598-0901, facebook.com/belinda.cobwebs
Copperhive Vintage
When you're in the mood to shop for retro goodies, Copperhive Vintage is your destination. This is one of the cheeriest, most-colorful shops in Salt Lake City. They consistently have a great selection of kitchenware like vintage Pyrex, linens, mugs and canisters. 2219 S. 700 East, SLC, 801-702-9884,