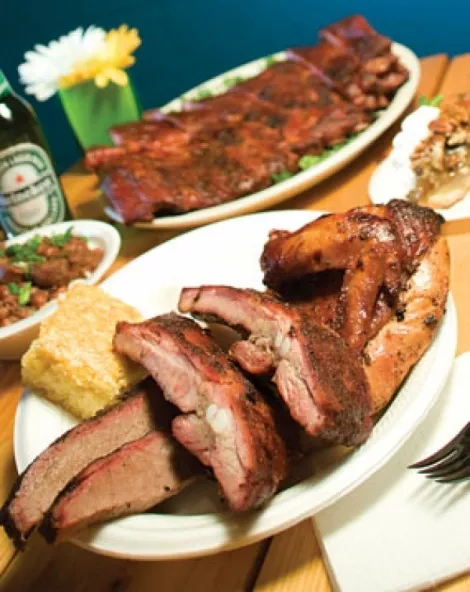 On a chilly and blustery Saturday night,
Pat's Barbecue & Catering
has the feel of a dusty backcountry roadhouse, even though it's smack dab in the middle of Salt Lake City. Tucked away near the end of a dead-end street (Commonwealth Ave.) just off 2100 South, it's an unlikely location for a rockin' little roadhouse. But strolling with the family into Howie's Hall—the restaurant's show/dining room at Pat's—I was surprised to find it packed to the rafters. Three long rows of polished wood picnic tables were mobbed with a crowd that reflected the demographics of the Melissa Cannon Band itself, which was playing at Pat's that night. Old folks and young ones; gals with tats poised next to dudes in cowboy hats and boots; little kids gnawing on jumbo-sized pork ribs and the bassist's 80-year-old father—all were assembled for an evening of great tunes and killer 'cue.
Patience is a virtue at Pat's on an evening when the joint is hopping, the music is loud and servers are scarce—a little understaffed for large weekend crowds. Still, the friendly staff manages to get most of the orders right and keep their cool, even if customers must shout to be heard and chaos in general reigns.
But that's partly what is fun about Pat's; it's not the Oak Room at the Plaza Hotel. So we find a place to squeeze onto a bench between some 20-somethings to the south and 60-somethings to the north, just as Ms. Cannon launches into the world's most maudlin tune: "The Tennessee Waltz." Quite a set of bluegrass-cured pipes this gal has, accompanied by a stealth Gen-X mandolin/fiddle player and a laptop slide guitarist who might be her granddad. They smoke a version of "Orange Blossom Special," which reminds me why I've come: Pat's is, above all, a smokehouse.
Utah barbecue fiends already know the name Pat Barber. He's the multiple-award-winning pit master at Pat's Barbecue & Catering, and in 2004, Barber won a silver, a bronze and four ribbons at the Colorado State BBQ Championships. Whenever I sing the praises of any other barbecue joint in the Beehive, I get the inevitable pile of letters, phone calls and e-mails admonishing me to mention Barber. My favorite barbecue spots in the state are all a little different and have their distinct appeals. But no doubt about it: Pat's is one of the best.
The portions at Pat's aren't for the faint of heart. The $12.50 three-meat combo platter is a spilling-over-the-edge plateful of your trio choice of pork ribs, chicken, beef brisket or pulled pork along with cornbread and a side dish. I ordered a quarter-rack of ribs ($7.50) for my stepson, thinking it would be a dainty order of babybacks, and I'd probably have to order more to squelch his adolescent appetite. Nope. These were big, solid, meaty and tender smoked pork ribs—nothing delicate at all about them but delightfully delicious and messy.
Thankfully, tables at Pat's are well stocked with rolls of paper towels, buckets of plastic forks and knives and Pat's homemade barbecue sauces. The red ketchup containers don't hold ketchup but rather Pat Barber's "Sweet Heat," a red sauce with a nice balance of sweetness and spice. In the yellow plastic mustard bottles is a milder house sauce that, frankly, didn't do much for me. As with many Western barbecue joints, I lament that there's no Carolina mustard/vinegar sauce to be had at Pat's. I'd love it over his tender, smoky pulled pork.
On certain Thursdays, the lunch special at Pat's is his delectable beef brisket. Unfortunately, they'd run out of brisket the night we stopped by for Melissa Cannon's bluegrass show, so I settled instead for an order of barbecued chicken which, amazingly, was not overcooked, but tender and juicy. Speaking of lunch specials, try to swing by Pat's on Fridays when he often features "burnt ends" of beef brisket as the daily special, reminding me a little of the "debris" at Mother's on Poydras in New Orleans.
Side dishes—which are hideously overpriced at $3 à la carte—are mostly gratifying and are included with Pat's entrees. The coleslaw couldn't have been any fresher or crisper, and both the red beans and rice and Creole black beans and rice are solid accompaniments, as is mashed potatoes served with dark, rich gravy. The jambalaya (a 50¢ surcharge), however, was a disappointing pile of mushy rice, tomato, smoked sausage and Cajun spices. Skip that and try the mustard greens instead. A chunk of cornbread also comes with entrees, but you might want to spring for extra (50¢ each), since this killer cornbread is buttery, sweet and highly addictive.
With the addition of Howie's Hall, Pat's not only doubled in size (they need to double or triple the restroom capacity as well) but has brought a great new music venue to Salt Lake City. The music schedule at Pat's is sporadic, but there's usually live music on Tuesdays and Fridays during lunch and Thursday through Saturday beginning at 7 p.m. Upcoming artists include Roby Cap, Flash Cabbage, Motherless Cowboys, Jaded, Zig's Big Electric Polish Blue Jam and open-mic acoustic Thursdays with Jeremiah Maxey.
Did I mention suds? Pat's offers plastic cups of Bud and Bud Light in addition to Heineken by the bottle and a variety of Uinta beers—which, of course, are the proper beverage for barbecue. And although I can't imagine being hungry enough to do so after a barbecue feast at Pat's, you might want to "save room," as servers always say, for Pat's Kentucky Bourbon Pecan Pie ($4) or his gut-busting five-layer "ultimate" chocolate cake.
PAT'S BARBECUE & CATERING 155 W. Commonwealth Ave. (2125 S.), 487-PATS. Lunch Monday-Saturday, Dinner Thursday-Saturday