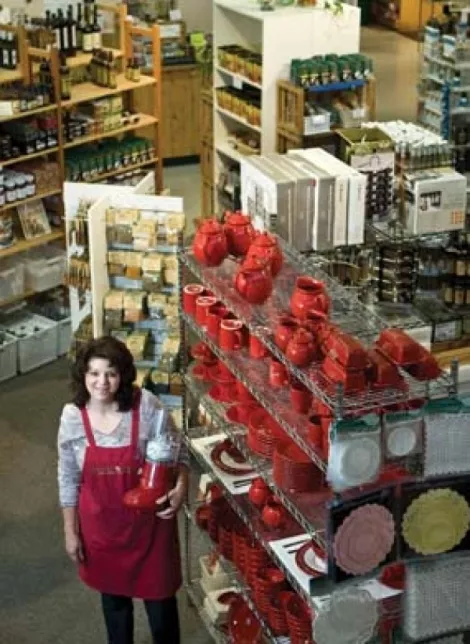 I have a kitchenful of cool cooking gadgets and accoutrements. The collection has grown through the years and threatens to run me out of the house. I'd guess I use maybe 2 percent of them. My best purchase—the one kitchen tool I use the most, almost daily—is an ingeniously simple rubberized tube about the size of a cannoli. It's a first-generation garlic peeler. You just put cloves of garlic in the tube, roll it on the kitchen counter while applying a small amount of pressure, and
voilà!
the garlic emerges peeled. I bought it at Spoons 'n Spice Kitchenware. My garlic peeler is tan. Today you can buy one at Spoons 'n Spice for about $8 in original tan, or in blue, green and red. Buy one. You'll use it.
This year, Spoons 'n Spice celebrates its 35th anniversary in Salt Lake City. Long before places like Sur la Table, Williams-Sonoma and I came to town, long before celebrity chefs and the Food Network, long before every third human on the planet had his or her own cooking show, Spoons 'n Spice was the place to shop for kitchenware. It still is.
You might remember Spoons 'n Spice's first location in Sugar House. It was situated in a duplex with the owners' house on one side and the store on the other. "Talk about taking your work home with you!" says Spoons 'n Spice's Tony Granato. Eventually, the store took over the entire duplex—cooking tools have a way of doing that—and now Spoons 'n Spice, based right here in Utah, is one of the country's largest kitchenware stores. Gone now is the Sugar House store, but the Ivy Place and Sandy Village locations boast inventories of more than 17,000 items in addition to thriving Internet sales.
When I needed a cone-shaped wood pestle for an ancient steel chinois that once belonged to my grandma, I found it at Spoons 'n Spice. When I was feeling a bit flush and eager to invest in pricey All-Clad copper cookware, I did it at Spoons 'n Spice. When I went shopping for a paella pan, my first and last stop was at Spoons 'n Spice. These days, I'm probably more likely to be browsing their big range of "arthritis helper" kitchen tools. When I eventually need a mold for my own funeral cake, I know I'll find it at Spoons 'n Spice. Happy anniversary!
At Plates & Palates in Bountiful, you won't find the kind of extensive cookware selection which Spoons 'n Spice offers. Maybe some day. But you will find a modest supply of cooking gear and gadgets and a pretty good inventory of baking necessities, along with specialty gourmet food items from companies like Stonewall Kitchen and The Barefoot Contessa. Whether you're in the market for kitchenware or not, you'll want to stop by Plates & Palates when you're hungry. The café blows away anything you'll eat at Ikea.
I learned about Plates & Palates while dining one night at Bountiful's Mandarin restaurant. A superb server there, Justin Christensen, had recently opened Plates & Palates along with Jared and Nina Christensen, zeroing in on a need in the neighborhood for good food and good cookware. Plates & Palates is primarily a lunch spot, with seating in the rear, but you can also score an early dinner there; it's open until 6 p.m. Monday-Thursday and 8 p.m. on Fridays and Saturdays.
I was surprised on a recent Friday to find the place mobbed at lunch. Every seat was taken, and a gaggle of customers wandered the store waiting for takeout orders. "Not the best day to give one of our employees the day off!" said Justin.
Still, service was fairly quick and I was on my way with an absolutely delicious panini sandwich in less than 10 minutes. The ham and Swiss panini ($7.15) is made with high-quality Black Forest ham and Swiss cheese on thick, rustic bread with herbed mayo and Dijon mustard, applied sparingly as I requested. It came with thick-cut kettle chips and was, all in all, a very satisfying lunch—and midnight snack, since the panini was big enough to save half for later. For $4 at Plates & Palates, you can get a half panini with maybe a bowl of soup ($4.25), if that's your want. The menu varies from day to day, but soup offerings include corn chowder, potato-leek, homestyle chicken noodle, Brazilian shrimp (yum!), fire-roasted tomato with orange and fennel, split pea with ham, creamy cauliflower and more.
Plates & Palates' salads are excellent. The lemon tarragon salad ($7.40) easily feeds four people as a side dish, or makes a couple of very generous portions to split. Al dente farfalle pasta and tender white chicken meat were tossed with chopped celery, scallions, almonds and red grapes in a creamy lemon and tarragon dressing. The slight sweetness of tarragon combined with a lemony tang was wonderful. Even more popular at my place was the penne pasta with garlic-balsamic dressing, juicy grape tomatoes, pine nuts and fresh basil, topped with shredded parmesan ($7.40) and garnished with fresh spinach leaves. Again, the portion was generous and the flavors exquisite. Green salad options at Plates & Palates include pear and pecan, Caesar (chicken or green curry chicken), chef's salad, shrimp and spinach, cranberry-nut and chicken fajita. The Christensens also do catering, so the next time you throw a party or office affair, keep this little gem in mind.
PLATES & PALATES @ 390 N. 500 West, Bountiful, 292-2425
SPOONS 'N SPICE @ Ivy Place, 4700 S. 900 East, 263-1898; Sandy Village, 788 E. 9400 South, 553-1988 tttt